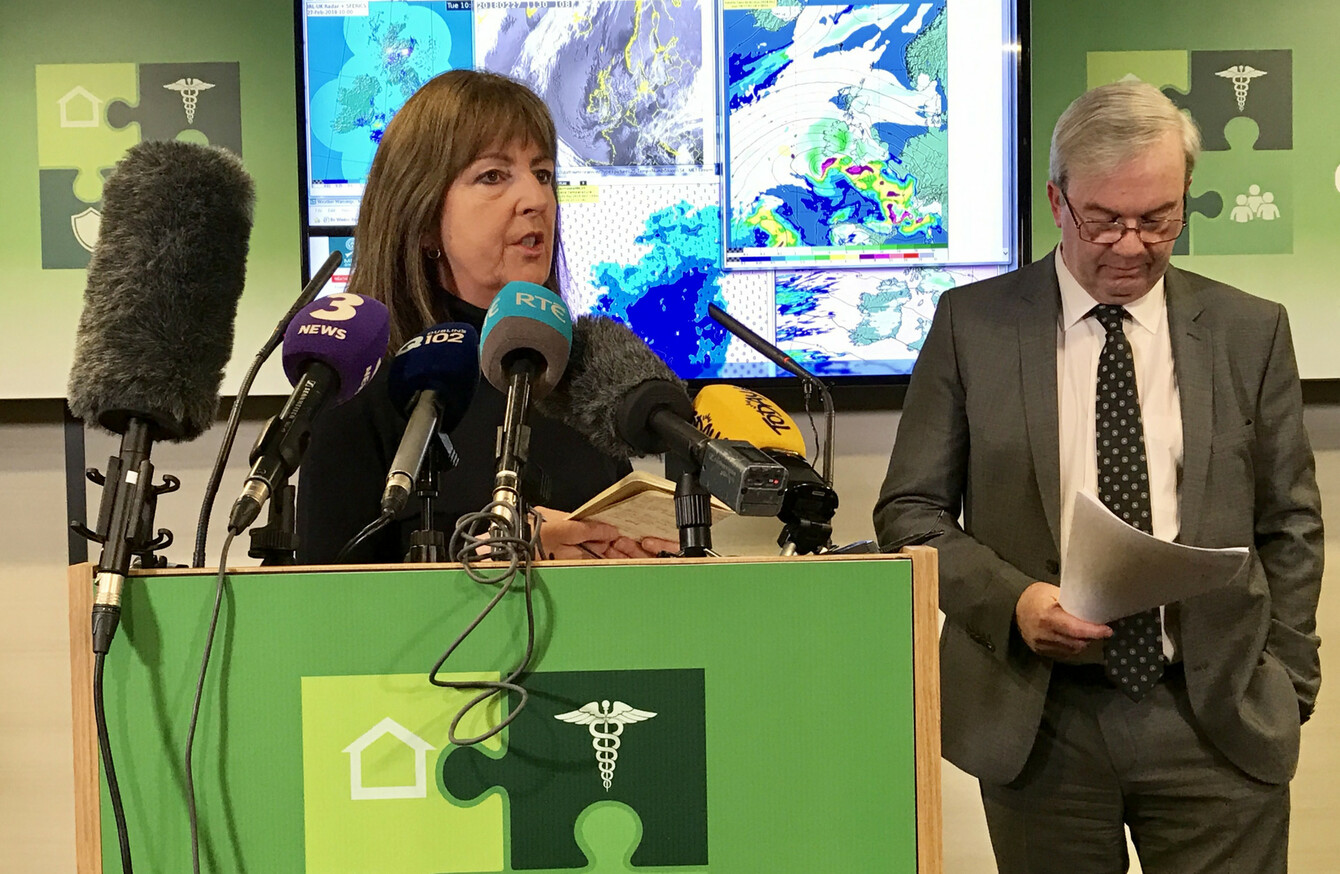 Image: RollingNews.ie
Image: RollingNews.ie
THE COUNTRY IS set to be hit with "continuous snow" as polar Siberia air clashes with the incoming Storm Emma over the coming days, Met Éireann's Evelyn Cusack has warned.
A polar vortex from Siberia, referred to as "the Beast from the East", is expected to bring heavy snowfall and blizzard conditions on Thursday and Friday.
Speaking to the media following a National Emergency Coordination Group (NECG) meeting this morning, Cusack warned of heavy snowfall hitting Ireland by Thursday night.
The cold polar air has already hit Ireland and it is expected to produce some isolated snow and hail showers tonight. Met Éireann says the snow could accumulate to potentially disruptive levels, with Leinster being the worst hit area. Temperatures will drop to as low as -6 degrees.
Further scattered falls of snow are forecast across Ireland tomorrow. These showers will be heaviest and most frequent across the eastern half of the country, according to Met Éireann. Daytime temperatures will range between -1 and 2 degrees, however gusty easterly winds will make it feel colder.
However, the worst of this week's weather isn't due to hit the country until Thursday, when Storm Emma, which is approaching from the west, combines with the current polar air over Ireland.
"As Emma moves in, it's going to clash with the cold polar air and that's going to produce the continuous snow that we are forecasting for Thursday evening, Thursday night and Friday," Cusack said.
Status Red predictions
A Status Orange snow-ice warning has already been issued for Dublin, Carlow, Kildare, Laois, Louth, Wicklow and Meath. The warning will be valid from 3pm today until 11am on Wednesday.
It has been predicted that a red weather alert could be put in place for later in the week. The last time a code red was issued was for Storm Ophelia in October 2017.
Commenting on the possibility of a Status Red warning, Cusack said they will have a clearer idea of whether one will be issued by midday tomorrow.
The 48-hour Met Éireann forecast will have kicked in and we will be making serious consideration on the Status Red for Friday.
Cusack said gale force winds of up to 110km/h could occur over the coming days.
Looking forward to the weekend, Cusack said the worst of the snow will end by Friday, however, Saturday and Sunday look "fairly wintry with some very challenging weather" expected.
Advice
Sean Hogan from NECG confirmed that extra beds will be made available for rough sleepers over the coming days. However, he did not confirm a number.
He also stressed that it is too early to make any major decisions in relation to school closures or employees going to work. He said further advice will be issued tomorrow.
"In relation to schools, for tomorrow, we expect school transport and public transport to run, subject to local conditions," Hogan said.
"In these circumstances, it will be up to schools to consider if it will be ok to open. We will review that situation tomorrow."
Hogan warned householders not to keep their taps running with water in the coming days, as it will waste needed supplies in the reservoirs.
"Do not leave taps running at the moment. You're taking the water from everybody else if you do that," he said.