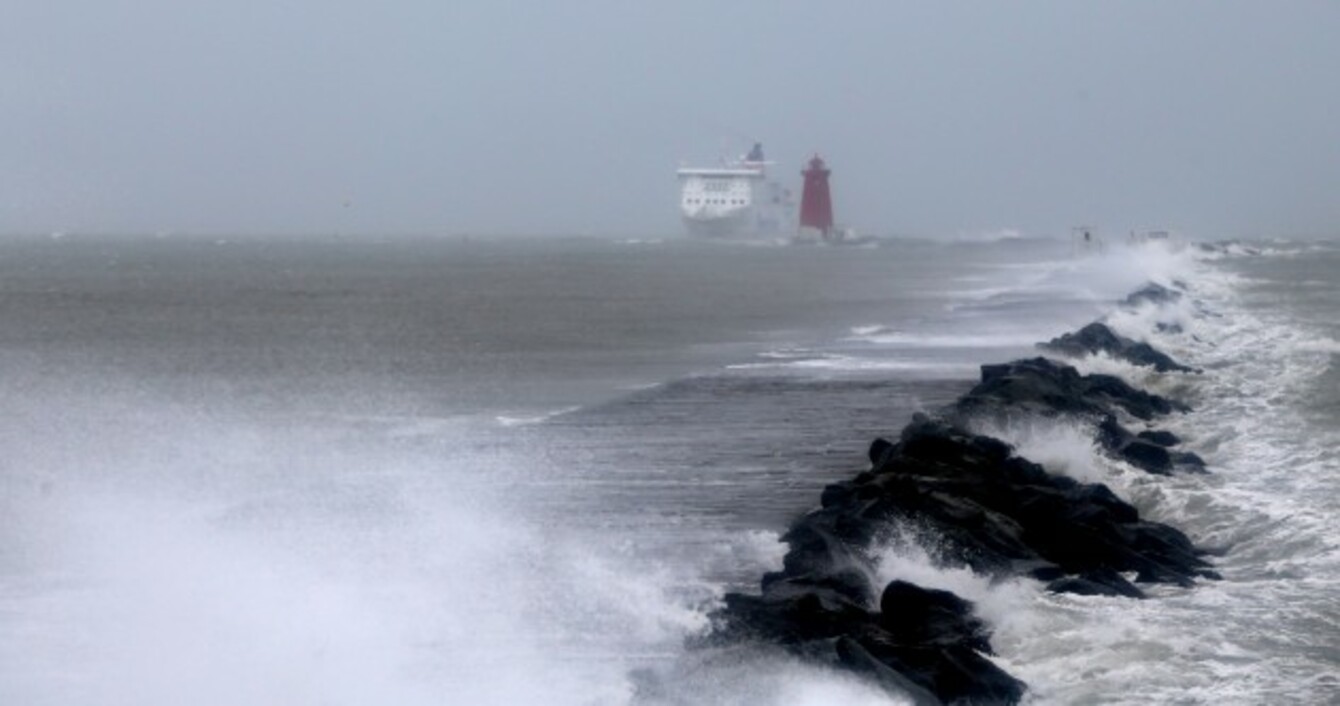 High waves hit the Poolbeg South Wall in Dublin.
Image: Sam Boal
High waves hit the Poolbeg South Wall in Dublin.
Image: Sam Boal
THE NAMING OF storms in Ireland and the UK has been been going on since 2015.
The new regime of naming North Atlantic storms follows much the same lines as the US National Hurricane Centre naming convention, alternating between male and female names, starting with the letter A and moving through the alphabet.
Head of Forecasting at Met Éireann Gerald Fleming told TheJournal.ie all about the scheme, as it was being planned in 2014.
Source: TheJournal.ie/YouTube
Some names are omitted from the list, intentionally. Fleming previously told us why certain names are avoided:
We won't have a Storm Elizabeth for example, given our neighbours across the water. Or perhaps Enda – or Michael.
"Names of prominent people we would have to avoid. We have to be careful about these things," he said.
Here are the names used over last winter (we didn't get all the way through the list, obviously):
Abigail
Barney
Clodagh
Desmond
Eva
Frank
Gertrude
Henry
Imogen
Jake
Katie
Lawrence
Mary
Nigel
Orla
Phil
Rhonda
Steve
Tegan
Vera
Wilbert
Documents released to TheJournal.ie under the Freedom of Information Act reveal that over 112 complaints were made to Met Éireann between 1 September 2015 and 1 July 2016.
Some of the complaints related to the naming of storms. One viewer wrote to Met Éireann in 2015 to say:
I would first like to make the point that naming storms or hurricanes with Christian names is very unfair to those people with that name as they can be associated with the aftermath of that storm particularly a bad one, for example Hurricane Katrina.
Another said he was "delighted and excited" about the new system of naming storms and said he looked forward to suggesting some names.
"It will certainly improve awareness," he said.
One person was unhappy with the list of names put forward and said there needed to be more Gaelic names on the list.
I noticed that there is a storm coming in named Storm Abigail… Given that most storms affect the Gaidhealtachd (Highlands and the islands) of Scotland disproportionately it should surely be the case that at least some of the storms should have Gaelic named to reflect this.
Thankfully, it's summer and there's no particular need to worry about the names of storms for now (hopefully).