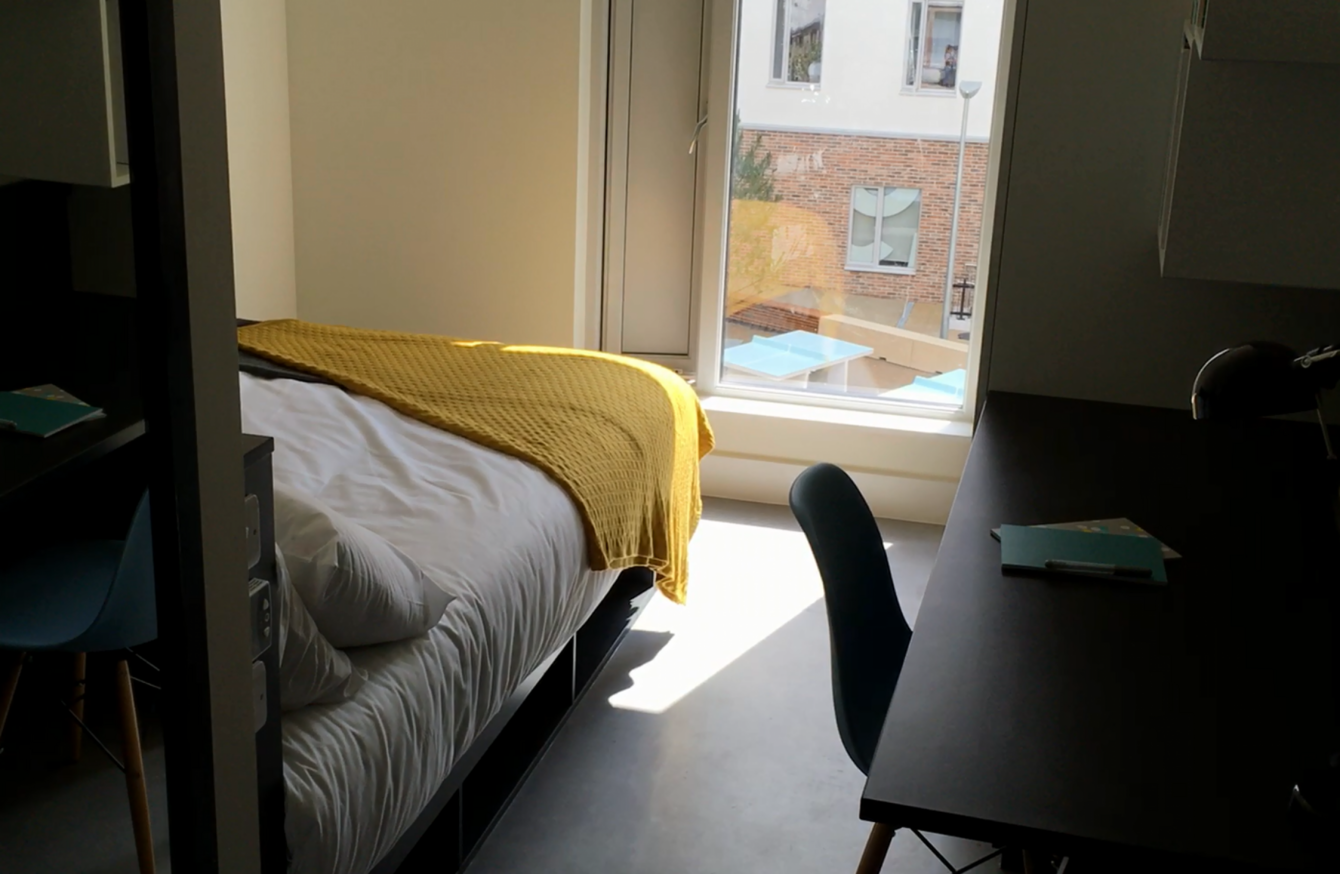 THE HEAD OF one of Dublin's largest student accommodation providers has said the company is looking at ways to make "more affordable" products.
US real estate giant Hines today officially launched its newest student accommodation offering in Dublin, Dorset Point, on Dorset Street in the north inner city. It has space for 447 students.
The cost of a single room in Dorset Point starts at €235 a week. Most of the rooms are priced between €235 and €250, while there are a handful that will be slightly more expensive.
The price is all-inclusive, covering bills such as electricity and broadband. The complex also has a range of facilities which residents can use for free, including a small gym and cinema.
Hines' head of student accommodation, Alex Knapp, acknowledged that the rooms are expensive after concerns they would price out all but the wealthiest cohort of students.
However, with the cost of acquiring land and the expense of building remaining high, he said that products need to be priced "at the higher end of the spectrum".
The price is about average for new student accommodation in the Dublin market. For the coming academic year, many are priced at €249 a week.
Development
Dorset Point is one of five major sites on which Hines is building student accommodation. The sites are at varying stages of development.
The company says that when all five sites are fully developed, they will be able to hold about 1,700 students.
Three of the developments, with about 1,100 beds between them, are ready for use. A 450-bed development in Summerhill is due to be finished in 2018, while the company is also planning to develop a site on Cork Street that will likely hold over 200 beds.
Speaking to Fora, Knapp acknowledged that the price of the accommodation would put it out of reach for some, however he said Hines' prices were in line with the market.
"By enhancing the number of options (in the market) it should make it more affordable for students to find accommodation in Dublin," he said.
"Our accommodation is more expensive than others, but it is part of a wider solution to the problem of undersupply in Dublin.
'Mix'
He added that there would be a mix of foreign and Irish students renting the rooms.
Asked if Hines' other developments across Dublin would be similarly priced, Knapp said: "There will be some variation (but) we expect it to be similar.
"We are looking at ways to make a more affordable product as well, but with land prices being quite high and build prices being quite high it's hard to make enough margin if the resulting product isn't at the higher end of the spectrum."
Students are already living in many of the rooms at Dorset Point are and Hines said that it expects the complex to be fully occupied for the coming academic year.
Sign up to our newsletter to receive a regular digest of Fora's top articles delivered to your inbox.
Written by Paul O'Donoghue and posted on Fora.ie