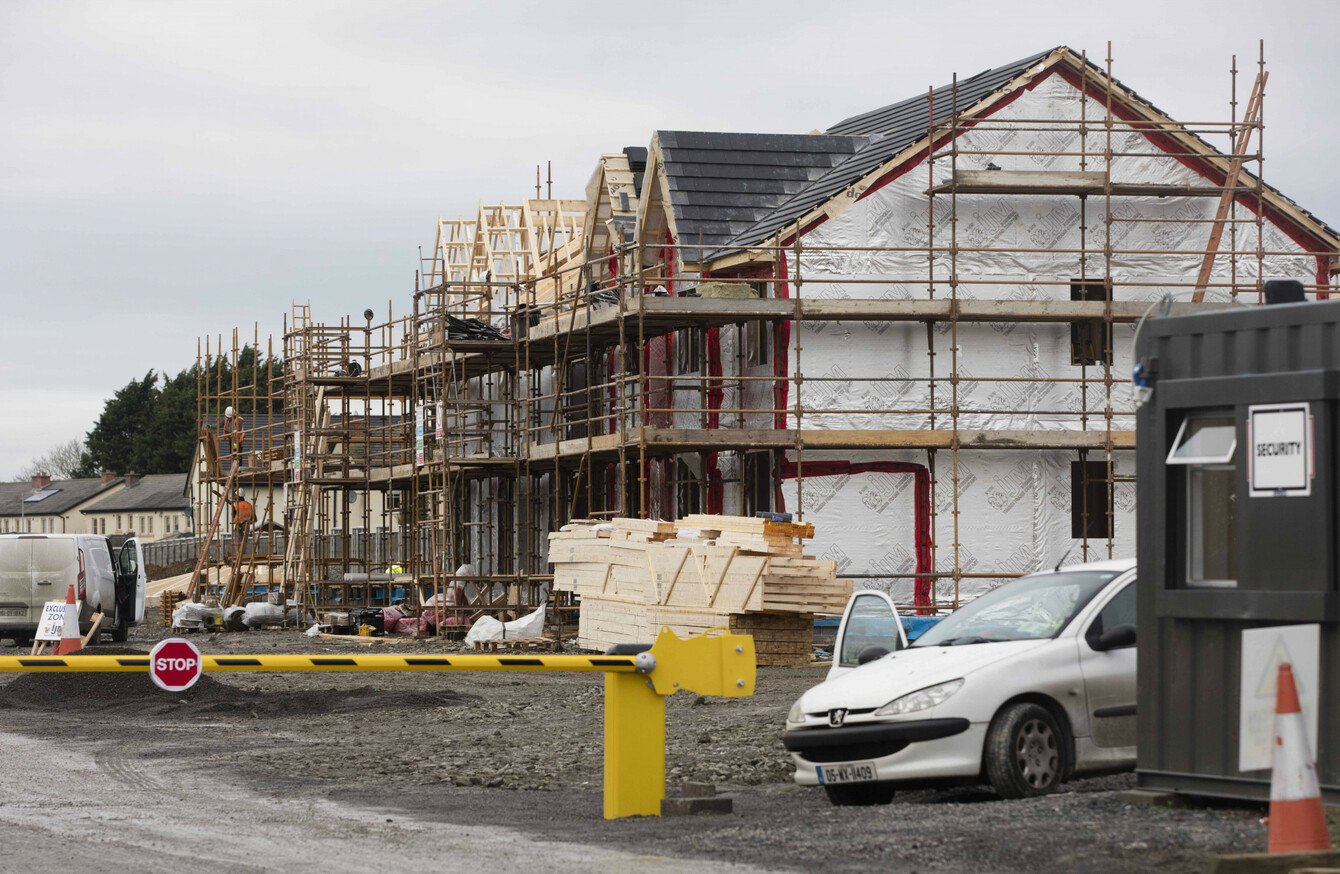 Image: Eamonn Farrell/RollingNews.ie
Image: Eamonn Farrell/RollingNews.ie
A GOVERNMENT SCHEME that will supply first-time buyers will have a "modest" impact on house prices, but has been dubbed "subprime lending" by others.
The plan announced yesterday allows 1,000 prospective homeowners who don't qualify for social housing buy a house with a government-backed mortgage.
It will allow buyers get mortgages for homes up to €320,000 in Dublin, Cork and Galway and €250,000 for the rest of the country.
The mortgages, which will be granted through local authorities, will be available to individual applicants whose annual gross income does not exceed €50,000 and to joint applicants who earn €75,000.
Housing Minister Eoghan Murphy said that the Rebuilding Ireland Home Loan was part of government plans to build thousands of houses.
"We are determined as a Government to increase the stock of social housing by 50,000 homes by 2021 under Rebuilding Ireland, with money securely ring-fenced to do this. After our first 18 months of work, we are ahead of target. Yet there are people in our communities who are not eligible for social housing, but who also cannot afford to rent or buy their own home.
"Home ownership is an important aspiration in a Republic of Opportunity. Opportunity is also about choice, and the Government recognises that some people want and need the flexibility that renting can bring. When more and more of a person's or a household's disposable income is going towards paying their rent or saving for a mortgage, or both, their opportunities are limited."
However, the plan – which has been called a broad repackage of a scheme that allows buyers take variable mortgages from local authorities – has been met with scepticism and lukewarm reactions at best.
Investec analyst Owen Callan wrote that the mortgages were effectively targeted at "sub-prime mortgage borrowers", but the plan would be an "additional tool in rounding out access to mortgage financing for the overall market".
In comment for Davy Stockbrokers, economist Conal Mac Coille says that it will have an inflationary impact on the housing market, but this will be limited due to its scope.
"This limited scope will constrain the inflationary impact on the housing market. That said, media reports suggest that the scheme could be expanded if deemed a success."
But other financial sources said that the plan represented "subprime lending", giving mortgages to those who would not otherwise be able to get them and exposed the government to risk. Analysts say that the government may not be able to borrow money at rates comparable to those it is offering to first-time buyers.
They also worry that the limited scope – 1,000 buyers – would alienate other first-time buyers. They also warn that it could compel some people to get rejected for bank mortgages in order to qualify for a government-backed mortgage.

Affordability
The Irish Council for Social Housing (ICSH) said that it hoped the loans – along with an affordable purchase scheme and an affordable rental scheme – would "represent a commitment to embed affordability in our housing system".
ICSH CEO Dr Donal McManus said the loans are to be welcomed, but did nothing to tackle affordability issues.
"The €320,000 limit in the Greater Dublin Area still represents expensive housing. With regard to the Affordable Purchase Scheme, this is already underway, so there's nothing new there."
Auctioneers are also warning that the scheme will attract far more applicants than it can handle.
IPAV, the Institute of Professional Auctioneers & Valuers, predicted that the scheme would be over-subscribed, given its attractiveness combined with pent-up demand for homes.
Pat Davitt, IPAV's Chief Executive said it is a most welcome move by the Minister. "This is the kind of initiative we've been seeking for some time. And it's positive that it will be available immediately and for new or second-hand homes.
"However, it's difficult to understand why such a good scheme is being confined to those who have had two refusals of mortgage from two lending institutions. Many who want to get onto the property ladder do not apply to lenders when they know they cannot meet the current criteria."
Sinn Féin's Eoin O'Broin called the plan a "rehash of the existing scheme" and said that he was worried "public funds will be used to facilitate the purchase of overpriced homes". Labour's Jan O'Sullivan said the plans don't go far enough.
"The proposals on an affordable rental scheme only amount to pilot schemes. This is despite work having begun on this proposal in October 2015. Over two years later we have seen little progress while rents are at all-time highs."
The website for the scheme is now online.