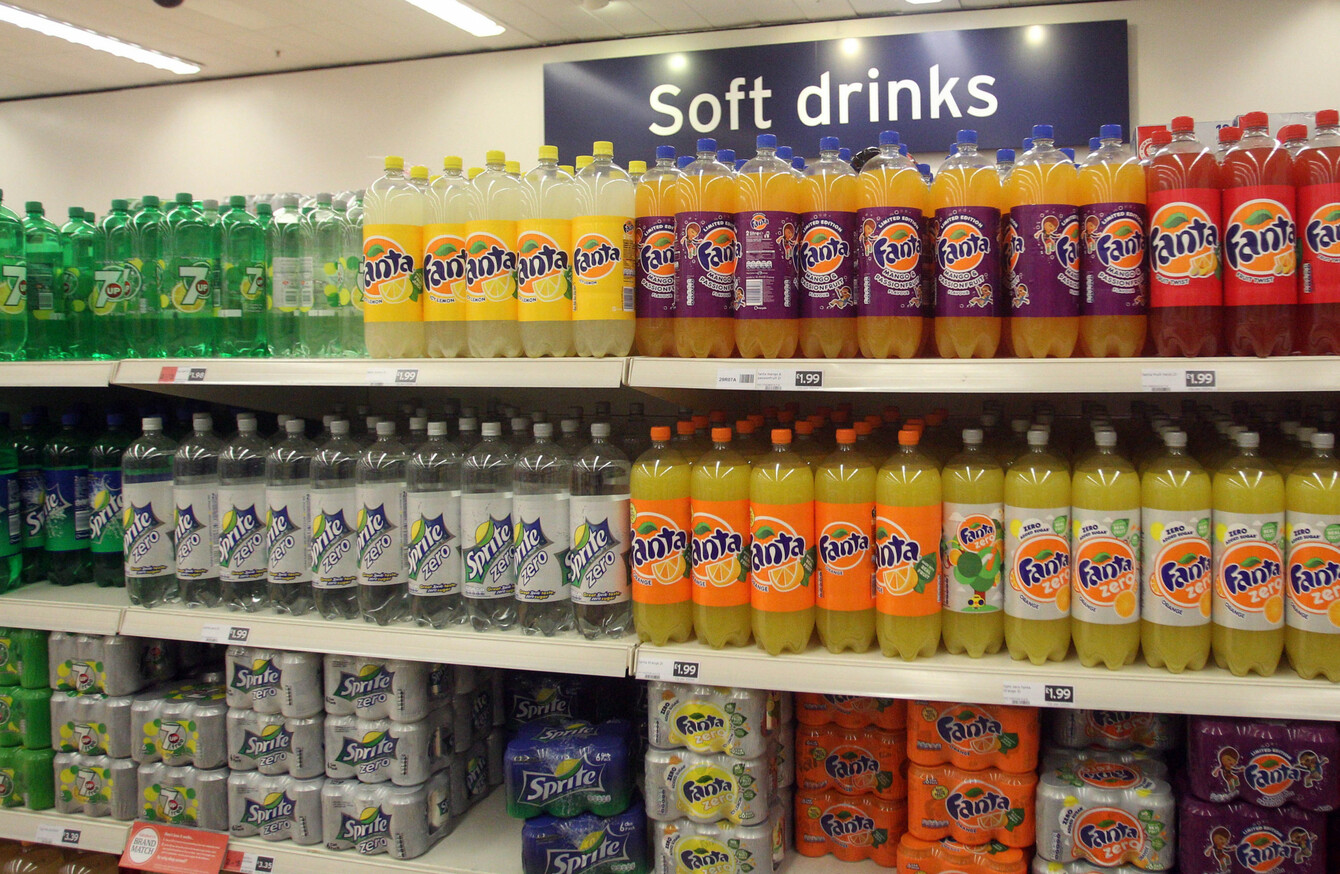 Soft drinks that keep their recipe could become relatively more expensive.
Image: PA Images
Soft drinks that keep their recipe could become relatively more expensive.
Image: PA Images
RETAILERS AND SOFT-DRINK manufacturers have altered the recipes of some of their products in order to avoid the new sugar tax, which comes into force today.
The new tax sees 30 cent per litre added onto sweetened drinks that have over 8g of sugar per 100ml. Drinks with a sugar content of between 5-8g per 100ml are taxed at 20 cent per litre.
It means that cans of popular brands like Coca Cola or Club Orange will go up by 10 cent.
Coca Cola has 10.8g of sugar per 100ml while Club Orange has 13g per 100ml.
Larger 2l bottles caught by the tax could increase by 60 cent and retailers have been reacting to the change.
Own-brand products generally sell at lower prices than their branded competitors and a 60 cent hike to these products could have a significant impact on their overall price.
It's for this reason that retailers like Tesco, Aldi, SuperValu and Centra have all changed the recipe of their own-brand products to ensure that the sugar tax does not apply.
In most cases the sugar has been reduced and replaced with other sweetening ingredients.
Aldi said that it has worked with Irish drinks manufacturer C&C over the last 12 months to "reformulate" its own-brand products to ensure that they have less than 4g of sugar per 100ml.
"Our commitment to our customers is we will never be beaten on price and will always offer the best value possible. We are equally committed to supporting our customers in making healthy eating choices," Aldi's Finbar McCarthy said on the eve of the sugar tax's introduction.
Tesco Ireland has made a similar change and the retailer said it has "worked hard" to reduce sugar while ensuring that the taste of the product does not change.
"We've also been working with our branded soft drink suppliers to minimise the risk of higher prices for consumers and encourage consumers towards lower sugar drinks," a spokesperson added.
Musgrave, which owns the Super Valu and Centra brands, has also made changes to its soft drinks "to provide consumers with a healthier option at the same price".
Other products which are subject to the tax will increase in price at SuperValu and Centra stores.
Regardless of the change in price difference between own-brand and branded soft drinks, DIT retail management expert Damian O'Reilly said he believes the sugar tax won't have a huge impact on consumer behaviour.
"They're impulse purchases. If they were moved to the back of the store like alcohol then you could see some change but I don't think price is the biggest contributor to decisions on impulse purchases. What it could do is change their impulse purchases from sugary drinks to chocolate or something," he says.
O'Reilly also says there is even less evidence to suggest that the tax will have a greater effect on the spending habits of people in lower socio-economic groups.
It could however see retailers advertising on the point that their products have lower sugar and make people think more about healthy options, he says.
Indeed, all of the retailers who provided details to TheJournal.ie mentioned the fact that their products are "healthier" or now have less sugar.
#Open journalism No news is bad news Support The Journal

Your contributions will help us continue to deliver the stories that are important to you

Support us now
"I think people who want to buy a Coke will still buy a Coke if it's on sale in the same place," O'Reilly says.
"Personally I don't think it will change purchasing patterns, customers will just spend a little bit more."