Image: Leon Farrell/Photocall Ireland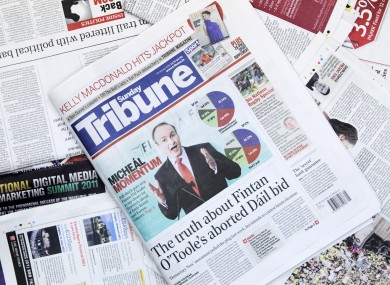 Image: Leon Farrell/Photocall Ireland
SEVEN JOURNALISTS with the former 'Sunday Tribune' newspaper have received redundancy payments from the former newspaper, nearly 18 months after the Labour Relations Commission rejected claims that they were not employees of the newspaper.
The journalists had been working at the paper when it shut in February 2011, but the company had claimed that the writers were self-employed freelance writers and not full-time employees of the paper.
Their case was taken up by the National Union of Journalists, who lodged cases at the LRC's Rights Commissioner Service to prove that the writers involved were actually employees.
The commission agreed with their case, clearing the way for the employees to be paid for their remaining annual leave, public holidays and for redundancy and minimum notice pay.
The payments – totalling about €160,000 – were only received this week, however, with the NUJ blaming inadequate resources at the Department of Social Protection which funded the statutory payments.
"This has been a long fight on behalf of our members but eventually they got their entitlements," said the NUJ's Ian McGuinness.
Being told you have no job any more is bad enough but to add insult to injury, our members were also told by the company that they weren't entitled to anything because they were not employees.
The union's national chairman Gerry Curran said it was common for media companies to insist that some people were self-employed when it was clear that they were, in essence, full employees.
"There are a number of reasons why employers do this but at the end of the day many journalists may believe they have no employment rights, when in fact they have just as much protection under the law as any other employee," he said.