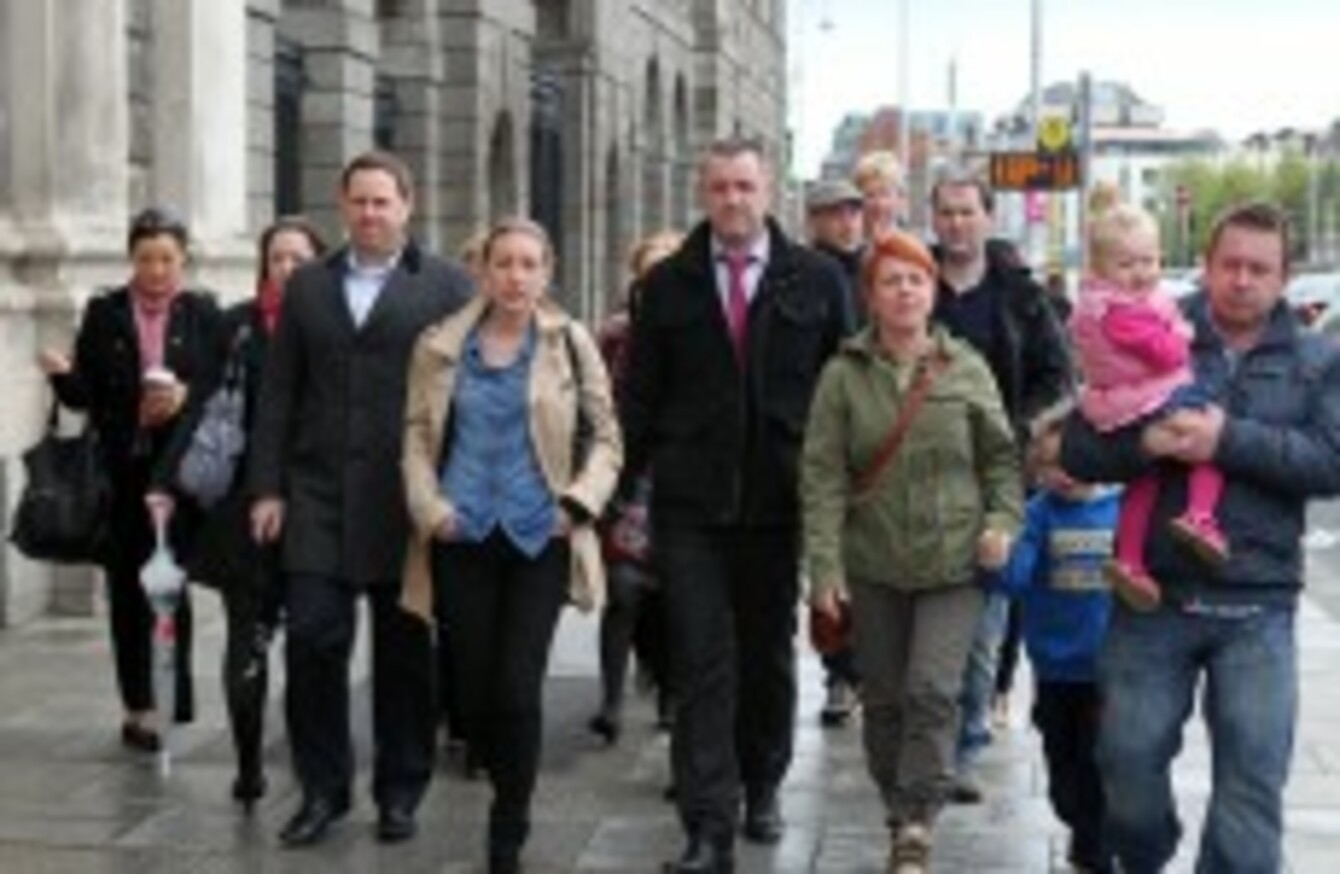 Members of the Priory Hall Residents Committee outside the four courts today
Image: Sam Boal/Photocall Ireland
Members of the Priory Hall Residents Committee outside the four courts today
Image: Sam Boal/Photocall Ireland
PRIORY HALL RESIDENTS have said that they remain in limbo after the Supreme Court postponed a decision on whether Dublin City Council must continue to pay their accommodation costs.
The court said today that because mediation on both sides is ongoing, a final decision will be made on 15 October.
In front of a packed courtroom, the five Supreme Court judges questioned why Dublin City Council had pushed ahead with an appeal despite the ongoing mediation process between both sides.
Graham Usher, a spokesman for the former residents, said Dublin City Council should have thought through what it was doing.
"We're quite surprised [by the Supreme Court decision]" he said outside the court. "Families have been having sleepless nights for weeks coming up to this. We expected the case to be heard… but unfortunately the limbo continues. There's no sign of an end to this in sight."
The Council has guaranteed to continue to pay accommodation for the residents who were evacuated due to major fire safety concerns up until November.
Graham Usher said this was a relief, but added:
It's important to say that nobody wants to be in this temporary accommodation a day longer than we need to be.
We took out mortgages, we bought homes, we just want to get on with our lives, get away from Priory Hall and just forget about this whole thing.
Some of the former residents outside the Four Courts today (Sam Boal/Photocall Ireland)
Usher pointed out that if Dublin City Council is successful in its appeal in October, the former residents would only have weeks to sort out accommodation.
"Dublin City Council are going to have to discuss what happens with this accommodation sooner rather than later," he said.
They can't wait until 15 October to tell families what's going to happen with their accommodation. They've already tried to put people out on the strets once, they can't try to do the same thing again.
"The council put a torpedo into Priory Hall"
The courts had originally ruled that Dublin City Council was responsible for providing temporary accommodation for the residents of Priory Hall while they were unable to return to their homes.
Dublin City Council had tried to have this order overturned in the High Court. The Council argued that it had only gone to the courts initially in October 2011 to secure an order to evacuate Priory Hall to "ensure the safety of families and persons who lived there."
One High Court judge said at an earlier hearing that the Council had "put a torpedo into Priory Hall and the collateral damage was the dislocation of 250 people who lived there."
Dublin City Council says it has spent €2.9 million since then on Priory Hall, including €1.05 million on security for the deserted complex and €972,000 on leasing apartments for the people who had to be evacuated.
The complex in Donaghmede in north Dublin was completely evacuated on 17 October 2011 over major fire safety issues. Developer Tom McFeely was initially given five weeks to fix the problems but has since claimed that he cannot afford to fix the defects. Meanwhile Dublin City Council, which owns 26 of the apartments, argued that it should not be held responsible for the residents of all of the buildings.
The Council had said before the ruling that the temporary accommodation arrangements currently in place will continue until November 2013, regardless of the outcome of any court case.