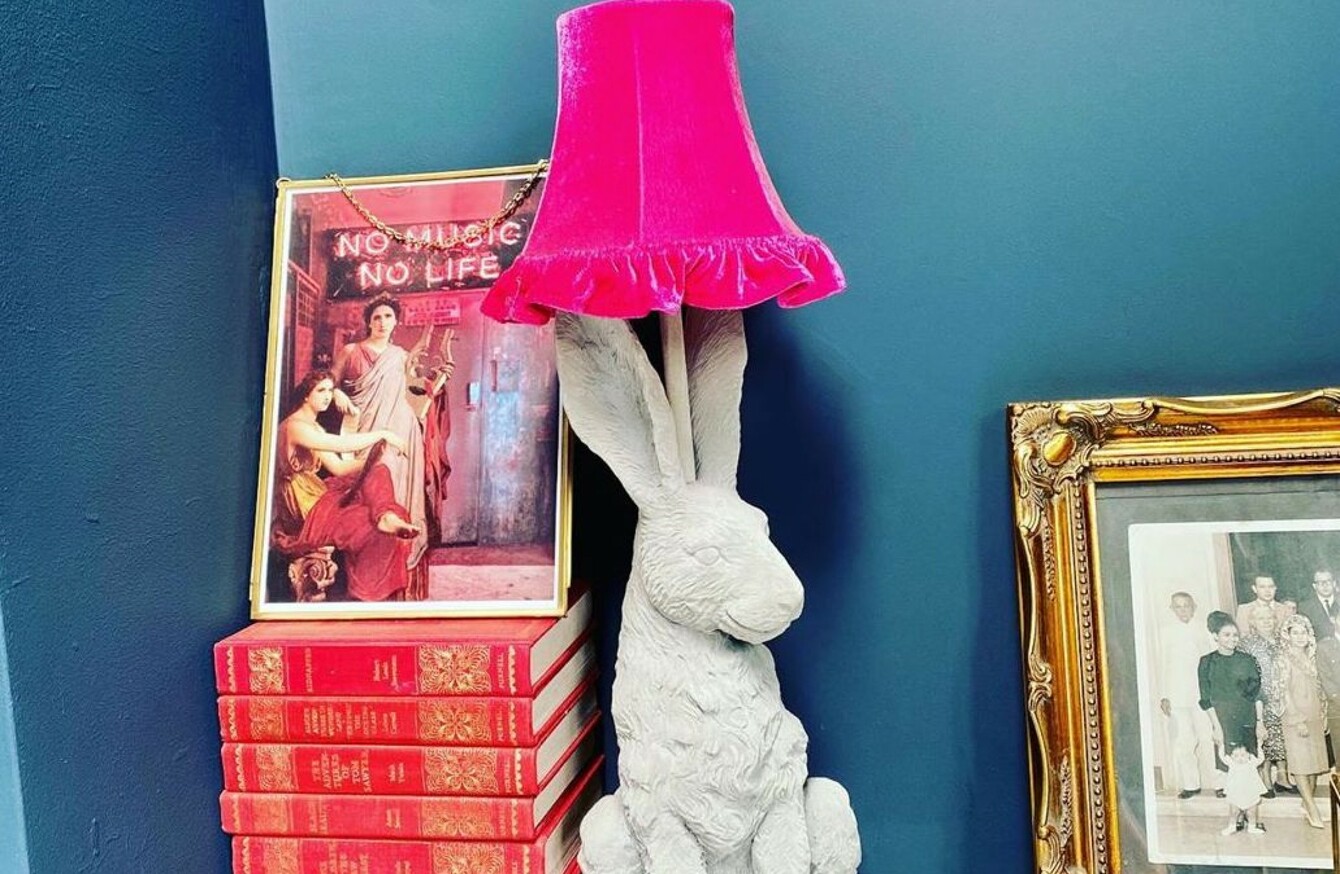 Image: Instagram/susanwiggleywoo
Image: Instagram/susanwiggleywoo
About you
Name: Susan Solorzano (@susanwiggleywoo)
Occupation: Animation producer
About your home
Location: Dublin
What type of house is it? A semi-detached home built in the 1990s.
How many bedrooms and bathrooms? Five bedrooms, three bathrooms.
When did you move in? 2007
Who lives there? My husband, two daughters (Scarlett and Clementine), our bulldogs (Peaches and Chilli) and our cat (Scout).
What made you choose this home over others?
It wasn't love, it was practical. It was near my parents, and at the time it was the most we could afford, plus it had a great garden. It was a tribute to pine when we bought it, with dodgy paint colours everywhere, but once you see past bad décor, you can start to make a place your own.  
What's your favourite part of your home and why?
The garden is my happy place. Landscaping was definitely some of the best money we ever spent. The garden has now matured with lovely bamboos, hydrangea and ferns. In the summer we live out there – we cook there, eat there and even watch movies projected onto the white back wall. 
What's one part of your home you don't like so much, or that causes challenges?
We added an extension to the side and back, meaning we don't have a side entrance, and everything has to come through the house. We have a bike and bin shed in the driveway which solves (most of) that problem.
What's the most unique part of your home? 
I have a quirky and eclectic taste in decor. It's not to everyones taste I'm sure, but I want the house to be a fun and happy place for the kids. You'll see a lot of animal-inspired items around the house: rabbit and monkey lamps, French bulldog and orangutang tables… Sounds hideous, but we love them all!
#Open journalism No news is bad news Support The Journal

Your contributions will help us continue to deliver the stories that are important to you

Support us now
How does an average day start in your home right now? 
Since the kids are back in school, I'm usually up at 7am. My day starts with a cappuccino in bed, thanks to my husband! We walk my youngest daughter to school with the two dogs, then back home. I've worked from home for over a decade and at the moment my husband is doing the same. Before Covid, my husband was out the door by 7am and rarely had time to do the school run. We appreciate this new routine a lot – although I can't say I like sharing my home office after 13 years having it all to myself.
How does an average day end in your home right now? 
You'll usually find us watching TV in the evenings on our massive yellow sofa! The kids have a cosy den to watch TV in, if the adults are in the open plan area. We recently invested in a record player so the front rom is now a tranquil place to listen to music, light the wood burner and drink wine. We've been building up our vinyl collection since lockdown, reliving our youth with some Pearl Jam, Nirvana and Foo Fighters.
What's one thing you'd do differently if you were renovating your home again?
I wanted a snow white resin floor through the entire downstairs for years and now we have one. I love it, but with two dogs and a cat I spend a lot of time mopping, hoovering and cleaning. I have three hoovers, a steamer and numerous micro fibre mops in my collection!