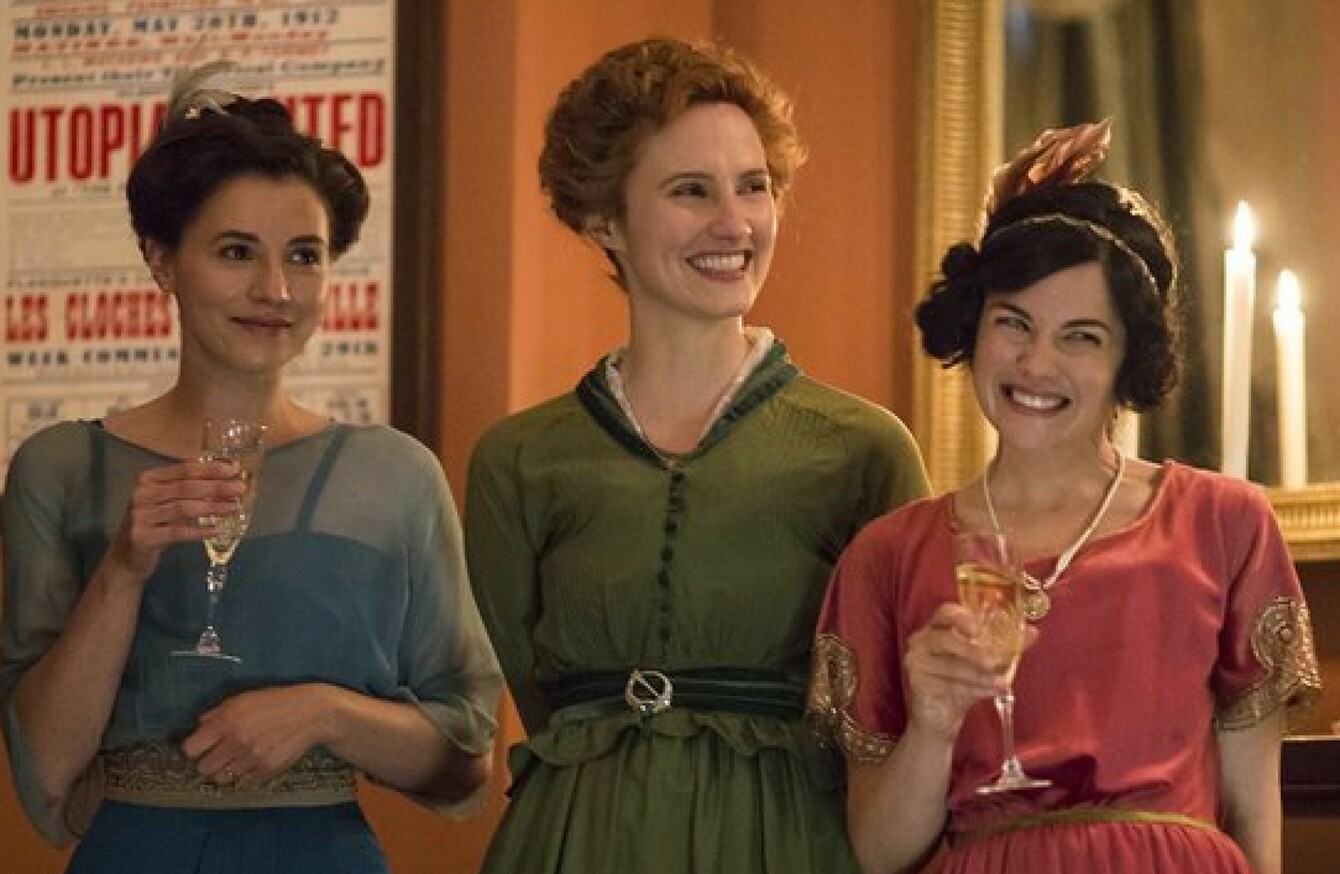 Charlie Murphy as Elizabeth, Ruth Bradley as Frances and Sarah Greene as May.
Charlie Murphy as Elizabeth, Ruth Bradley as Frances and Sarah Greene as May.
THERE ARE – UNLESS RTÉ has managed somehow to mis-sell its lavish new 1916 drama – plenty of scenes of misery, death and destruction still to come in the next few episodes of Rebellion.
Episode one, which aired tonight, focused on introducing its five main protagonists – and was, by comparison, a more sedate affair.
There was plenty going on – but it's probably fair to say that the most striking scene happened late on: as the characters played by Ruth Bradley (Frances) and Sarah Greene (May) took verbal potshots at each other about the fact that one of them was "fucking an Englishman".
The language, even in the bowels of Connolly's print shop, had been pretty sedate up to that point in the episode – which made the exchange all the more jarring.
Historically accurate
Writer Colin Teevan was asked about the language used in the scene after the press screening of the first episode, before Christmas.
It was something they'd put a lot of thought into, he explained.
While the word had, for centuries, been used for the 'the act' – "in terms of the obscenity with 'off' – it's not used until the 1920s".
So that's where you have to be very particular.
All of which probably explains why it's a little odd to watch two young middle-class characters (from a historical drama – of all things) use the word to describe 'the act': in recent years – everything from Roddy Doyle films to Love/Hate – we're used to 'fuck' being used in far more creative ways, seldom if ever for the act itself.
Before talkies 
Language (all of it, not just of the four-letter variety) was a major consideration throughout the writing process, Teevan said.
"The usage … we had to be careful not to Americanise," he noted – pointing out that the events depicted happened before the spread of 'talkies' throughout the Western world and the arrival of US soldiers in Europe for World War I.
When in doubt, he used a historical thesaurus to find synonyms for words now in everyday use but which may not have been part of the general parlance a century ago.
He explained:
"So if you take 'okay': 'okay' would have only come over with the American soldiers at the end of the First World War – two years before that, no-one was saying 'okay'. People would have said 'alright'.
So even really simple banalities like that, we would have tried to keep on top of.
The writer acknowledged he couldn't be entirely sure there weren't still a few stray 'okays' in the five-part series.
But if you happen to see a rogue British Army officer telling Pearse to 'fuck off out of the GPO' you'll probably have grounds for a strongly-worded complaint to RTÉ.