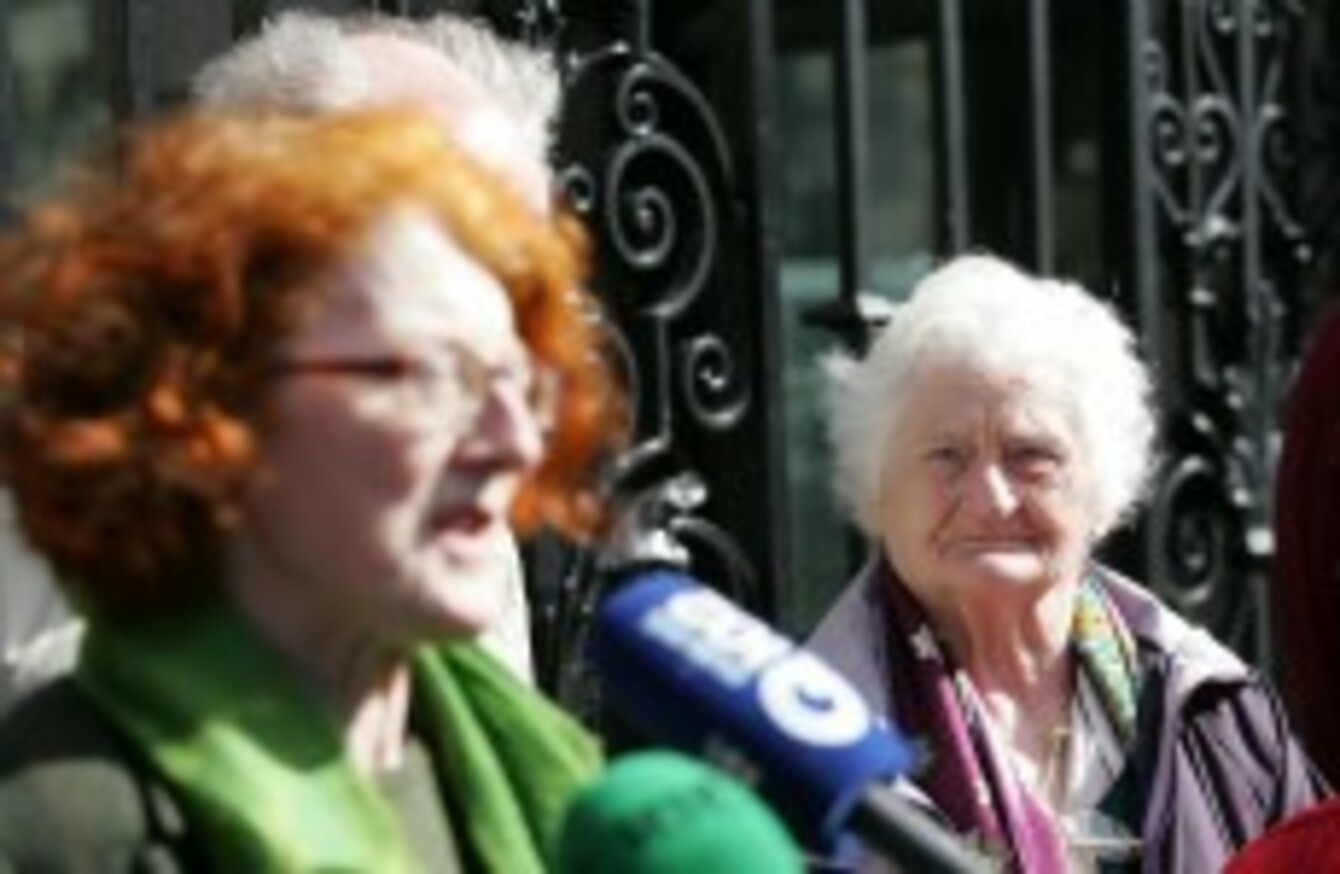 Symphysiotomy survivor Rita McCann, right, and SoS chairperson Marie O'Connor, left.
Image: Photocall Ireland
Symphysiotomy survivor Rita McCann, right, and SoS chairperson Marie O'Connor, left.
Image: Photocall Ireland
THE SURVIVORS OF Symphysiotomy support group is seeking the referral of cases to the DPP in light of the UN Human committee on human rights report on the procedure.
The report, released last week, heavily criticised Ireland's abortion law and the state's handling of the symphysiotomy controversy. It recommended Ireland identify, prosecute and punish those who performed symphysiotomy without patient consent.
The committee also called for a "prompt, independent and thorough investigation" into these cases.
In a statement today, Survivors of Symphysiotomy said the group had put "fresh proposals to the Minister for Health" Leo Varadkar following the UN report's publication, and was seeking the referral of cases of non-consensual symphysiotomy to Irish authorities, including the DPP.
"Restitution, to be acceptable, must be based on a frank admission by the State that these gratuitous operations were wrong and constituted a breach of human rights," said group chairperson Marie O'Connor.
"The UN committee has backed our call for a proper investigation into the practice of symphysiotomy. Clearly, in their view, the Walsh report has failed to meet the need for an effective remedy."
O'Connor said that the UN underlined a need for individual accountability:
The obstetricians, midwives, nurses and anaesthetists who participated in these acts of involuntary surgery must be held to account. This is a matter not only for the DPP but also for regulators such as the Medical Council and An Bord Altranais agus Cnáimhsheachais. HIQA and the HSE also have a role to play.
The group has submitted an 8-point plan to the minister calling for restitution to survivors of the procedure, O'Connor said:
We have sought an early meeting with the Minister. We will be asking him not to add insult to injury. Women forcibly subjected to cruel inhuman or degrading treatment are entitled to restitution that does not strip them of their legal and constitutional rights, run by a board that is independent of the State, offers individualised and impartial assessment of their injuries and reparation that reflects relevant court awards.
Speaking of the UN committee's report last week, Justice Minister Frances Fitzgerald said the Government would examine the report, but noted that Ireland has its own "legal and constitutional position".