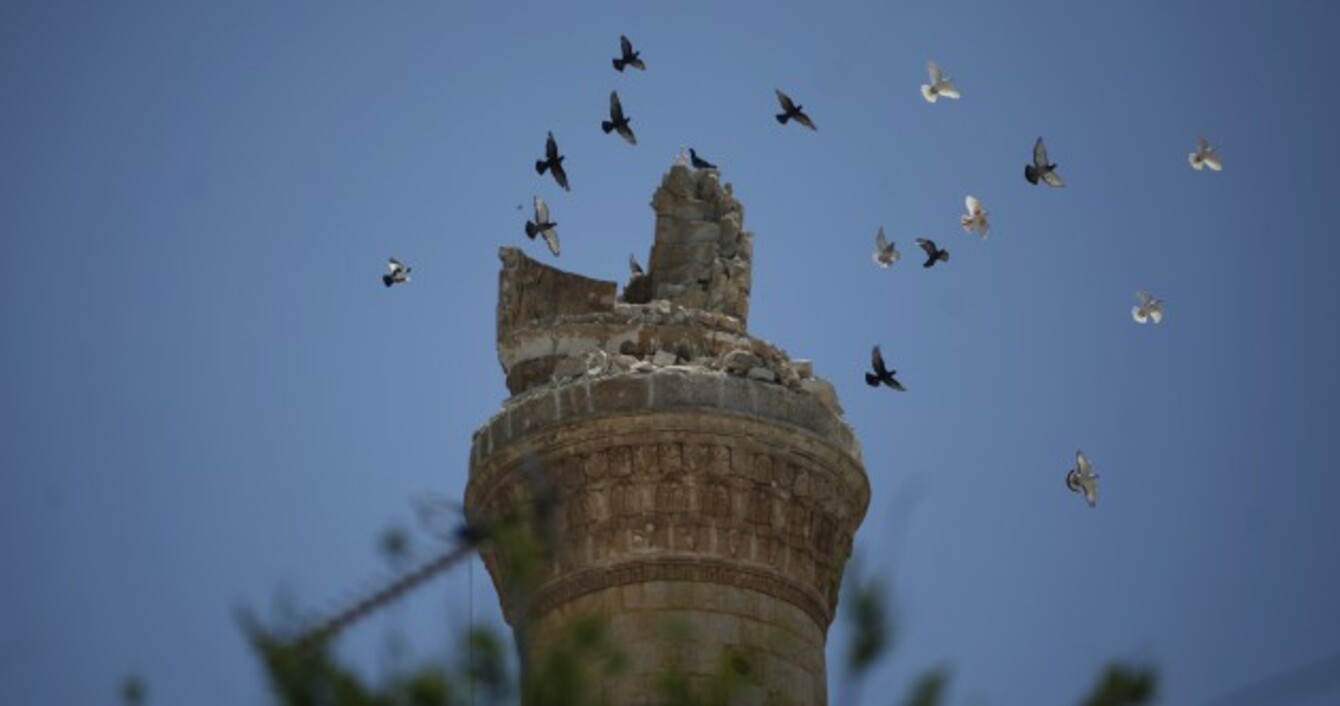 Birds fly over a destroyed minaret of a mosque at the northern town of Ariha, on the outskirts of Idlib.
Image: STF/AP/Press Association Images
Birds fly over a destroyed minaret of a mosque at the northern town of Ariha, on the outskirts of Idlib.
Image: STF/AP/Press Association Images
OVER THE PAST two months, Amnesty International workers visited 23 towns and villages across Syria and discovered what it called a "shocking escalation in unlawful killings, torture, arbitrary detention and war crimes".
In a new 70-page report, the organisation provides details of human rights abuses, including crimes against humanity and war crimes. Although not granted official permission by Syrian authorities to enter the country, workers on the ground were able to visit areas of Aleppo and Idlib in April and May.
"In every town and village grieving families described how their relatives – young and old, and including children – were dragged away and shot dead by soldiers, who in some cases then set the victims' bodies on fire," the report says.
It also claims that soldiers and shabiha militias burned down homes and properties, as well as firing indiscriminately into residential areas, killing and injuring civilians.
Those who were arrested were routinely tortured while many others have disappeared. Their fates remain unknown, added the authors of the report which is entitled Deadly Reprisals.
Donatella Rovera, Amnesty International's senior crisis adviser, who recently spent several weeks investigating human rights violations in northern Syria said, "This disturbing new evidence highlights the urgent need for decisive international action to protect civilians."
For more than a year the UN Security Council has dithered, while a human rights crisis unfolded in Syria. It must now take concrete action to end these abuses and to hold those responsible to account.
"Everywhere I went, I met distraught residents who asked why the world is standing by and doing nothing," she added, stating that the inaction by the international community only serves to encourage further abuses.
Amnesty workers themselves witnessed uniformed security forces and plain-clothes shabiha militia members firing live rounds against peaceful demonstrators on several occasions in the last week in May. A number of protesters, passers-by and children were injured and killed as a result.
The group has again called on the United Nations to refer the situation in Syria to the Prosecutor of the International Criminal Court, to impose an arms embargo to stop the flow of weapons into the country and to freeze the assets of the regime.
It also urged China and Russia to stop shipping arms and security equipment to Bashar Assad's government.
Since unrest began in March 2011 as part of the wider Arab Spring movement, the UN believes more than 14,000 people have been killed. Herve Ladsous, the UN's peacekeeping chief, believes the violence has now escalated into civil war.
The Amnesty report comes just days after the UN revealed that children as young as 8-years-old have been victims of killing, arbitrary arrest, detention, torture and sexual violence. There is also evidence that they have been used as human shields in Syria.