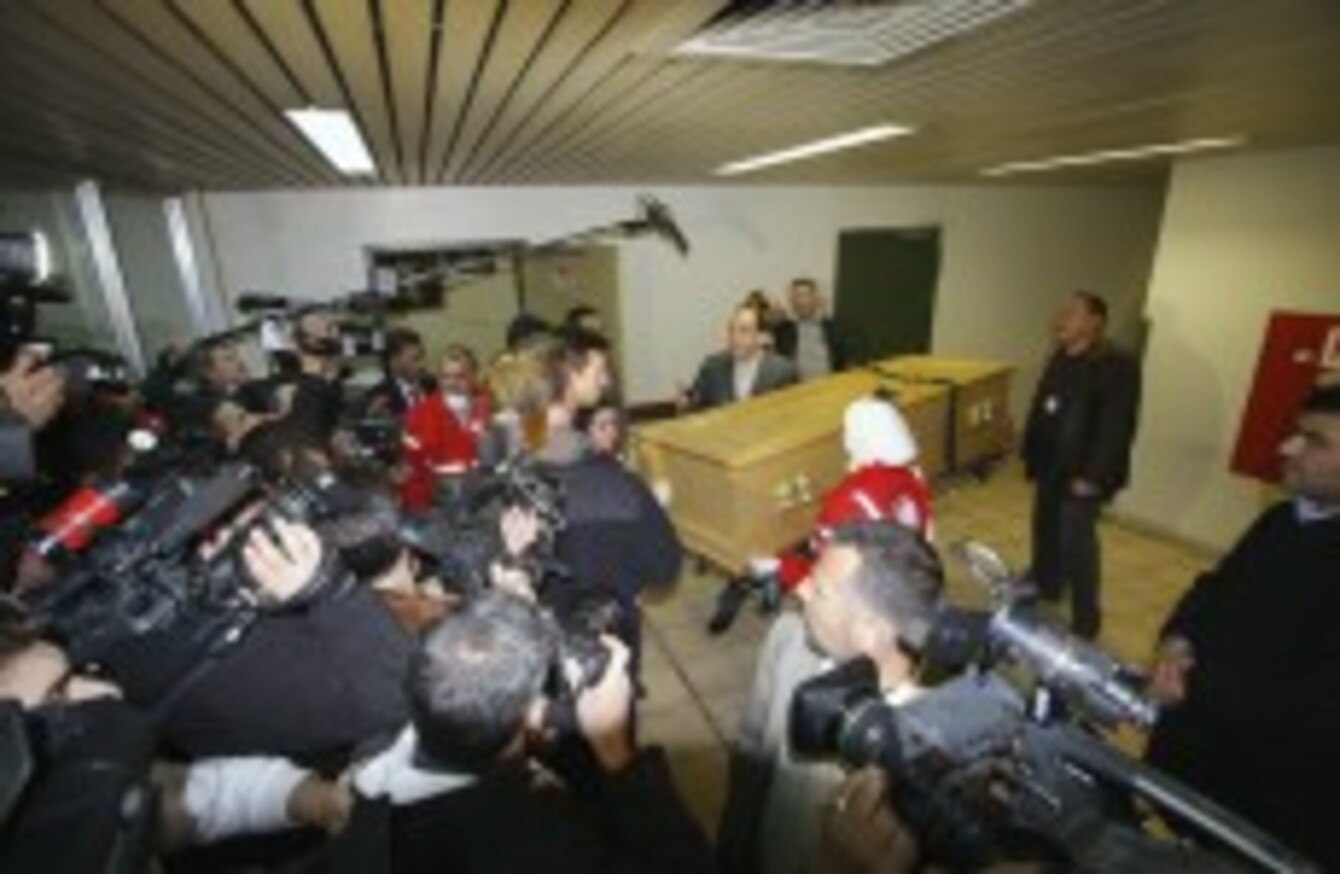 Remi Ochlik's body in a coffin surrounded by media in Damascus
Image: AP Photo/Muzaffar Salman
Remi Ochlik's body in a coffin surrounded by media in Damascus
Image: AP Photo/Muzaffar Salman
THE BODIES OF two foreign journalists who were killed in shelling in Syria's central city of Homs have been released by the regime and handed to diplomats from their home countries.
French Ambassador Eric Chevallier received the body of French photographer Remi Ochlik, and a Polish diplomat received the remains of American Marie Colvin, a reporter for the Sunday Times. US interests in Syria are represented by Poland.
The bodies, in brown coffins placed on stretchers, were transferred outside the Assad hospital in Damascus and driven away in an ambulance. The journalists' belongings were placed in black plastic bags.
Colvin, 56, a veteran correspondent for Britain's Sunday Times, and Ochlik, 28, a photojournalist, had sneaked into Syria to get an eyewitness view of the government crackdown in the country, where thousands have been killed since a popular uprising began a year ago.
But they were trapped inside the besieged Baba Amr district of Homs, a target of heavy Syrian military shelling, and died on February 22. The attack also wounded Edith Bouvier of the daily Le Figaro and British photographer Paul Conroy – who warned of a "massacre" under way after being smuggled out of the country.
Bouvier and French photographer William Daniels, who was not injured but also had been trapped in Homs, arrived in France on Friday after being smuggled through tunnels and snow from Syria into Lebanon.
On Thursday, videos released by activists in Syria said Colvin and Ochlik were buried in Baba Amr. But the Syrian government said the bodies had been disinterred and the government would repatriate them.
Yesterday evening, Red Cross spokesman Bijan Farnoudi said the organisation had been given the remains of Ochlik and Colvin and would take them to Damascus.
Later, Polish Ambassador Michal Murkocinski and Chevallier identified their bodies at a Damascus morgue, according to Poland's Foreign Ministry. Polish diplomats, in consultation with the US, are trying to transport Colvin's body to the US as soon as possible, the ministry said.