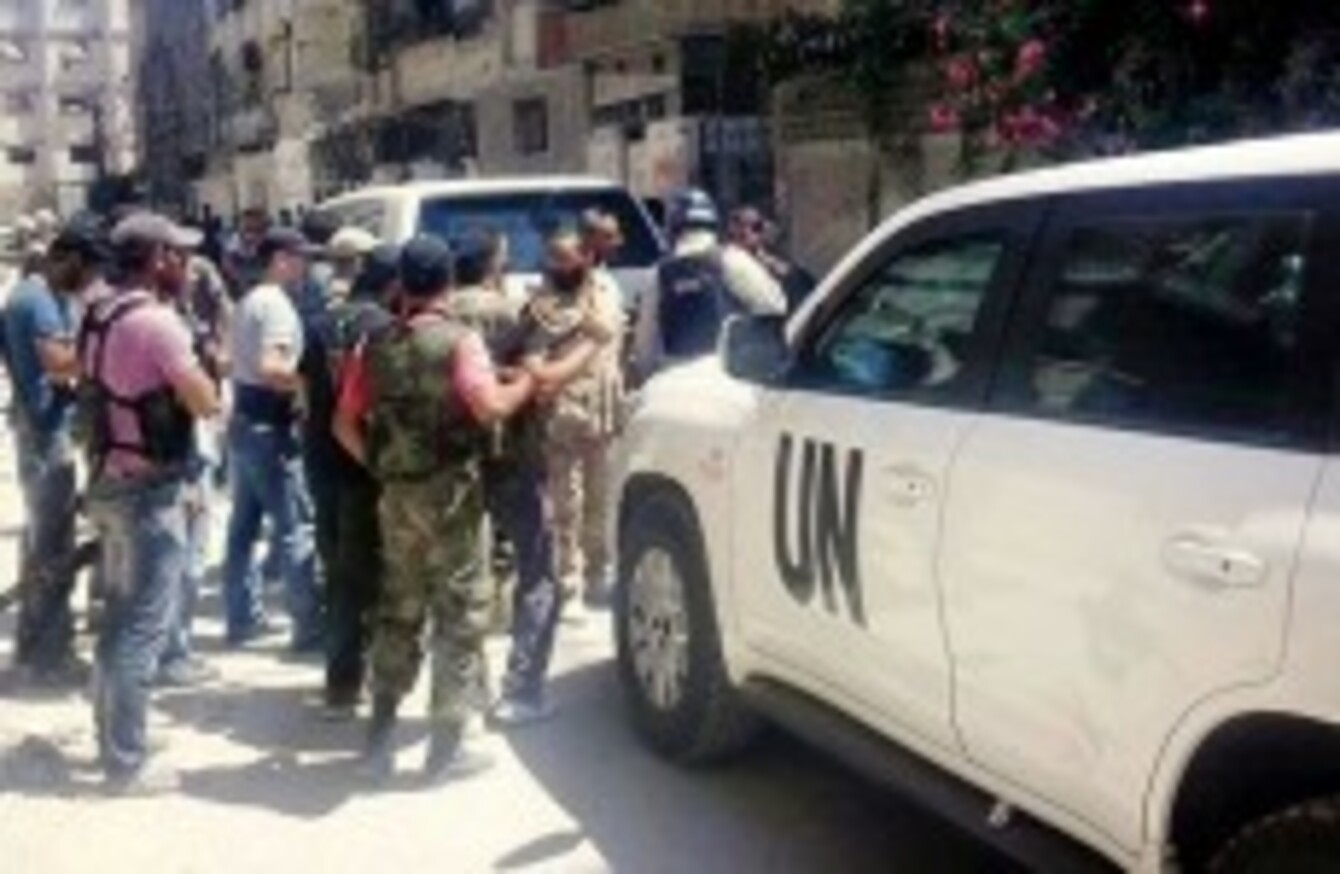 A citizen journalism image provided by the United media office of Arbeen which has been authenticated, showing Syrian rebels escorted the UN investigation team, in Damascus countryside of Zamalka, Syria
Image: AP Photo/United media office of Arbeen
A citizen journalism image provided by the United media office of Arbeen which has been authenticated, showing Syrian rebels escorted the UN investigation team, in Damascus countryside of Zamalka, Syria
Image: AP Photo/United media office of Arbeen
UN EXPERTS INVESTIGATING purported poison gas attacks left their Damascus hotel today, but anti-regime activists said the team's destination was not immediately known.
UN Secretary-General Ban Ki-moon said the team would be leaving Syria on Saturday.
The inspectors spent two days this week taking biological samples and interviewing survivors in the suburbs of Damascus where Syrian activists say hundreds were killed in the August 21 attacks.
Sky News reports that the Syrian government has written a letter to British MPs, urging them not to be 'reckless'.
Commons will debate the Syrian issue this afternoon.
USA
Meanwhile, US President Barack Obama said that he has concluded the Syrian regime is behind the attack.  But it is not clear if the Western powers will wait for the UN experts' findings before launching a possible punitive military strike.
Speaking in Vienna today, Ban asked for time for the inspection team to complete its investigation, including a scientific analysis of the samples after they leave Syria. All opinions should be heard before decisions are made on a possible response, he said.
The US has signaled it would act even without backing from its allies or the UN.
Britain
Activists block Whitehall near the junction with Downing Street during an event organised by Stop the War Coalition to protest against potential UK involvement in the Syrian conflict in London. Pic: Jonathan Brady/PA Wire
Britain's opposition Labour Party has indicated it may not support even a watered down version of a government resolution on Syria.
Labour leader Ed Miliband said today he is unwilling to give Prime Minister David Cameron a "blank cheque" for conducting possible future military operations against Syria.
He had earlier forced Cameron to back down on calls for an immediate strike in order to assess UN inspectors' evidence about a possible Syrian government chemical attack on its own people.
Labour's position leaves the results of a parliamentary vote expected late today in doubt. If approved, the measure would authorize possible strikes in principle but would require a second vote after the UN report.
The government says it plans to publish its legal advice on a possible attack today.
France
Syrian refugee boys play soccer at Zaatari Syrian refugee camp, in Mafraq, Jordan. Pic: AP Photo/Mohammad Hannon
A French defence spokesman said the French military is ready to commit forces to an operation in Syria if President Francois Hollande decides to do so.
French Defense Ministry spokesman Pierre Bayle told reporters today that "the French armed forces have put themselves at the ready to respond to the instructions of the president if he takes the decision to commit French forces" to an international intervention in Syria's civil war.
While Hollande has spoken out strongly against the regime of Syrian President Bashar Assad, today he stressed the importance of a political solution and making the Syrian opposition a stronger and more viable alternative.