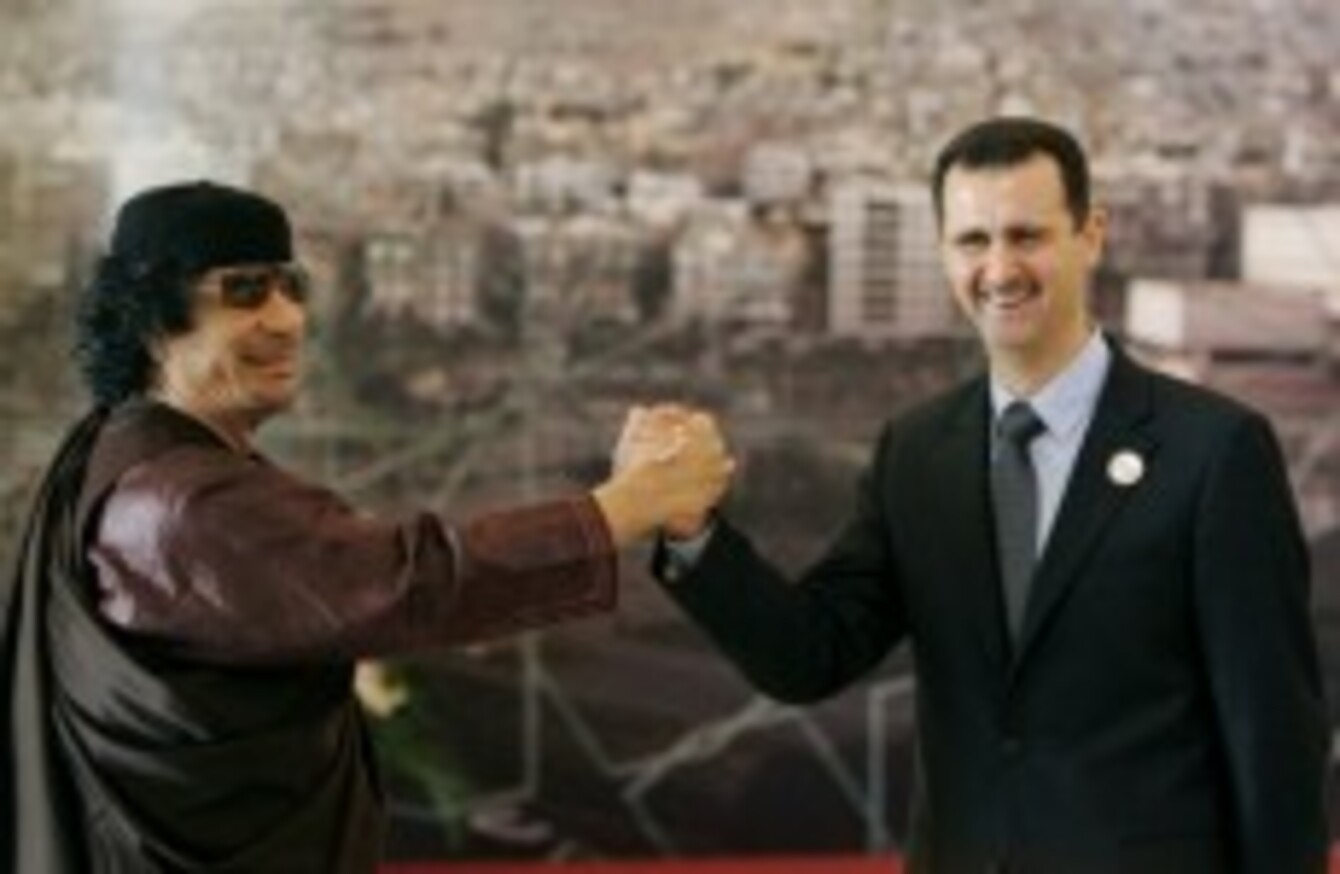 File photo of Libya's Gaddafi meeting Syria's Assad in 2008. Turkey has warned Damascus that it will suffer the same fate as Tripoli if Assad does not "silence his arms".
File photo of Libya's Gaddafi meeting Syria's Assad in 2008. Turkey has warned Damascus that it will suffer the same fate as Tripoli if Assad does not "silence his arms".
PRESIDENT BASHAR ASSAD has continued his crackdown on anti-government protesters with the latest raids occurring today in the northwest and Damascus today.
The Syrian Observatory for Human Rights claimed that five people were killed when forces stormed the village of Sarameen in the northwest province of Idlib.The London-based activist group said one of Monday's victims was a child.
House-to-house searches were carried out during the raids in the area, in which up to 60 people were also injured.
The biggest operation was carried out in Sarameen but one person was also killed in Qara, near the capital Damascus, according to activists.
The military also moved into the village of Heet this morning, burning houses and arresting dissidents, said activists. The town is located at the border of Lebanon and a Lebanese official confirmed the military's presence this morning.
'Large' defections
Meanwhile, Al Jazeera reports that forces loyal to Assad have surrounded a town near the central city of Homs. Activists have told the news agency that the military moved in after several soldiers defected from the army in the area.
It is almost impossible to verify reports coming from Syria as foreign journalists have not been given access. However, residents have told Al Jazeera that at least 40 tanks and 20 bus-loads of troops were deployed this morning in Rastan, about 20km north of Homs.
Heavy machine gunfire was heard.
According to Reuters, there have been more defections from the army reported since the collapse of Muammar Gaddafi's rule in Libya.
Protests have also gained momentum claimed the pro-democracy group, the Local Co-ordination Committees of Syria.
In its daily briefing, the activist organisation said, "Despite all the security pressure and the barricades that spread in all the cities and neighborhoods thousands have came out in demonstrations chanting for freedom [and the] toppling of the regime."
This video purports to show an evening demonstration in Rastan last night before troops were deployed there this morning:

Turkey warns Assad on his demise
On the diplomatic front, Turkey's prime minister has once again spoken out against Syria's president.
Recep Tayyip Erdogan, a former ally of the Syrian regime, warned his one-time friend Assad that the "only way out is to immediately silence arms and to listen to the people's demands.
"We have been watching the fate of those who didn't choose this path in the past few months in Tunisia, in Egypt - and now in Libya - as a warning and with sadness," he said.
"Demands for democracy and freedom are the people's just demands. In today's world, there is no place for one-man rule, for autocratic regimes and closed communities."
Damascus is running out of allies as international powers continue to condemn Assad's crackdown on pro-democracy protesters. However, the government still has sympathetic supporters in Iran and Russia.
SANA, the State news agency, reports that Russia's Deputy Minister of Foreign Affairs Mikhail Bogdanov, who was in Syria today, has given his support to the reform processes being undertaken by the current government in Damascus.
Human rights groups say more than 2,000 people have been killed since the start of the uprising in March and have dismissed Assad's promises of change. Activist groups have warned against "militarising the revolution," stating that such a move would almost certainly backfire.
-Additional reporting by AP