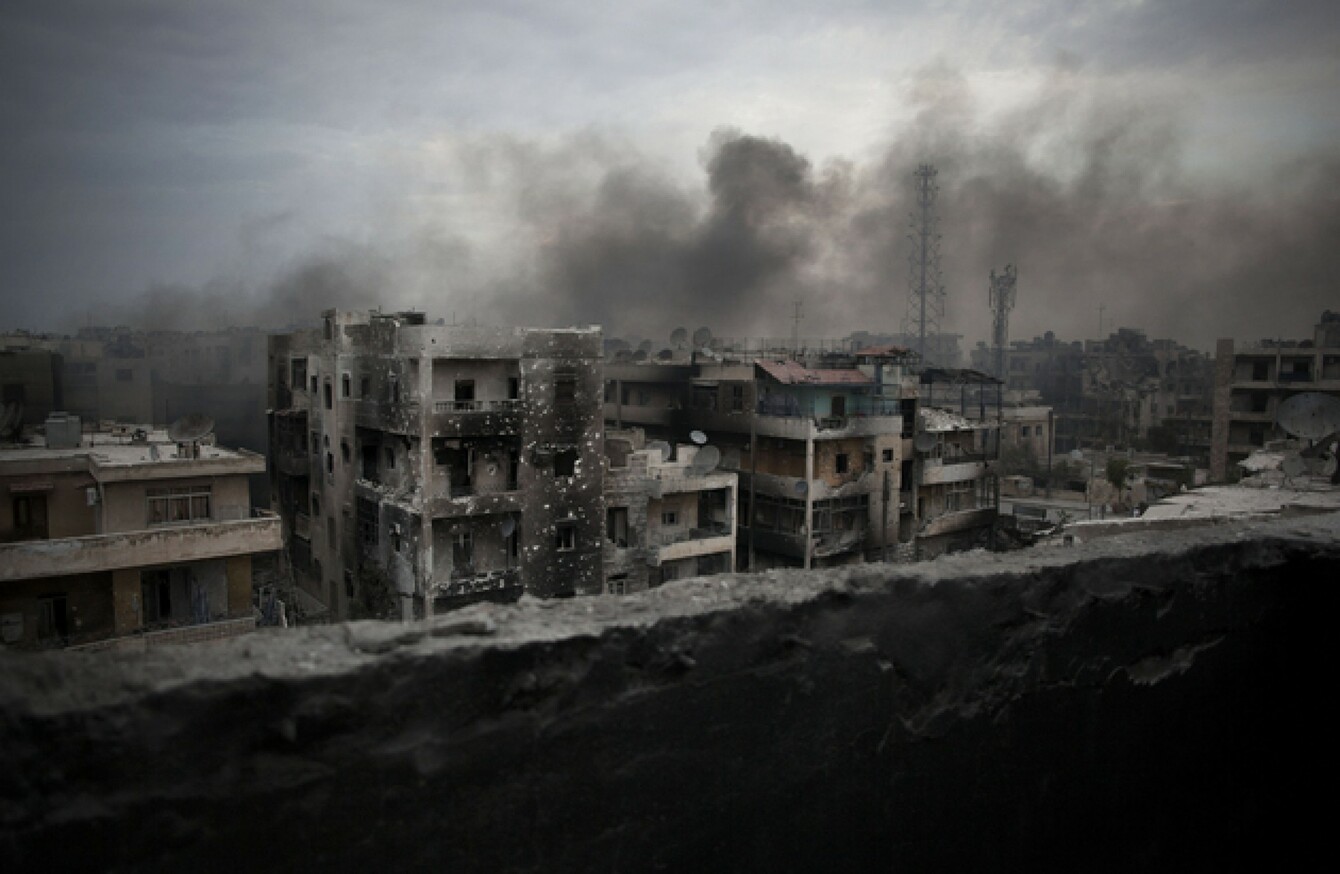 A 2011 file picture from Aleppo.
Image: PA
A 2011 file picture from Aleppo.
Image: PA
THE TWITTER ACCOUNT belonging to a seven-year-old Syrian girl who came to prominence in the ongoing siege of Aleppo has been deactivated.
Bana Alabed's tweets – written in English with the help of her mother - offered a window into life in the war-torn city.
On Sunday, as Syrian government troops pushed into the city's east, the account disappeared from Twitter.
According to CNN, BBC and Eliot Higgins, a senior fellow at the Atlantic Council's Digital Forensic Research Lab, which follows conflicts in real time, the last tweet read:
We are sure the army is capturing us now. We will see each other another day dear world. #Aleppo.
Bana had more than 100,000 followers, and has tweeted messages of deep foreboding before.
On 27 November she wrote: "Tonight we have no house, it's bombed and I got in rubble. I saw deaths and I almost died."
The next day, Bana tweeted that she was "between death and life". There are no authoritative reports as to what has happened to the Alabed family.
While online sources within Aleppo initially reported that Assad's forces had captured the mother and daughter, others asked media to "respect their privacy" and choice to disappear from the web under fear of Assad forces.
Rebel withdrawal
As Assad's forces push into eastern Aleppo, Russian and US experts are due to meet in the coming days to determine the routes and timing for a total rebel withdrawal, Foreign Minister Sergei Lavrov said today.
"During the Russian-American consultations the concrete route and timeframe for the withdrawal of all fighters from eastern Aleppo will be agreed upon," the Russian diplomat said, indicating that the talks in Geneva would start tomorrow or Wednesday.
"As soon as these routes and timeframes are agreed on, a ceasefire can come into effect," Lavrov said.
The discussions would be based on proposals made by US Secretary of State John Kerry in Rome on Friday, he said.
Yet today Syrian rebels ruled out a pullout from east Aleppo despite the sweeping government advances. The Syrian army has seized two-thirds of east Aleppo and is continuing to advance, pounding remaining opposition-held territory.
Provocative
Russia's top diplomat has also denounced a proposed UN resolution demanding a temporary ceasefire in Aleppo, calling it a "provocative step".
The UN Security Council will today vote on the resolution, drafted by Egypt, New Zealand and Spain, that calls for a truce of at least seven days.
Lavrov told a press conference:
Taking into account all aspects and the current development of the situation, the draft resolution – coming against the backdrop of the Russian-American initiative – is, for the most part, a provocative step that undermines Russian-American efforts.
Despite concessions by those who drafted the text – an early version demanded a 10-day truce – it looks likely Moscow will use its veto to torpedo the measure.
The forces of Syrian leader Bashar al-Assad and their allies are continuing to advance on Aleppo's rebel-held districts, after taking control of some 60% of the city so far, according to the Syrian Observatory of Human Rights.
Since the start of the Syrian regime's latest offensive in eastern Aleppo on 15 November, at least 311 civilians have been killed, 42 of them children, the Britain-based monitor says. At the same time, rebel fire has killed nearly 70 people in the city's government-held west.
Russia has been flying air raids in Syria since September 2015, intervening at the request of Assad, Moscow's longtime ally.
With reporting from AFP. - © AFP, 2016