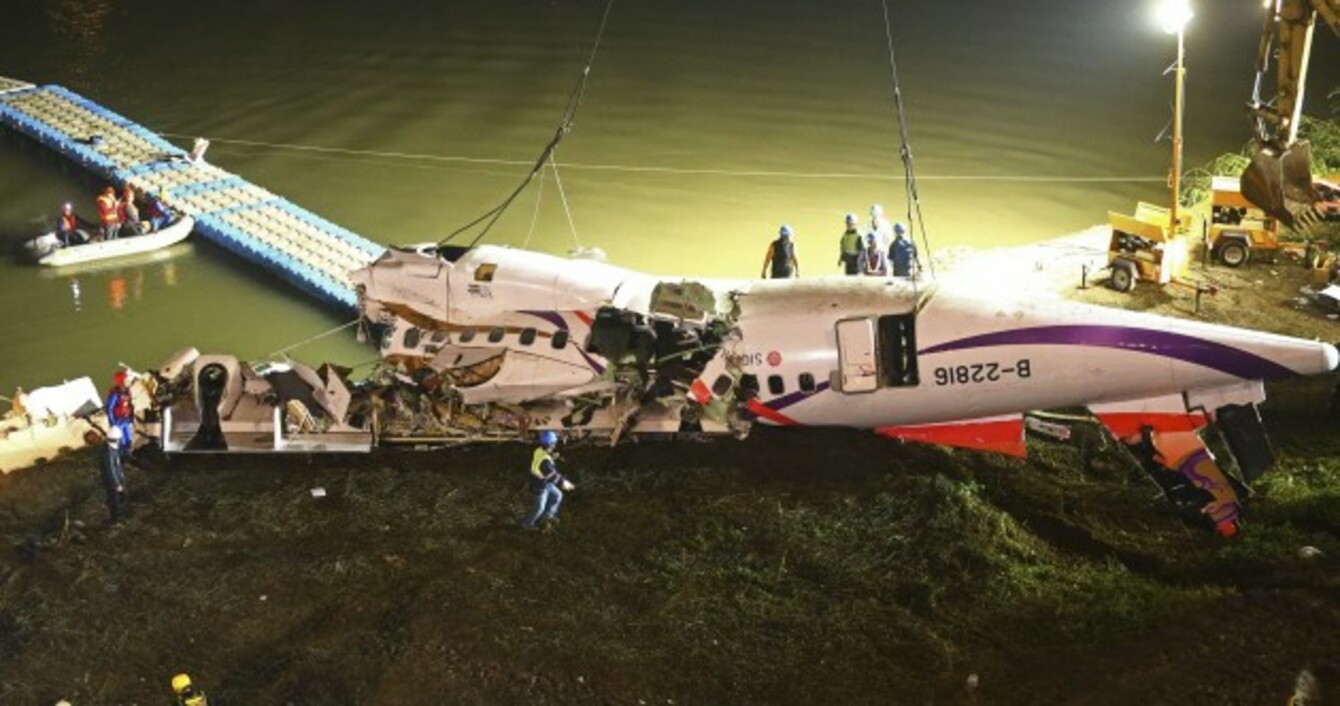 Image: STR/AP/PA
Image: STR/AP/PA
ONE ENGINE FAILED on the TransAsia plane that crashed in Taiwan this week with the loss of at least 35 lives, and the pilots may have inexplicably shut down the other, investigators and experts said today.
Initial findings from the plane's black boxes were released as reports emerged that the chief pilot was still clutching the joystick when his body was found in the cockpit, after he apparently battled to avoid populated areas. A 'mayday' call was also logged seconds after the engine failed.
The Civil Aeronautics Administration (CAA) also disclosed that TransAsia Airways had failed to meet around a third of the regulatory requirements imposed after another fatal crash just seven months ago in Taiwan's western Penghu islands.
On Wednesday the French-made ATR 72-600 plane, equipped with two Pratt & Whitney turboprop engines, plummeted into a river after clipping an elevated road, as shown in dramatic dashcam footage.
In the first account of the last moments of Flight GE235, Taiwan's Aviation Safety Council said the right engine had "flamed out" about two minutes after takeoff from an airport in northern Taipei.
Warning signals blared in the cockpit and the left engine was then shut down manually by the crew, for unknown reasons, the council's director Thomas Wang told a news conference.
"The pilot tried to restart the engines but to no avail. That means that during the flight's final moments, neither engine had any thrust," he said. "We heard 'Mayday' at 10:54:35."
Wang said it was "not clear" why the left engine was shut down manually. "We are not reaching any judgement yet," he said.
Probable error 
But analysts said it was probable the crew made an error.
"It looks like they shut the wrong engine," said Greg Waldron, the Singapore-based Asia managing editor at aviation industry publication Flightglobal.
"The right-side engine flamed out but that in itself is not enough to cause a crash because the ATR is designed to fly on one engine," he noted.
"What happened was that a few seconds after engine two flamed out, they (the pilots) cut the fuel to engine one, and when they cut fuel to engine one that's when things started to go haywire because the plane was not powered anymore."
Gerry Soejatman, a Jakarta-based independent aviation analyst, said the Taiwan incident "could have been an innocent mistake".
"I will have to take a look again but changes in the layout of the engine instrumentation of the aircraft (compared with an older version of the ATR 72) could be a factor," he said.
TransAsia said late Friday all its 71 ATR pilots would be required to sit a CAA test to ensure they were properly qualified.
The airline said it had also decided to conduct a year-long review of the company, to be carried out by "an authoritative international team".
- © AFP 2015.
#Open journalism
No news is bad news
Support The Journal
Your contributions will help us continue to deliver the stories that are important to you
Support us now