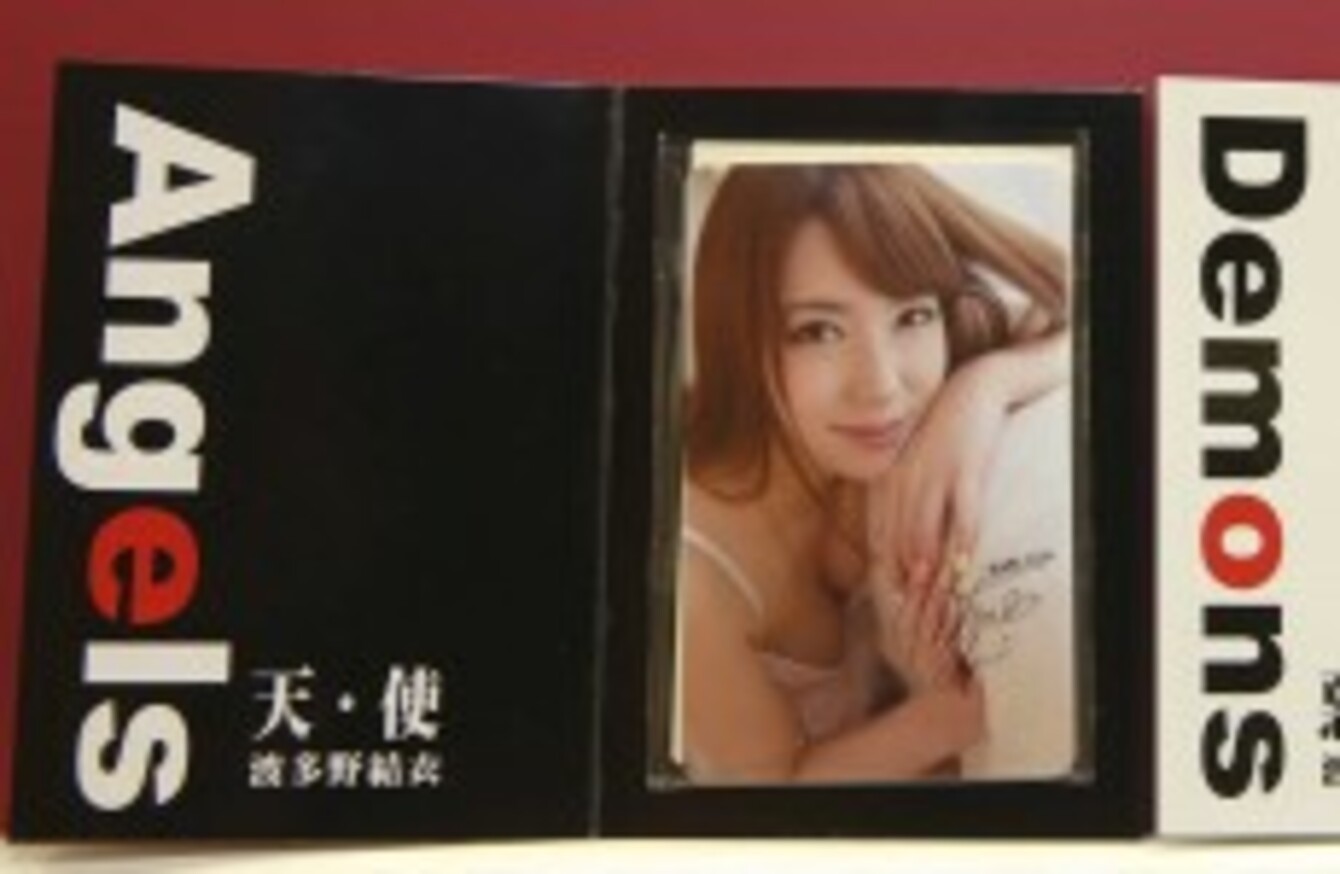 The two special edition swipe cards for Taiwan's mass transit, which feature 27-year-old Japanese porn star Yui Hatano
Image: AP
The two special edition swipe cards for Taiwan's mass transit, which feature 27-year-old Japanese porn star Yui Hatano
Image: AP
A SPECIAL EDITION swipe card for Taiwan's mass transit featuring the clothed image of a Japanese porn star sold out within hours overnight via a telephone hotline, despite a storm of opposition.
Taiwan's EasyCard Corp said on its website that it sold its full run of 15,000 card sets by 4.18am yesterday, after phone orders started at midnight.
Yui Hatano
The stored value cards — also used for convenience store purchases — feature images of Yui Hatano, a 27-year-old Japanese woman who local media say likes Taiwan and wants to help the card company's charity donation scheme.
Hatano, also popular in Japan, is pictured from the elbows up and clothed. A pose on the cards' wrapper appears with the word "angels" and another is accompanied by the word "demons".
Critics, including parents, politicians and women's advocacy groups, campaigned against the cards, saying the images disrespect women and send inappropriate messages to children. Many stores declined to sell them, and the company ended up offering them via telephone hotline only.
Controversy
Taipei Mayor Ko Wen-je, whose government is a 40% investor in the swipe card company, had asked that the cards avoid being "openly sold," such as at convenience stores or metro stations, deputy city spokesman David Huang said.
The city government believes that because a controversy exists, there's no need to do this sale.
Taiwanese went for the cards because they look up to Japanese culture, one metro rider said.
It's culture worship, like when you're young and collect cards with cartoon stars like Doraemon.
Japanese cultural icons commonly appear in children's books and on items such as stationery and smartphone cases.
The swipe card company, which has sold more than 20 million cards including co-branded editions, apologised online for the dispute and pledged to do an internal review.
"In the future we will continue to strengthen public service and social responsibility," the company said in a statement on its website.
Local media say proceeds from the $15.4 card set sales will go to charity. Company spokespeople were not available for comment.