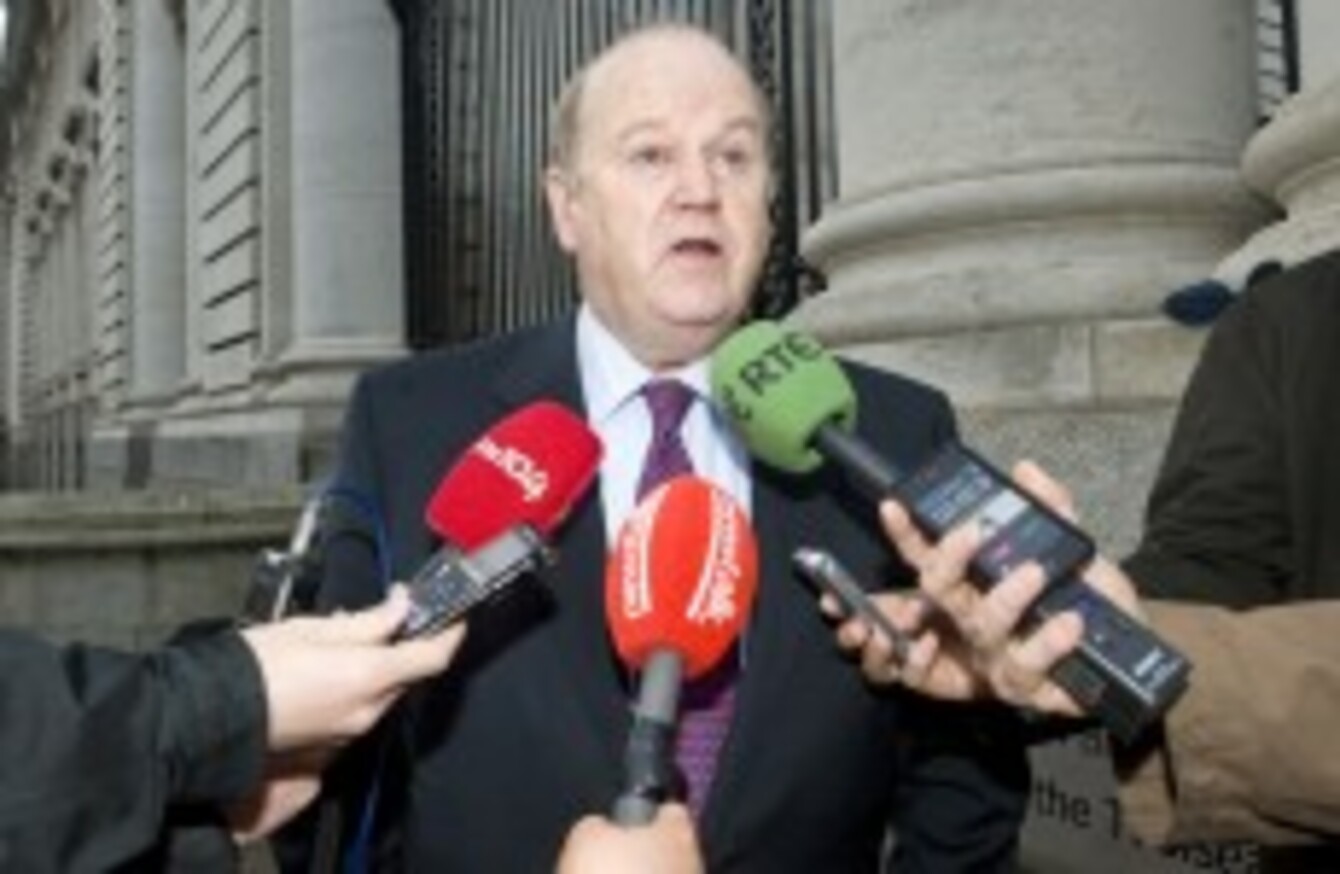 Michael Noonan speaks to the media as he arrives at Government Buildings today for the first Cabinet meeting of the new year
Image: Laura Hutton/Photocall Ireland
Michael Noonan speaks to the media as he arrives at Government Buildings today for the first Cabinet meeting of the new year
Image: Laura Hutton/Photocall Ireland
MINISTER FOR FINANCE Michael Noonan has dismissed discussion of a second bailout for Ireland, calling it "ludicrous" and "idle speculation".
Speaking outside the Dáil today, Noonan said that there is "no question" that the government is even "considering" a second bailout.
He was responding to remarks from an economist from one of the world's biggest banks, who suggested that Ireland should have a second bailout deal on standby in case the country can't return to the markets as planned when the first deal expires.
Noonan echoed the sentiment from EU economics comissioner Olli Rehn who described the remarks as "not particularly helpful" yesterday.
"It's ludicrous to be talking about a second bailout when we're in and meeting all the targets of the first programme," said the Minister for Finance outside the Dáil today.
"We're a year into the rescue programme which was negotiated by the previous government and we're fully funded til the back end of 2013. So it's really speculation by economists who, at the start of the new year, speculate on these matters".
Noonan dismissed the idea that the current bailout deal be extended to deal with lower-than-expected growth forecasts.
"We're only a year in the programme. This is idle speculation. Growth forecasts are down but we have taken that into account in forming the Budget.
There's no question of the government even considering a second bailout
Willem Buiter, the chief economist with Citigroup, earlier this week said that Ireland should negotiate alternative funding now rather than look for a second bailout "in a state of near panic" when the current bailout comes to a conclusion.
Buiter's comments were echoed by DCU economist Tony Foley who said that Ireland should be "praying" for a second deal.
Inspectors from the troika are currently in Dublin on their quarterly visit to examine Ireland's performance under the current bailout programme.
Noonan said that the visit, which will last another ten days, has started "very well" and has been "very positive" so far, with Ireland meeting all targets.