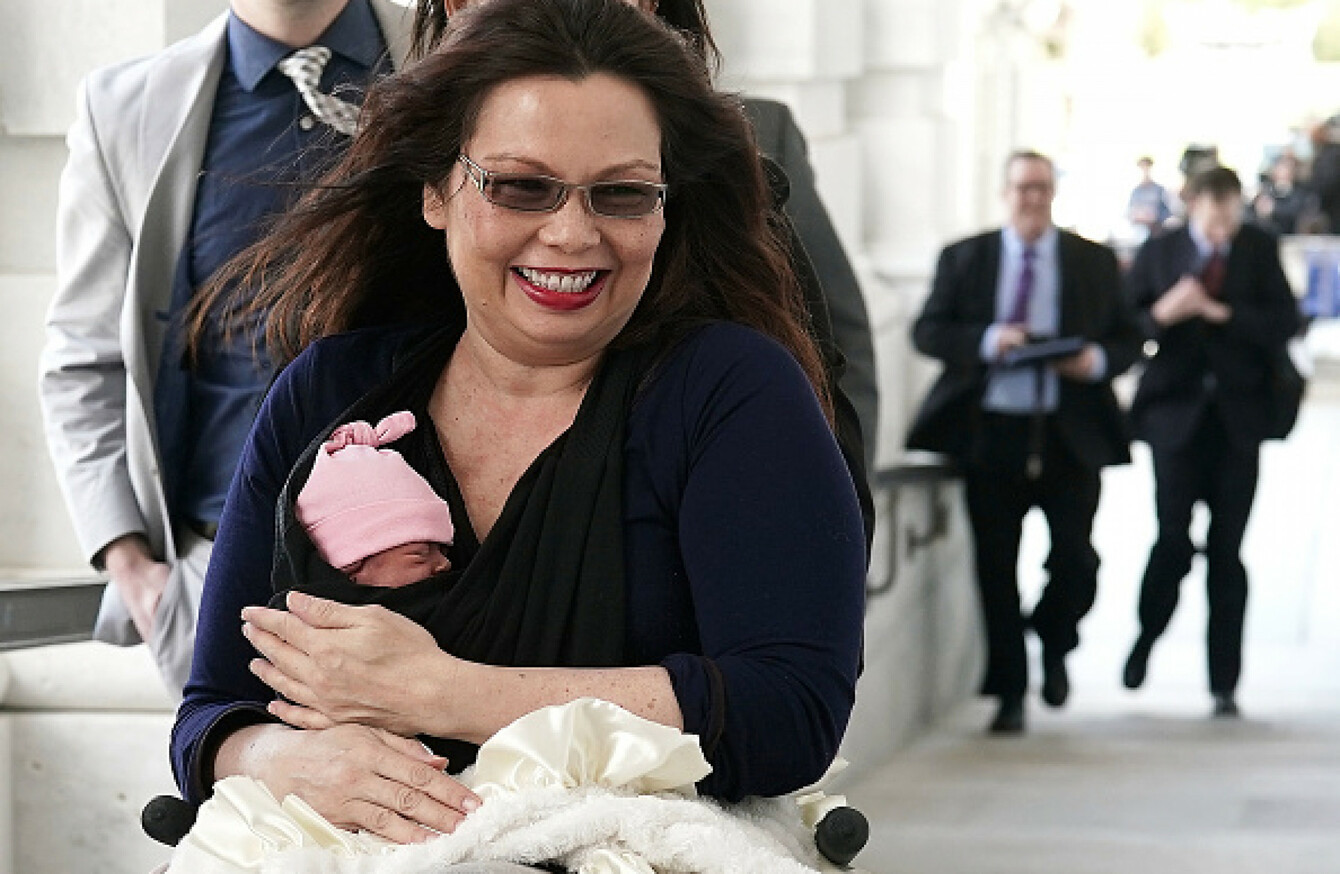 Tammy Duckworth and baby Maile
Image: Alex Wong
Tammy Duckworth and baby Maile
Image: Alex Wong
TEN-DAY-OLD BABY MAILE got an extremely early introduction to US politics today when her Senator mam Tammy Duckworth made her the first baby ever to visit the floor while the Senate was in session.
Duckworth, a Democrat, drew applause and a chorus of "awwws" from her colleagues when she made her much anticipated entrance, with her sleeping child on her lap and wearing a pink knit cap, to cast her vote against President Donald Trump's nominee to head the National Aeronautics and Space Administration (NASA).
The decorated Asian-American US Army veteran, who lost both legs in 2004 when her helicopter was shot down over Iraq, used her wheelchair to roll over to the Senate clerk to vote, and was then surrounded by well-wishing colleagues.
"It was quite lovely," a beaming Duckworth told reporters afterwards, stressing how lawmakers including the Republican Senate Majority Leader Mitch McConnell were "very cordial and welcoming".
Earlier this month Duckworth, 50, became the first sitting US Senator to give birth while in office.
Today she broke another barrier, one day after the Senate took a major step into the 21st century by voting to change the rules to allow senator parents to bring their infant children on to the floor.
Senate Democrat Amy Klobuchar pushed for the rules change, successfully arguing that the Senate should be a more family-friendly workplace.
US law prevents congressional employees, who are paid by US taxpayers, from conducting the personal business of lawmakers, so the rule change accommodates parents of a newborn in the event they need to vote and care for their child at the same time.
A service dog was allowed on the floor in 1997, "but since then we have not expanded any access to the floor until this little Maile," Klobuchar said.
"Now it's a standard rule, because we believe that there will be other moms and dads that may want to bring their infants on the floor."
Members of the House of Representatives are allowed to bring their children onto the floor of that chamber.
But the Senate's rules are stricter, and it still bars child minors over age one from being brought onto the floor.
Duckworth's vote was her first appearance in the Senate since giving birth.
Asked how she was doing and whether she has been getting much sleep, Duckworth jokingly shot back: "I've got a 10-day old, I'm not getting no sleep!"