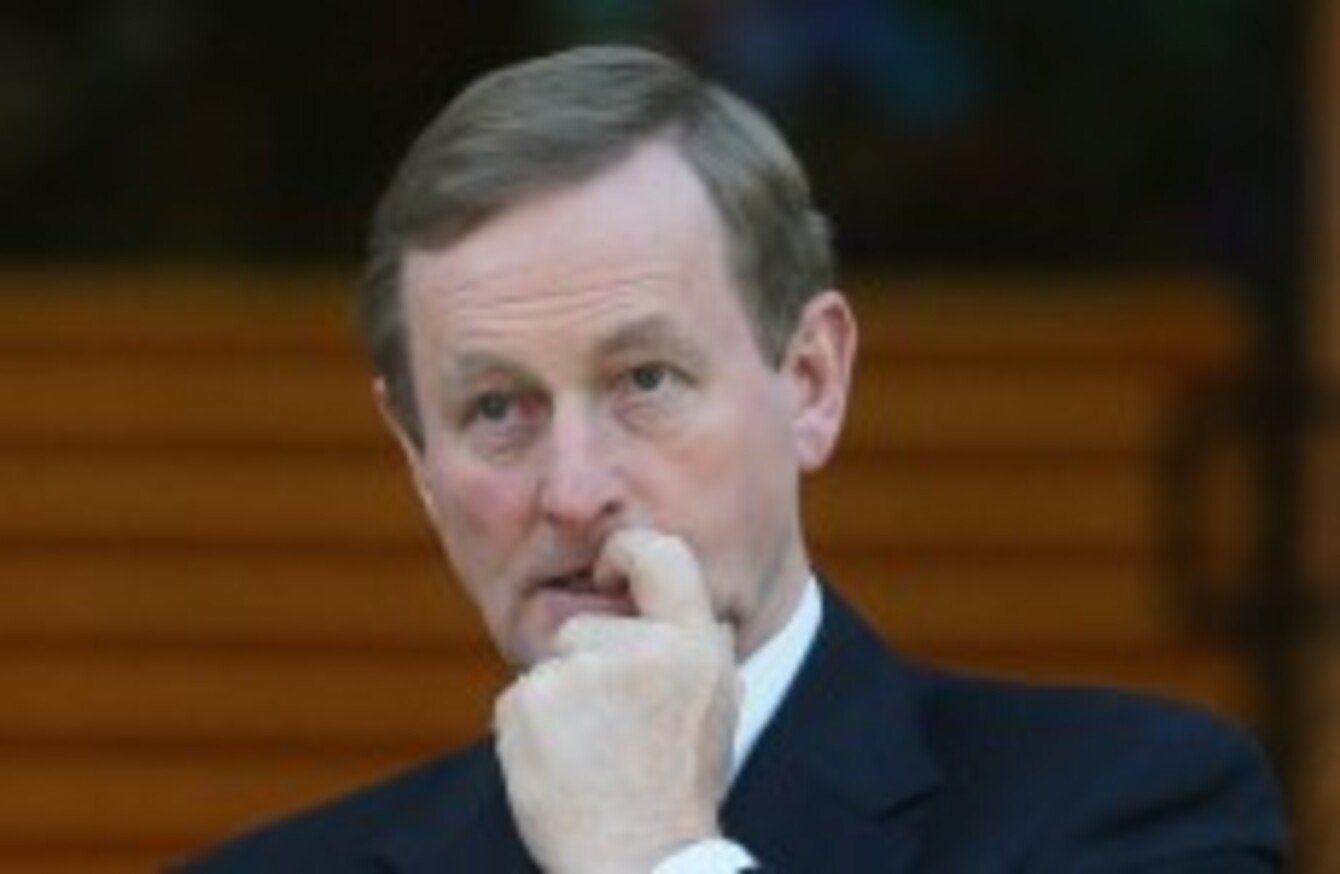 Taoiseach Enda Kenny waiting to meet Bill Clinton outside Government Buildings yesterday evening
Image: Niall Carson/PA Wire/Press Association Images
Taoiseach Enda Kenny waiting to meet Bill Clinton outside Government Buildings yesterday evening
Image: Niall Carson/PA Wire/Press Association Images
GOVERNMENT BACKBENCHERS WERE told last week that the Taoiseach was "anxious" that they make statements during what's been criticised by the opposition as "three days of backslapping" in the Dáil this week.
The government is not bringing any legislation before the house and is instead devoting up to 11 hours of Dáil time to 'Statements on the Government's Priorities for the Year Ahead' – a move which has been heavily criticised by opposition parties.
In an email to Fine Gael TDs last week, seen by TheJournal.ie, the office of the Government Chief Whip said that Enda Kenny was "anxious that as many deputies as possible contribute to the debate" and asked that those interested to get in touch with regard to speaking time.
A separate email from the Fine Gael Research Office, sent yesterday afternoon and also seen by this website, contains 'speaking points' on the third report of the Programme for Government for TDs to use in their contributions.
In the document are 'key messages' under which are a series of bullet points listing various government achievements that deputies are urged to communicate.
Among these 'key messages' are:
"successful re-entry to bond markets at historic low levels"
"keeping promise not to increase income tax or cut basic weekly social welfare rates"
"new Economic Strategy to manage Ireland's economy to 2020″
"unemployment has fallen 20 months in a row to 12%"
'The whole week is a farce'
The seven-page document then lists details of achievements in various sectors. Some formed part of the 73-page third annual report on the programme for government which was published by the Taoiseach and the Tánaiste yesterday.
Another eight-page briefing document lists government achievements to date broken down between economic departments and spending departments.
The document lists each department individually with text boxes of information on various developments over the past three years listed under three headings: achievements, reform, and investment.
A previously-released document on Dáil reform was also sent to Fine Gael backbenchers.
This week's business is part of the government's Dáil reform proposals, published last September, and is intended to be an annual event where the Taoiseach, the Tánaiste, and ministers are expected to outline their achievements to date and their plans for the future.
Yesterday, Fianna Fáil leader Micheál Martin said that the decision to spend three days holding statements and for there to be no Order Of Business was a "usurpation of the Parliament by the Executive" and claimed there is no opportunity for questions and answers with ministers.
"The whole week is a farce," he said. "The idea the Dáil should have to spend three days backslapping the Government is a farce and ridiculous."
The government insisted that the ordering of this week's business was agreed during a Dáil session last Thursday and that the opposition party whips were kept informed of developments.