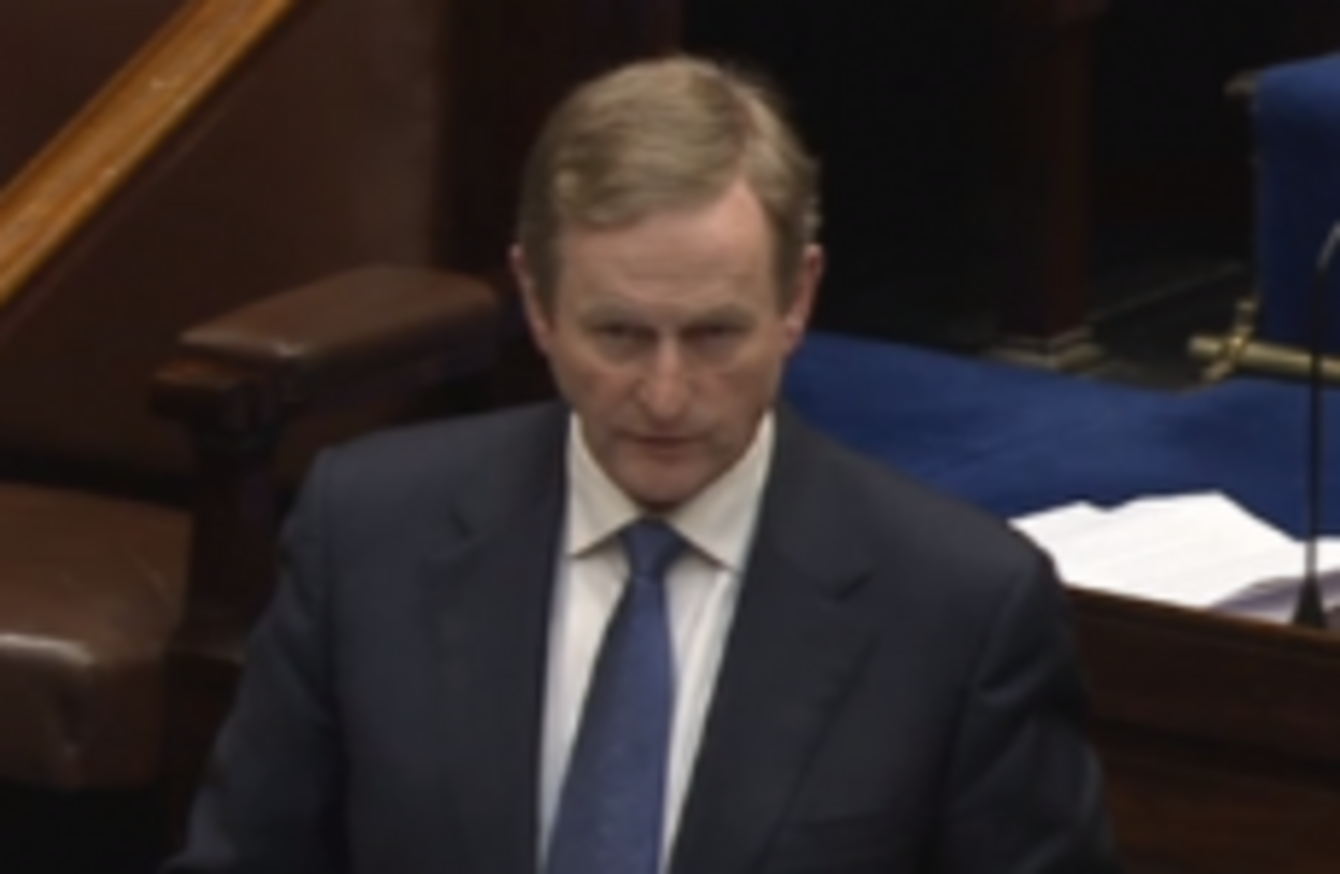 Image: Screenshot via Oireachtas.ie
Image: Screenshot via Oireachtas.ie
TAOISEACH ENDA KENNY has said that he will not ask Minister for Justice Alan Shatter to resign.
Speaking this afternoon during Leaders' Questions, the Taoiseach was called on by opposition leaders to ask Shatter to withdraw his remarks on whisteblowers.
However, Kenny said the Minister "will deal with this on Thursday".
Kenny said that Shatter had been "one of the most reforming Ministers of Justice in the last 50 years".
"So many issues of societal importance have been, are, and will be dealt with by him as Minister for Justice."
"Follow the example"
Fianna Fáil leader Michael Martin said that the Taoiseach should "follow the example" of other Ministers who called on Shatter to 'correct the record'.
The camera turned to other government minister during Leaders' Questions this afternoon. (Image Credit: Oireachtas.ie)
"What Minister Shatter has done is unacceptable and his position is untenable," Deputy Martin said.
Questions from Sinn Féin were in a similar vein, with leader Gerry Adams saying that "at every turn [Shatter] protected the Commissioner, he undermined GSOC, he discredited the whistle-blowers," adding that recent controversies would not have come to light without them.
The Minister should go.
He asked whether or not Minister Shatter would be asked to resign, to which the Taoiseach replied: "No, is the answer to your question".
Garda Commissioner
Adams said that former Garda Commissioner Martin Callinan had "undoubtedly done some service to the state", but that his resignation was welcome.
The Taoiseach praised Callinan's 41 years of service, while Martin called him "a man of great dedication" and called the resignation "a sad reflection of how the government has handled these crises".
However, Adams criticised that the media was informed of Callinan's resignation at the same time as politicians, and that the Taoiseach did not announce it in the Dáil instead.
Both Adams and Martin received a private briefing from the Taoiseach ahead of the official announcement by government, although the Garda Press Office had issued a statement on the matter ahead of this.
"Don't come in and say the government is running off to journalists," the Taoiseach said, and received a laugh from the House as he added: "Sometimes the government is running away from journalists."
"On this particular account, you are wrong. The statement came from the Garda Press Office itself."
Future garda reforms, such as the establishment of an independent authority, were also discussed, with the Taoiseach saying work needed to be done in order to ensure there was public trust in the force, and will be addressed on Thursday.