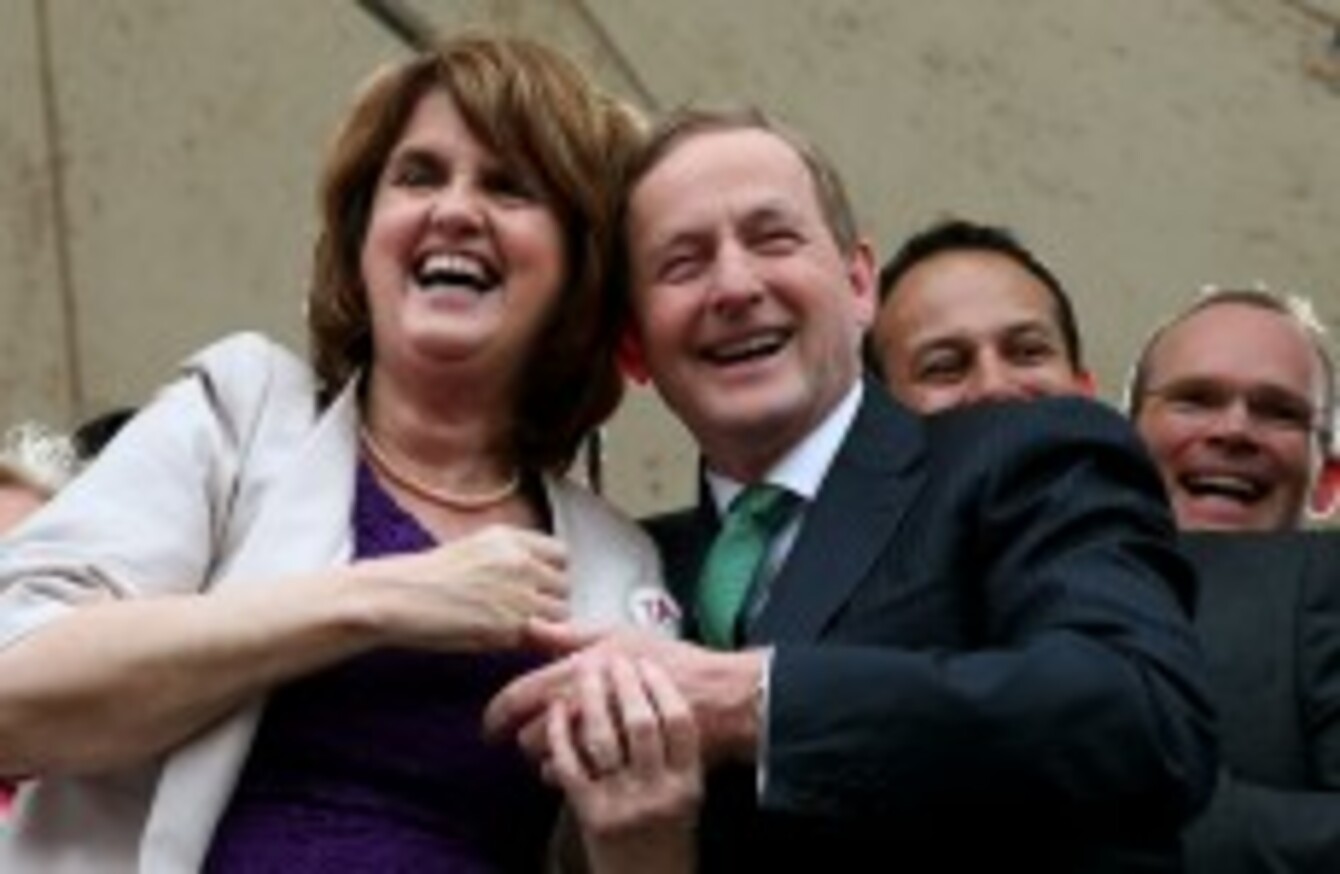 Joan Burton, Enda Kenny, Leo Varadkar and Simon Coveney at Dublin Castle earlier.
Image: Brian Lawless/PA Wire/Press Association Images
Joan Burton, Enda Kenny, Leo Varadkar and Simon Coveney at Dublin Castle earlier.
Image: Brian Lawless/PA Wire/Press Association Images
TAOISEACH ENDA KENNY quoted a song made famous by Jimmy Cliff and delivered a bespoke version of his 'best small country in the world' trademark phrase as he joined Tánaiste Joan Burton for a joint press conference this evening.
"This has been the conclusion of a very long journey," he said, answering reporters questions in a good-natured exchange at Dublin Castle.
For me it demonstrates the importance of politics, the value of people becoming involved in discussions like this, and the power of their vote.
For those who voted no – that view had to be respected, Kenny said.
"This not about creating a new minority. The question was 'do you want to make everybody equal in civil marriage?'.
"And so now our society, our people can look forward to that equality and can stride into the future in unison as equals.
"No more will people have to go to work on Monday mornings carrying that burden with them that they lacked courage or lacked the opportunity to be themselves and the people that they are.
In that sense we respect everybody that took part in the democratic process and went out and voted.
He added:
This is a global first – a small country with a big message about equality and equality of opportunity for love and law.
Asked what would happen next – and when the first same-sex marriages were likely to happen, he said:
The Minister for Justice has already published the Bill, the general scheme of that. So she would expect that would be enacted before the summer recess, which would mean that once the conditions would be complied with that people would be entitled [to be married] upon giving three months notice in civil law.
On another reporter's 'best small country' question, he responded:
"The best small country in which to be gay?
Well certainly for those who are gay and lesbian it's much better than yesterday.
Ireland had been the first nation to make such a change by popular vote, he noted, saying it was a "very big signal from a little country like Ireland".
Earlier, in his pre-prepared speech, he said the Yes vote would he heard resoundingly around the world.
This morning, a line went through my head from the old song… 'Gone are the dark clouds that had me down, it's going to be a bright, bright sunshiny day'.
"The people have spoken. They have said yes. Ireland – thank you."
Source: JimmyCliffVEVO/YouTube
Burton, in her speech, said the Irish people had spoken powerfully and profoundly.
"Together, we've chosen to make progress.
"We've chosen to create a more compassionate and egalitarian Constitution.
"We've said Yes to equality, and Yes to love.
"As Tanaiste and Labour Party leader, I'm immensely proud of the role my party played in securing this referendum and helping to win it.
But in this profoundly uplifting campaign, we were just one part of a much wider movement. A rainbow movement to help create a rainbow nation.
"So I want to thank Yes Equality, whose life-affirming campaign inspired so many to get involved.
"Just look at what you have achieved," the Tánaiste said.
I want to thank every gay and lesbian person who told their story, who knocked on doors, who fought for every vote, and who carried the day.
"This victory will be yours forever.
"And I want to thank everybody – families and friends, neighbours and strangers, gay and straight – who came together to light a torch for hope."