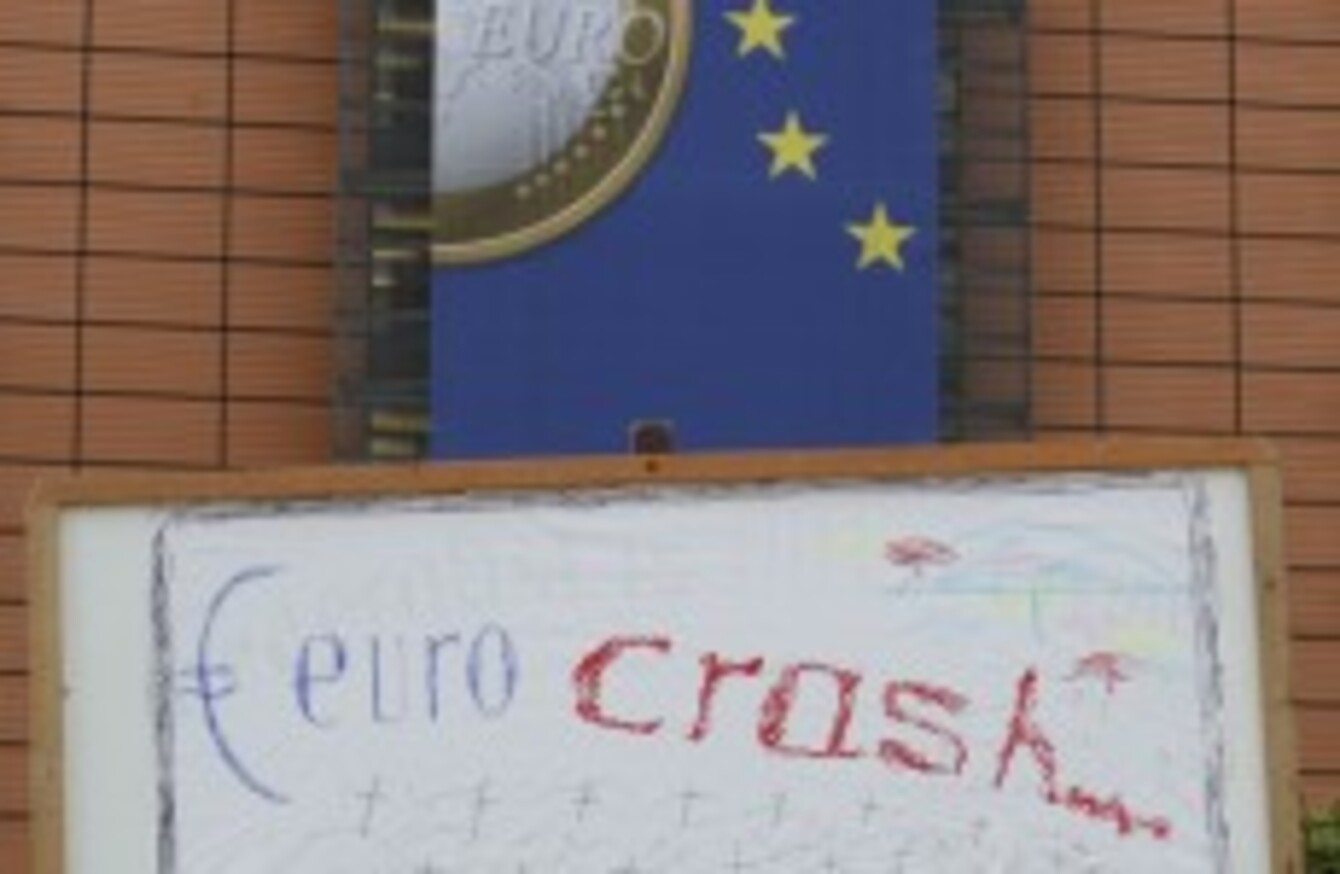 A man holds a sign outside the EU HQ in Brussels, where the two-day summit will take place
Image: AP Photo/Virginia Mayo
A man holds a sign outside the EU HQ in Brussels, where the two-day summit will take place
Image: AP Photo/Virginia Mayo
ENDA KENNY WILL today join his European counterparts in Brussels for a meeting of the European Council.
Kenny himself has said that discussions today will be devoted to economic isssues. Greece will figure heavily following the meeting of EU finance minsters earlier this week, and the Greek government's win in the vote of confidence. He also said that it is likely that the issue of Greece's next bailout installment will be discussed, but that this is mostly a matter for finance ministers to discuss at their next meeting.
RTE reports that the European Systemic Risk Board warned yesterday that debt crisis of EU countries could spread around the world, while the head of the eurozone finance ministers' group Jean-Claude Juncker has warned that if the Greek crisis isn't carefully managed, Ireland will be seriously affected.
The Taoiseach concedes that the situation in Greece has particular significance for Ireland, and in a statement in advance of his trip has said that "any agreement on future arrangements for Greece must avoid any negative read-across or risk of contagion to others, with potentially serious consequences for Ireland".
Reuters reports that US Federal Reserve Chairman Ben Bernanke has stressed that there is much more than the future of Greece at stake, saying that if the situation isn't resolved, it poses a threat to European political unity.
Kenny also says that he will be pressing for the lowering of Ireland's bailout interest rate. France continues to play down the possibility of a reduction, reports the Irish Times, with Paris sticking to its guns on the lowering of Ireland's corporate tax rate. The Taoiseach will be coming face to face with French president Nicolas Sarkozy at today's summit and has said he will raise the issue if it is "appropriate". Kenny has already been criticised for not meeting with Sarkozy in the past three months.
Also on the agenda for the two day summit will be migration issues, and Croatia's accession to the EU in 2013. Kenny says that recent events in the Southern Mediterranean, as well as the situation in Syria and Libya and Middle East will be discussed.
The Fianna Fáil leader Micheál Martin has called today's summit a "crisis meeting" but says its agenda is "short and unambitious". He says that any progress since the last council meeting is depressing.
With reference to Ireland's corporate tax and bailout interest rates Martin claims that the French know that their demands are unachievable, and that "they know it and they will accept it".