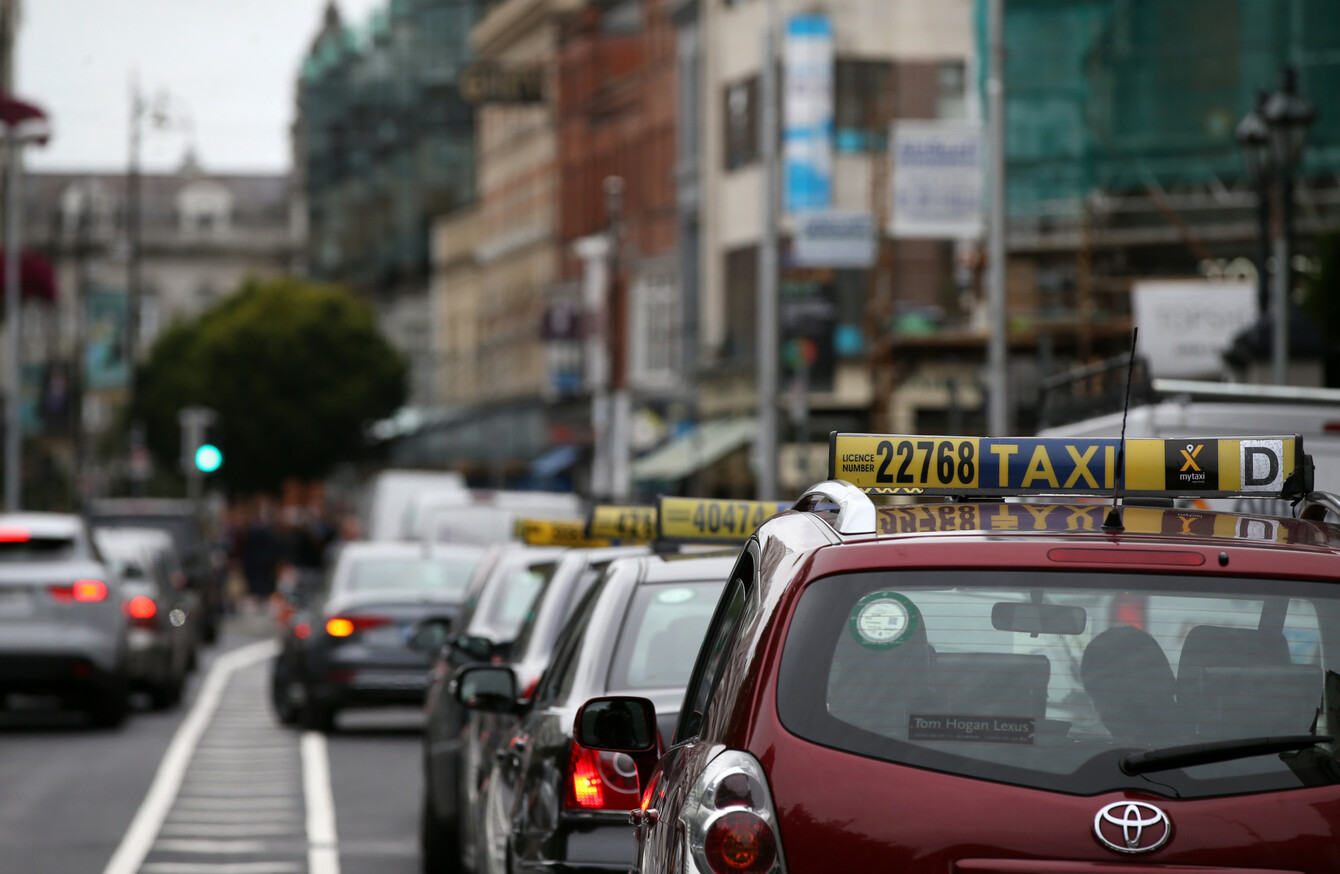 Image: Sam BoalRollingnews.ie
Image: Sam BoalRollingnews.ie
CREDIT AND DEBIT card payments should be offered as a mandatory "basic service" to all taxi customers, according to the hotels lobby.
The Irish Hotels Federation (IHF) has called on transport officials to introduce the measure as part of a suite of new rules that it said would bring the taxi industry in line with international best practice.
However one lobby group for taxi businesses has accused hoteliers of unjustified interference in its trade.
In a letter to the National Transport Authority's director of taxi regulation, Hugh Creegan, IHF chief Tim Fenn highlighted the importance of taxis to the local tourism sector, describing drivers as "ambassadors for their country".
"The taxi fleet is representative of how the country presents itself through this very public-facing industry," he said.
Fenn called for the introduction of several new requirements that would improve taxi journeys for both locals and tourists.
Among the IHF's proposals is the introduction of compulsory credit and debit card payment facilities as part of a "basic service" provided to passengers.
"This is for the convenience of the general public who are moving more to non-cash payment and in particular for overseas visitors who may not have sufficient local currency. This is particularly important for business travellers," Fenn wrote.
In the letter to Creegan – who also serves as the NTA's deputy CEO – Fenn said that when a similar rule was introduced in London, "taxi business increased, with much of this being attributed to the added convenience for customers".
The IHF has also called for the introduction of standardised taxi branding.
It wants to see a standard colour for all cabs and clear signage on each vehicle, including a "new permanent taxi roof sign that is aerodynamic, has a visible green light to display availability, and is inscribed with 'Taxi' or 'Tacsaí'".
The organisation also wants to see the removal of area stickers – used to identify the county in which drivers are licensed to operate – because they "are not understood by the public" and there are other means to check a cabby's credentials.
"The objective would be to align Ireland with best international standards and practice, to make taxis more recognisable and to improve the quality of the fleet," Fenn said.
The hotels association also suggested that every taxi journey should "end with a printed receipt".
"At a minimum, the customer should be able to see the receipt printer and have one offered by the operator. Receipts can be very valuable in assisting traceability for lost property or customer feedback."
'Interference'
However Christy Humphreys of the National Private Hire & Taxi Association questioned why the IHF was "interfering" in taxi regulations when the hotels trade body has a representative on the NTA's taxi advisory committee on small public-service vehicles.
"I don't know why the IHF should be interfering with the taxi industry," he told Fora.
"The taxi industry doesn't interfere with the hotels industry when it charges customers extra when there's a concert or event on."
In response to the IHF's suggestion that card payment facilities should be obligatory, Humphreys said it would result in extra costs for taxi firms because they cannot apply transaction costs to fares.
He also rejected the suggestion that a lack of card payment facilities means the local sector is not up to scratch by international standards.
"I go away to Spain and not every taxi accepts credit or debit card," he said.
Humphreys noted that taxis in Ireland are already required by law to provide receipt printing facilities, and he added that the proposal to introduce a standard colour for vehicles would be unrealistic.
He pointed to a 2012 report from the NTA that said a uniformed taxi fleet was desirable, but it would create "significant additional costs" for businesses.
When asked whether the NTA planned to implement any of the IHF's proposals, a spokesperson for the transport authority said: "There is a review of the industry currently being conducted by the NTA and the taxi advisory committee and the issues raised by IHF will be considered as part of the review."
Sign up to our newsletter to receive a regular digest of Fora's top articles delivered to your inbox.
Written by Conor McMahon and posted on Fora.ie