Image: Eleanor Keegan/Photocall Ireland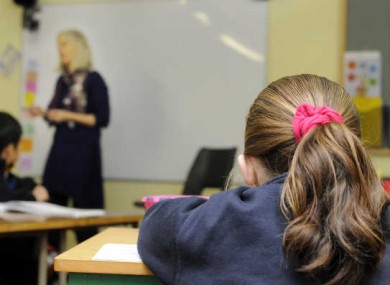 Image: Eleanor Keegan/Photocall Ireland
A DECISION BY the Government to suspend certain allowances paid to teachers has been criticised by unions this morning.
The suspended allowances are those paid to teachers to supplement their basic salary. The move will see new teachers lose up to 15 per cent of their take-home pay.
John MacGabhann of the Teachers Union of Ireland told Morning Ireland that the suspension will "disproportionately affect" new entrants to teaching.
He also called the cuts "unnecessary" and said the ramifications will be immediate.
The allowance to new teachers has been taken to be part of the core pay. What the Government has done – albeit for a limited time – is to single out new entrants to teaching for an enormously disproportionate cut."
The union, although accepting that a 5 per cent reduction in allowances and premium payments is required, is angry that the decision was taken without any consultation.
It showed a lack of respect for agreed industrial relations procedures and was a "provocative action", added MacGabhann.
A circular was sent by the Department of Education this morning detailing the suspension of qualification allowances and supervision and substitution payments.
The suspension will stand until the completion of a review by the Department of Public Expenditure and Reform.
Both primary and post-primary schools have been notified of the changes to pay.
Extra payments given to teachers who have acquired honours H.Dips, honours Masters degrees and Doctorates after 5 December 2011 have also been suspended.
An honours Masters degree gives a teacher an extra €4,946, while those who teach through Irish receive a further €1,424.*
Other allowances are made to those who teach on an island (€1,658) or those who hold a diploma for teaching deaf, blind or disable children (€2,193).
The Irish National Teachers' Organisation also condemned the decision, stating that the allowances are part of teachers' salaries.
Calling for a reversal of the suspension, the union described the decision as discriminatory against new teachers who have already seen severe pay cuts.
Minister for Public Expenditure and Reform Brendan Howlin told RTÉ that the move will not affect many people "in the interim".
He said that a business case needs to be made for the extra allowances. As a result the departments are suspending the payments pending the result of the review.
*These figures have been updated to 2011 data since the article was first published this morning (which used 2010 figures).