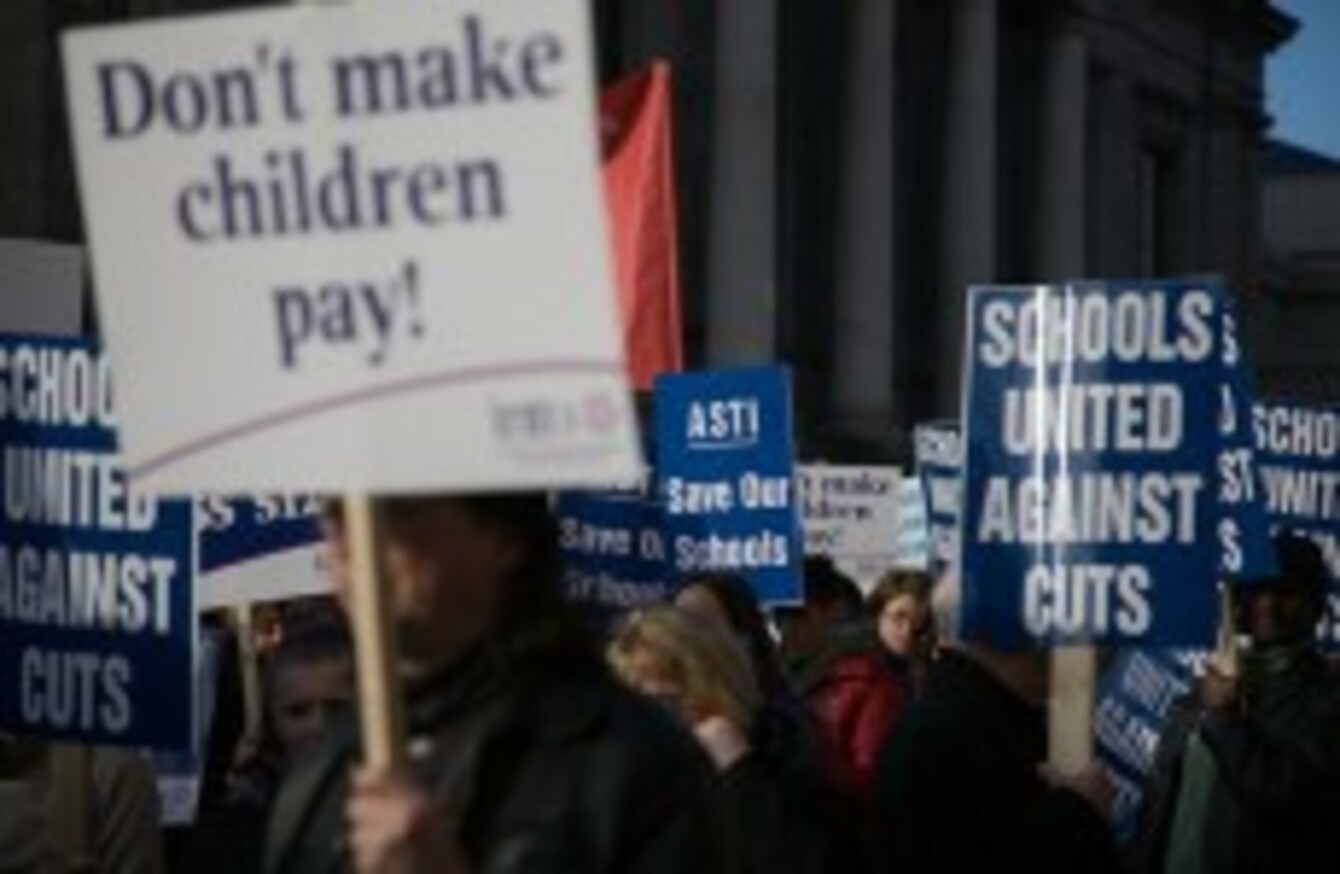 Teachers' unions protesting against education cuts last year in Dublin
Teachers' unions protesting against education cuts last year in Dublin
FIANNA FAIL HAS announced that it would like to increase the length of training time for both primary and secondary school teachers.
In its education policy document for the general election, FF says that it would add an extra year onto the Bachelor of Education degree course for primary school teaching, taking it from three years to four. The training period for post-primary teachers would be doubled under their manifesto, with the Postgraduate Diploma in Education (PGDE) being expanded from a one-year course to a two-year course.
The Irish National Teachers' Organisation (INTO), which represents Irish national school teachers, said that it had been calling for an extension to the length of the degree course for over ten years. Peter Mullan of the INTO told TheJournal.ie:
We supported a major report ten years ago that recommended that the length of the course be extended and successive Fianna Fail ministers have had the chance to reform it and haven't.

Teacher education is overcrowded – it asks students to take on too much in three years. We would welcome making it a four-year course but it would be a question too of how that extra year would be used. One of the things we would look at would be extending the length of time the trainees spend in a school placement.
Minister for Education Mary Coughlan (FF) did not take up the INTO's invitation to their conference in Dublin last Saturday, which was attended by around 800 primary teachers. The education spokespeople of the Labour, Fine Gael and Green parties were in attendance, said Mullan.
The ASTI, which represents a majority of secondary school teachers, says that the association is "broadly in favour" of extending the PGDE course. Spokesperson Gemma Tuffy told TheJournal.ie that there has been discussion to that effect between secondary teacher representatives and the Teaching Council of Ireland.
Mary Coughlan also referenced it in a paper on literacy which she released a while back. I suppose the question might be why are we talking about it and not implementing it. Saying that, the Teaching Council is relatively new so the process is ongoing.
The Labour Party also launched its education manifesto today, entitled the Plan for Fairness in Education. The party proposes that all new school principal appointments will be for ten years only and that principals will be required to complete a Master's degree in educational management. Principals will also be required to draw up five-year development plans for their schools.
The INTO said that most primary schools were already drawing up development plans as a matter of course and that the limited tenure in a particular post was a reality in many areas of the public service.
"As with all of these policies, the devil will be in the detail," said the INTO's Peter Mullan. "There is a lot to be welcomed in both parties' documents and we're interested in the Labour suggestion that VECs be broadened into Local Education Boards. There seems to be an awareness of the school buildings issue. Ruairi Quinn is an architect by training so we'd hope that he would have a keen interest in that."
Gemma Tuffy of the ASTI said that there would be have to be assurances about what would happen to principals after ten years. "Would they have to leave the school, would they go back to the classroom to teach or would they assume another management role?" she asked.
She said that there would be "merit" in a Local Education Board taking over the organisation of building work, maintenance and resource-sharing between schools in a local area. She said:
That clustering of services can be cost-efficient and it goes on a great deal anyway as schools try to make the best savings in this climate. An example I would think of is two schools in Kerry who share a physics teacher. They are two small rural schools, geographically apart, and they use video conferencing to share the teacher between the groups of students. So the teacher might have four students in front of them, and four others on a screen at the same time.
#Open journalism No news is bad news Support The Journal

Your contributions will help us continue to deliver the stories that are important to you

Support us now
However, Tuffy questioned the devolving of all services to local level. The National Education Welfare Board and the National Council for Special Education work quite well at national level and the disintegration of that structure might not necessarily result in any cost-economic benefit, she added.
The main points of the Fianna Fail education policy plan:
Lengthen the B.Ed degree for primary teachers from three to four years; double the length of the PGDE for secondary teachers from one to two years;
Introduce a new junior cycle programme at secondary level to "reinvigorate" the Junior Cert;
Prioritise funding new curriculum in Leaving Cert. science subjects;
Set and publish national standards for what numeracy and literacy skills students should attain up to second year in secondary school;
Retain Irish as a core compulsory subject at Leaving Cert but reform the curriculum;
Create 80,000 new places for students in new and existing primary schools, 15,000 new places for secondary students and 8,600 new places for students at higher education institutions – all by 2016;
Consolidate the DIT on the Grangegorman campus;
Devolve the delivery of school projects to local authorities and VECs – eliminate the long-term use of prefab buildings;
Full implementation of the Smart Schools computer and technology initiative;
Expand the pilot projects that integrate school transport into local transport options;
Increase diversity in cultural and religious ethos available in schools;
Reduce the role of the Department of Education and Skills in the day-to-day management of schools;
Restructure the Higher Education Authority;
Introduce a "deferred payment facility" for third-level students.
The main points of the Labour education plan:
Transition the Vocational Educational Committees (VECs) into Local Education Boards – these will co-ordinate support services for schools "to get better value for money, for example clusteres secretarial services, co-ordination of supply teachers and tendering for electricity and heating". Building and refurbishment of school buildings will also be managed by these Boards;
Principals will be given more autonomy but they will have to draw up five-year development plans for their schools, and new principal appointments will be for ten years only and new principals have to complete a Master's degree in educational management;
Create a forum on Patronage and Pluralism in the primary sector; Educate Together will be recognised as a patron at second level;
Science to be made a compulsory subject at Junior Cert level by 2014;
Information communications technology infrastructure and use of that ICT in schools to be innovative, eg, "sharing" of teachers on live web casts;
Make sure no child leaves school without being able to read and write by establishing targets for literacy and making the principal responsible for the school reaching those targets;
Reverse the cuts in the number of educational psychologists and reintroduce 250 teaching posts;
Prioritise replacing prefabs with permanent school accommodation;
Transfer of the school infrastructure owned by the 18 religions orders cited in the Ryan Report will be "negotiated at no extra cost to the State";
Reverse the €500 increase in the Student Services Charge at third-level and reverse the €200 charge on PLC courses;
Create an 'Education Ireland' brand to attract students from India, China and the Middle East to our third-level system;
Responsibility for vocational education, training and apprenticeships to be transferred from FAS to further education colleges and Institutes of Technology.