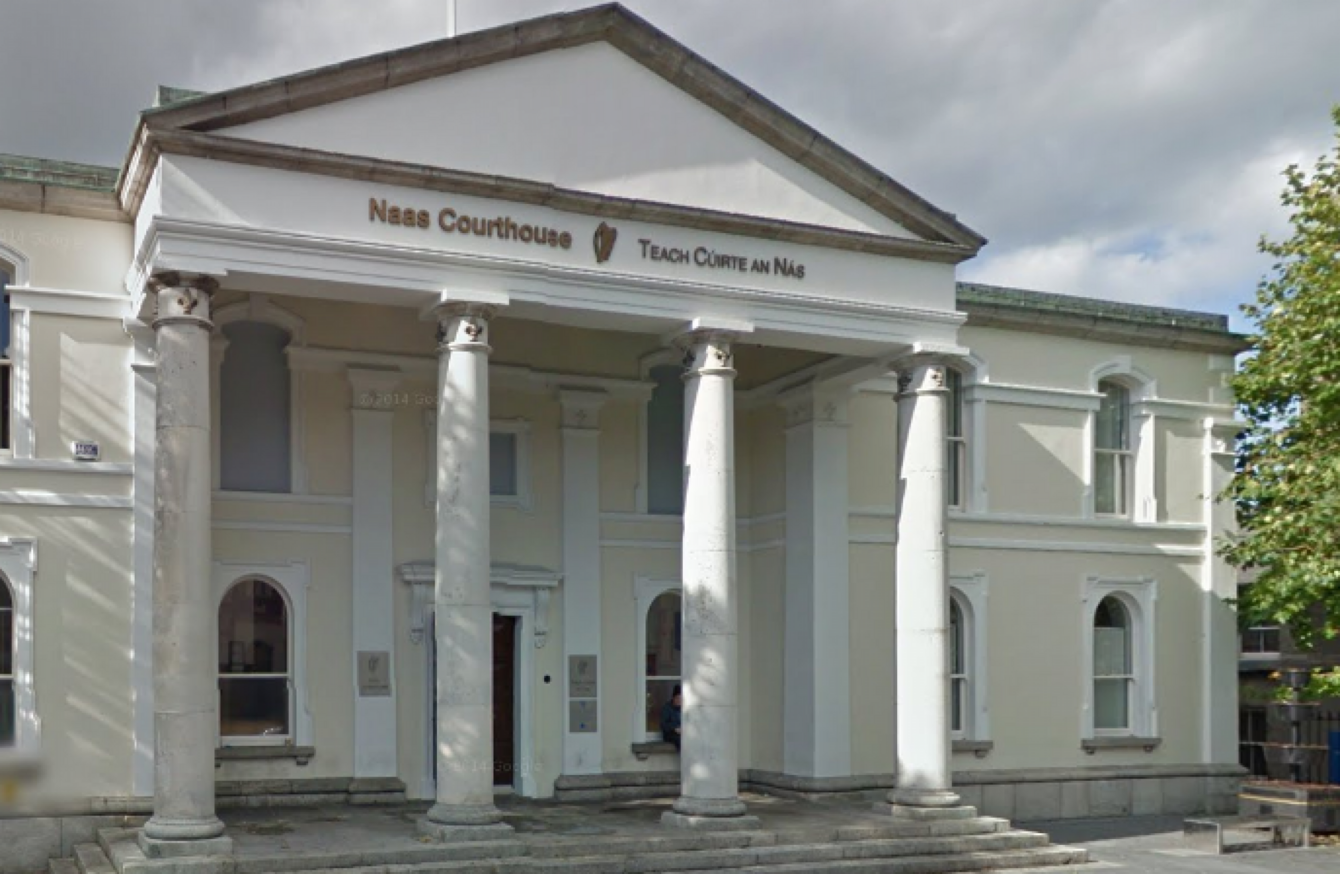 Naas Courthouse
Image: Google Street View
Naas Courthouse
Image: Google Street View
A KILDARE TEENAGER has given harrowing evidence at Naas District Court against her mother, claiming that she horsewhipped her and knowingly allowed an individual molest her.
The presiding judge described the alleged assault by the Newbridge mother against her daughter as one of the most shocking he has encountered.
Judge Desmond Zaidan said: "It is disturbing, I am shocked by the evidence, and it takes a lot to shock me."
On Thursday at Naas District Court, the teenage girl alleged through tears how her mother subjected her to several years of severe beatings and the court heard allegations that her mother allowed her to be 'molested'.
In court on Friday, the teenager and her father together gave evidence against the wife and mother relating to physical assault.
The accused, a 54- year-old woman who told the court she had worked in the past for disability services, faced charges of assault at a home near Newbridge on 15 October 2015, contravening a protection order on the same date and contravening a protection order on 14 October 2015.
She claims that her daughter has autism and that she did the best she could for as a mother.
In court on Friday the teenage girl said: "For as long as I remember, my mother was mentally unwell, she abused me."
The teenager told the court that her mother grabbed her by the forearm on the date relating to the alleged assault charge.
Judge Desmond Zaidan read a letter to the court that is understood to have been written by the accused to her husband, in which she refers to her daughter as a 'little bitch and liar'
An extract from the letter reads:
How dare you think that my safety comes before her [the teenager], if you are not careful, I will get you a barring order. She is a little bitch and a liar, you are taking me away from my family. I will drive you away myself. I will let my solicitor know of your wrongdoing. I will keep following you until you give in. You would want to watch yourself or you will end up dead. I don't care how many fxxking Gardaí you have after you. I will take everything from you. All I want from you is the child and the money.
The letter went on to read: "One of these days you will end up dead, sleep with one eye open."
Evidence was heard how the handwritten note was received on 14 October 2015.
Relationship
In court the teenager described how she never had a good relationship with her mother.
She said: "She allowed me to be molested. She always hit me. I never told my Dad, I was afraid of splitting the family up. She hates me for no reason. Anything I ever do, it is never good enough."
In court the victim described her father as her 'best friend' adding that she can now tell him anything.
The teenager outlined how she recalls her mother beating her father.
Addressing the daughter, Sarah Connelly BL put it to her that her mother 'never laid a hand on her' and that her father hit her mother.
The daughter said: "I did not sleep at night at all, I was constantly losing weight. I remember her beating me with a horsewhip. I have been stress-free since living with my father. My father never laid a hand on her. She would beat him across the face. She would accuse him of all sorts."
In court the father, under cross- examination, said: "She has been very cruel to my daughter. She did not tell me all about it until 2015, she was told that if she told me, I would be gone."
Evidence was given that the accused has been previously banned from Co Kildare arising from a case in the Circuit Court relating to issues with her daughter and husband in connection with a barring order.
Denial
In court today, the accused denied ever beating her daughter.
She claimed her husband said her daughter 'needed a whipping' after being found 'having sex with a boy in the bedroom'.
She said: "I always protected her, I did not go near her. I picked up the clothes, what was lying in the floor – no-one is getting slapped in this house, I said."
Addressing the accused, Judge Zaidan said :"Your daughter said you got violent with her."
The accused denied ever getting violent. She claimed that she herself was sexually abused as a child by a family member and later by her husband.
She also claimed that she suffered a miscarriage in her home and that it had an 'effect' on her. She denied writing the letter.
The court heard the accused state that she has bipolar disorder. She denies hitting her daughter and husband, when asked by Judge Zaidan.
The accused said: "I never punched him in the face. I would cross my arms. He abused me for 20 years."
She said: "I am in counselling and I hope and pray that my daughter can come back to me."
At this point her daughter burst into tears and was comforted by her father.
Prosecuting Inspector Mel Smyth said: "I put it to you that a protection order was delivered to you."
The accused denied knowing that a protection order had been imposed.
Judge Zaidan told the court: "The defendant is economical with the truth."
Evidence was given that the accused had no previous convictions. Connelly outlined that the accused is on lots of medication and is 'in and out 'of Lakelands.
Addressing Connelly, Judge Zaidan said: "I asked you at the start if your client was okay and you said she was ."
The court heard how the accused is currently residing in homeless accommodation.
Assessment
Judge Zaidan said: "I am concerned for her safety and the safety of her daughter and husband." The judge called for the accused to be assessed with 'the help of probation.'
He suggested that the accused be put in prison and assessed by psychiatrists, expressing concern that the accused is 'in denial.'
The judge says that he wants to ascertain if the mother is 'just a bad person' or unwell.
Connelly objected to the accused being remanded in custody. Judge Zaidan relented and called for a probation report with 'liberty to re-enter.'
Inspector Smyth appealed for strict bail conditions to continue.
The accused is banned from Co Kildare and is banned from making 'any contact' with her daughter and husband.
Judge Zaidan also ordered gardaí to 'keep an eye on their home' with liberty to re-enter at any time.
The accused is ordered to appear before Naas District Court on 18 May for a full psychological report.
Comments are closed as the case is before the courts.