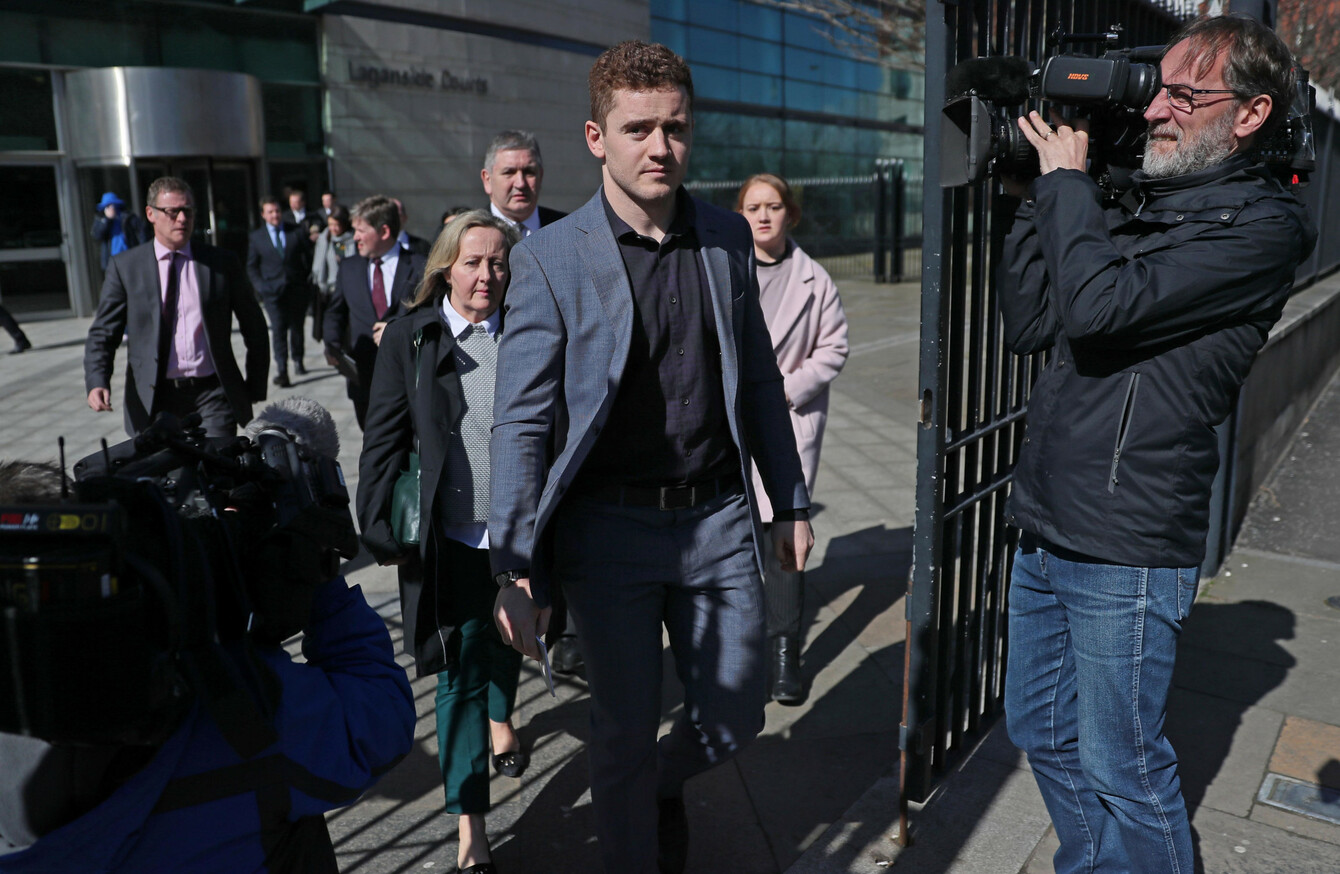 Image: PA Wire/PA Images
Image: PA Wire/PA Images
TODAY A JURY returned a not guilty verdict for all four men in the Belfast rugby rape trial.
Ireland and Ulster rugby duo Paddy Jackson and Stuart Olding were found not guilty of raping a 19-year-old student in June 2016. Blane McIlroy was also acquitted on the charge of exposure while Rory Harrison was acquitted of charges of perverting the course of public justice and withholding information.
The nine-week trial held the public's attention throughout. In particular, the text messages the accused men sent to one another stood out, as the events of that night and the following day were unraveled in the courtroom.
Crime and legal experts have said phone data and text message content is being used increasingly in criminal trials, in most cases by the prosecution in its attempts to prove guilt.
"Text messages and social media messages have been introduced to some extent in almost every single sexual offences matter we have been involved with over the past four to five years," Dublin solicitor Phelim O'Neill said.
"Gardaí regularly seize mobile phones and other digital devices from suspects in sexual offence matters. These devices can be forensically analysed to recover data such as phone records, text messages, browsing histories etc. Even deleted data is capable of recovery.
"The gardaí also have the power to require social media firms to hand over data which may be relevant to a criminal enquiry, we have seen data from Facebook, WhatsApp, Snapchat and other social media being recovered as part of their investigations."
On the night
A large number of text and Whatsapp messages were read out to the jury in the Belfast trial, as well as call logs from the night.
At 4.27am, McIlroy sent a WhatsApp message to Jackson in which he asked: "Is there a possibility of a threesome?"
There were a number of communications between McIlroy and Harrison after Harrison left in a taxi with the woman, including a two-minute phone call before he dropped her to her front door.
The content of two text messages sent by Harrison to two different numbers around 5am were deleted.
After Harrison dropped off the woman, he sent her a message telling her to "keep the chin up, you wonderful young woman".
She replied: "Thank you so much for leaving me home, I really appreciate it Rory, you've been far too kind."
The trial also heard evidence of communication between the complainant and one of her friends, in which she said she had been raped.
"…worse night ever, so I got raped," she said.
In a conversation over a number of hours, she said Paddy Jackson had "tried it on" earlier in the night and when she went to get her handbag upstairs, he had followed her.
"The next thing I'm bent over the bed. I have bruising on my inner thighs. I feel like I've bruising literally on my fanny. They were so rough I've got my period a week earlier."
Her friend asked if more than one person was involved and she replied that there were two and a third "tried to get involved".
"I was crying," she said.
When her friend told her to go to the police, she responded: "I'm not going up against Ulster Rugby. Yea because that'll work."
In a message to Harrison, the woman also said she "what happened was not consensual, which is why I was so upset".
He replied: "Jesus."
And then: "I'm not sure what to say."
WhatsApp groups
The men who were at the house that night were also messaging each other.
The jury heard the content of messages from two WhatsApp groups that some of the accused were members of.
In one group called JACOME, which included Olding, Jackson and McIlroy, Olding wrote:  "we are all top shaggers", adding that there was "a bit of a spit roast going on last night".
"There was a lot of spit roast last night," Jackson replied.
Olding: "It was like a merry-go-round at the carnival."
Another member referred to in court as JE: "Who?
Jackson posted photos of McIlroy sitting on the couch in the house with three women. The complainant was not in this photo.
JE: "Who are they, brassers?"
McIlroy: "Aye."
In another group called 'Juicers', McIlroy posted a photo of himself on a couch in the house with three of the women the night before with the caption "Love Belfast Sluts."
Just after noon the day after their night out, there was a message exchange between McIlroy and Harrison, some of which police were unable to access because messages were deleted.
McIlroy: "Really, fuck sake, did you calm her where does she live?"
Harrison: "Mate no jokes she was in hysterics, wasn't going to end well."
When asked in court about the messages, the defendants said they were "silly" or "nonsense" and that they were not proud of them in hindsight.
Paddy Jackson said it was "just a stupid immature conversation", adding that it was done while they were all hungover.
Stuart Olding described his comments as "immature boasting". When asked about his use of phrases like "spitroasting" and "like a merry-go-round at a carnival" he said he "didn't mean anything by that".
"It was said in an excited state. It was nonsense."
"I feel very embarrassed sitting here reading them," he told the court. I'm certainly not proud of talking like that, but I did it and I have done it and I shouldn't have done it."
Blane McIlroy was also asked about the messages, in particular his comment about some of the women at the afterparty, referring to them as "sluts".
"It's pretty stupid and idiotic. I'm not proud of it, when you read it back."
Gathering evidence 
A person's mobile phone contains a huge amount of data that could assist gardaí in a criminal investigation.
"Every mobile device leaves an electronic footprint with the mobile network and you will have seen from some high-profile cases in the media that a lot of information or indicative clues can be obtained," a garda source told TheJournal.ie.
These range from the actual content of texts where gardaí have been able to obtain the unlocked mobile device in question, or call logs giving times and dates of phone calls and texts and phone number of mobiles concerned.
Location data can be ascertained as each device will have pinged a number of mobile masts trying to get the best signal.
Gardaí can then check CCTV footage in the area for further evidence and can use the information to map the person's general movements that day.
One example of this was in the case of Joe O'Reilly, who is serving a life sentence for the murder of his wife Rachel in their home in October 2004.
Mobile phone records obtained from his service provider O2 placed his phone near the O'Reilly's home on the morning Rachel was murdered.
O'Reilly had said he was at the Broadstone Bus Garage in the inner city, but a phone mast down the road from their home picked up the signal twice that morning. He admitted during his trial that he had his phone with him all day.
Gardaí at O'Reilly's trial also presented a list of calls and texts from his phone on the day of the murder, including 18 communications between himself and Nikky Pelley, the woman he was having an affair with.
Emails between O'Reilly and his sister, in which he used abusive language towards his wife, were also ready out in court. In these exchanges he expressed concern about access to his children if his marriage ended.
Message encryption
A suspect will not be told that investigators have applied for information from their phone providers, unless they are later questioned in relation to it.
In order to obtain information from a person's phone, gardaí need to obtain a court order from a judge and it must be related to a specific offence. This activity is monitored by a High Court judge to ensure the system is not abused.
Solicitor Simon McGarr said much of the messaging evidence needed for an investigation will be on a person's phone, which can be seized when they are arrested.
Whatsapp messages are encrypted end-to-end, which means not even Whatsapp can access the content.
However, if the gardaí have seized phones that have message threads on them within this or other apps, they will be able to see what people were saying to one another and use this as evidence. If the messages have been deleted from the phone, retrieving it is almost impossible.
"Text messages are much more like postcards," McGarr explained. "The content is sitting on a message server for a period of time – that differs from network to network.
"If no crime has been committed, but they want the general population under surveillance, they can't access the content but they can see who's messaging who."
McGarr said there is potential for this kind of evidence to be challenged in court, however, as a European directive has struck down the legal basis for this method.
'Hugely significant'
Limerick solicitor Darach McCarthy said that clients are often not aware of how damning information on their phone can be – or how much gardaí can actually access.
"In a serious investigation, where data is accessed to the greatest extent the State can possibly access it and then it is disclosed, it is a complete eye-opener to see how much information can be obtained," he said.
"It could be very damning. Great weight is put on that kind of information by gardaí and the DPP in deciding what prosecutions to bring.
The most obvious example would be in drug cases where someone is dealing and they arrange it over text. There may be messages arranging to meet or talking about how much it will cost – this is very persuasive.
Criminal lawyer Phelim O'Neill said this type of digital evidence "can be hugely significant as it can offer a contemperaneous account, which might differ from evidence proffered to the gardaí".
The courts do recognise that there can be inconsistencies in a person's recollection. The actual data, if preserved, can assist both prosecution and defence.
"The evidence is regularly significant from a defence perspective as more often than not digital evidence retrieved from social media and the complainant's own devices can call into question matters of credibility.
We have through disclosure requests on a number of occasions been provided with compromising photographs, social media posts, text messages etc., which bring into question the complainant's credibility.
Defence lawyers can challenge the use of this evidence on a number of points before it is even heard by a jury.
"In the first instance the prosecution must prove who sent a message, it is not always obvious that the message came from a device owned by or controlled by the defendant," O'Neill explained.
"Even if the device where the message originated was owned by the defendant this does not necessarily prove the message was sent by them.
"The other significant problem with messages is understanding the tone, sometimes a very insignificant message can look quite sinister depending on the circumstances in which it was sent.
"It is however the jury's responsibility to consider the evidence and decide upon matters of fact."