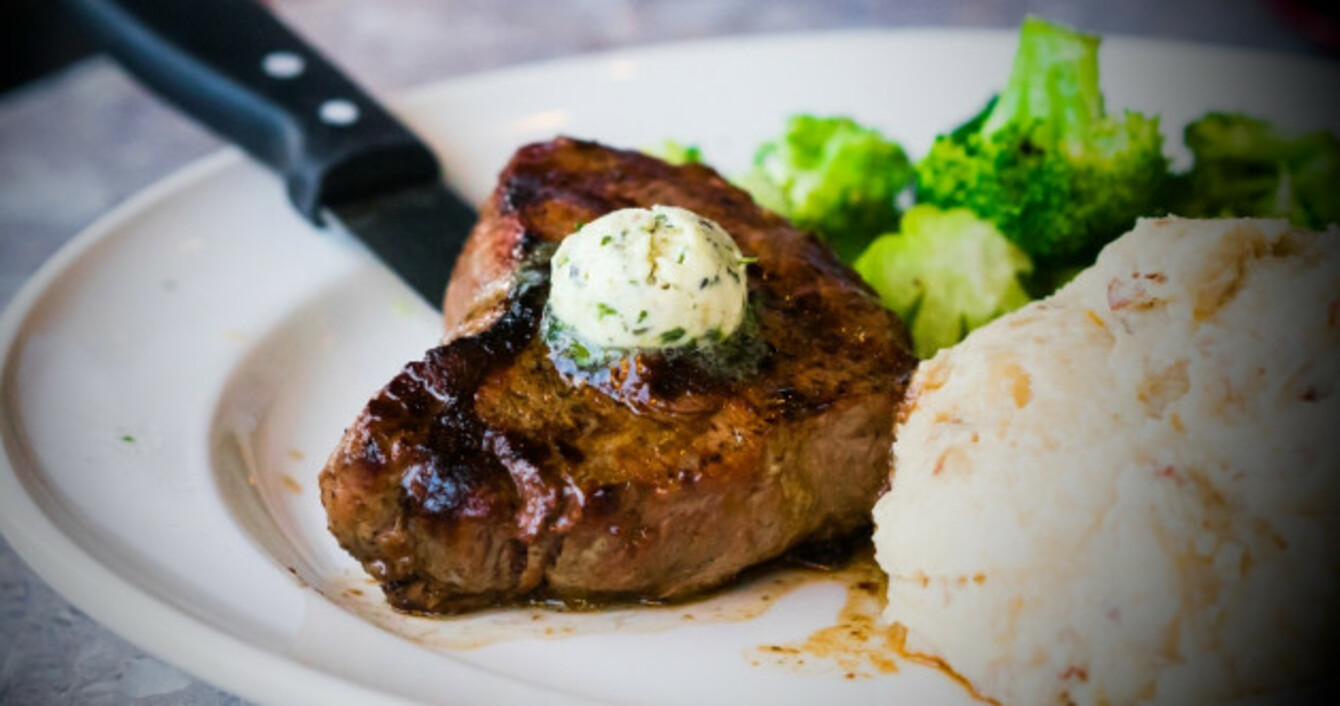 A STEAK DINNER is a treat in so many ways. It is so satisfying, and also so fast, perfect for any night of the week – but it always feels a bit next-level.  
For me, a perfect steak dinner is all in the small details. I choose rib-eye or sirloin. I like that marble of fat which makes the steak juicy and rich. Fat is flavour and moisture and we shouldn't be afraid of it. Everything in moderation makes for a happy and healthy life.
I take my steak out of the fridge at least ten minutes before I cook it, and salt it then too, allowing the steak to come to room temperature and allowing the salt to bed in so that the seasoning goes the whole way through. 
A heavy cast iron pan is my tool of choice, heated over the highest setting of my hob until searing hot.
On the side? I adore chimichurri, a fragrant Argentinian sauce of herbs like coriander, parsley, garlic, white wine vinegar and oil. There's always a serving of chips with my steak dinners too.
But ask anyone with even a passing interest in food, and they'll probably have a different opinion of which kind of steak to use, how to cook it, what to serve with it, and so on. To find out the essentials for the ultimate steak dinner, I gathered opinions from some of Ireland's best and most interesting chefs…
Paul Flynn, The Tannery in Dungarvan, Waterford
The cut: Without exception, Paul uses rib eye steak. He loves to BBQ anything at any time of year but a nice heavy ribbed grill pan will do a great job too.
Prep and cooking: Flynn rubs the steak with a little oil and seasons it with salt and pepper. He cooks it on the BBQ or a smoky hot pan for 3 mins on each side depending on the size of the steak.
Serving and sides: When the steaks are cooked Flynn rubs them in garlic butter which creates, in his words, "a most magical sauce" while the steak is resting. He rests it for up to 15 minutes in a warm place covered in foil, like a very low oven (at 50C). He likes to serve it with greens like tenderstem broccoli. The only rule? if you have chips you must have béarnaise sauce, and maybe stretchy pants too.
Lily Ramirez Foran, Picado Mexican in Dublin
The cut: Ramirez Foran tells me she loves her steak in tacos with pico de gallo. "Flatiron steaks are a great choice for tacos," she adds.
Prep and cooking: Once out of the fridge, she squeezes some fresh lime juice over the steak, and seasons it with salt and pepper, leaving to marinate for 5-8 minutes before cooking it on a very hot griddle over a high heat, putting some oil on the steak itself before adding it to the pan. A top tip from Ramirez Foran is to rub half a cut onion over your griddle pan before you add the steak, which flavours and cleans the pan at once.
Serving and sides: Ramirez Foran likes her steak medium rare. While that cooks she prepares pico de gallo by quartering cherry tomatoes and adding them to red onions, fresh coriander and some jalapeno with a squeeze of lime and some sea salt. When the steak is ready she rests it for 4 minutes under foil, and then serves the steak family style sliced on a board, with some corn tortillas.
Holly Dalton of Gertrude, Dublin
The cut: Dalton always uses sirloin steak at home, as it is "full of flavour and not too hard on the pocket". If she plans ahead she lets it dry in the fridge uncovered for a day. This helps the steak to get a better colour in the pan.
Prep and cooking: Dalton keeps it simple when it comes to cooking the steak, seasoning with salt and pepper and searing in a piping hot pan with a little rapeseed oil. Once the steak has a good colour on one side she flips it and finishes it with a mix of soy sauce and butter blitzed together.
Sides and serving: Dalton makes her own chips, cubing some rooster potatoes, tossing them in rapeseed oil, minced garlic and paprika and roasting them in the oven until crispy. The soy butter on the steak will provide more than enough flavour in lieu of sauce.
Katie Quinn of Lilliput Stores, Dublin
The cut: Another fan of sirloin, Quinn loves hers medium rare. 
Prep and cooking: She marinades the steaks for up to two hours before cooking with "good olive oil, crushed garlic, salt, pepper and rosemary". Quinn specifies a heavy frying pan that is "hot but not smoking", searing the steaks for 2 minutes on each side, then leaving them to rest for a few minutes.
Serving and sides: "I love my steak with salsa verde, minty baby potatoes and buttery carrots," says Quinn. Make your own salsa verde with roughly chopped capers, gherkins, leaves, mint and dill mixed with mustard, vinegar and sugar to taste.
Bryan McCarthy of Greene's in Cork
The cut: McCarthy is another advocate for flatiron steaks and always brings them to room temperature before cooking.
Prep and cooking: McCarthy seasons his steaks with salt and black pepper, always using "more than is required" and rubs the seasoning in with some rapeseed oil. Sear the steaks until golden brown on both sides, and then finish for one minute in the oven at 200C, allowing them to rest for seven or eight minutes after.
Serving and sides: McCarthy deglazes his pan with a little red wine and reduces this with a knob of butter to make a sauce. For sides, he suggests "roast baby potatoes with rosemary and sea salt, along with asparagus baked in the oven for six minutes with a little oil salt and pepper." He tops the steaks with the sauce and a fried egg.