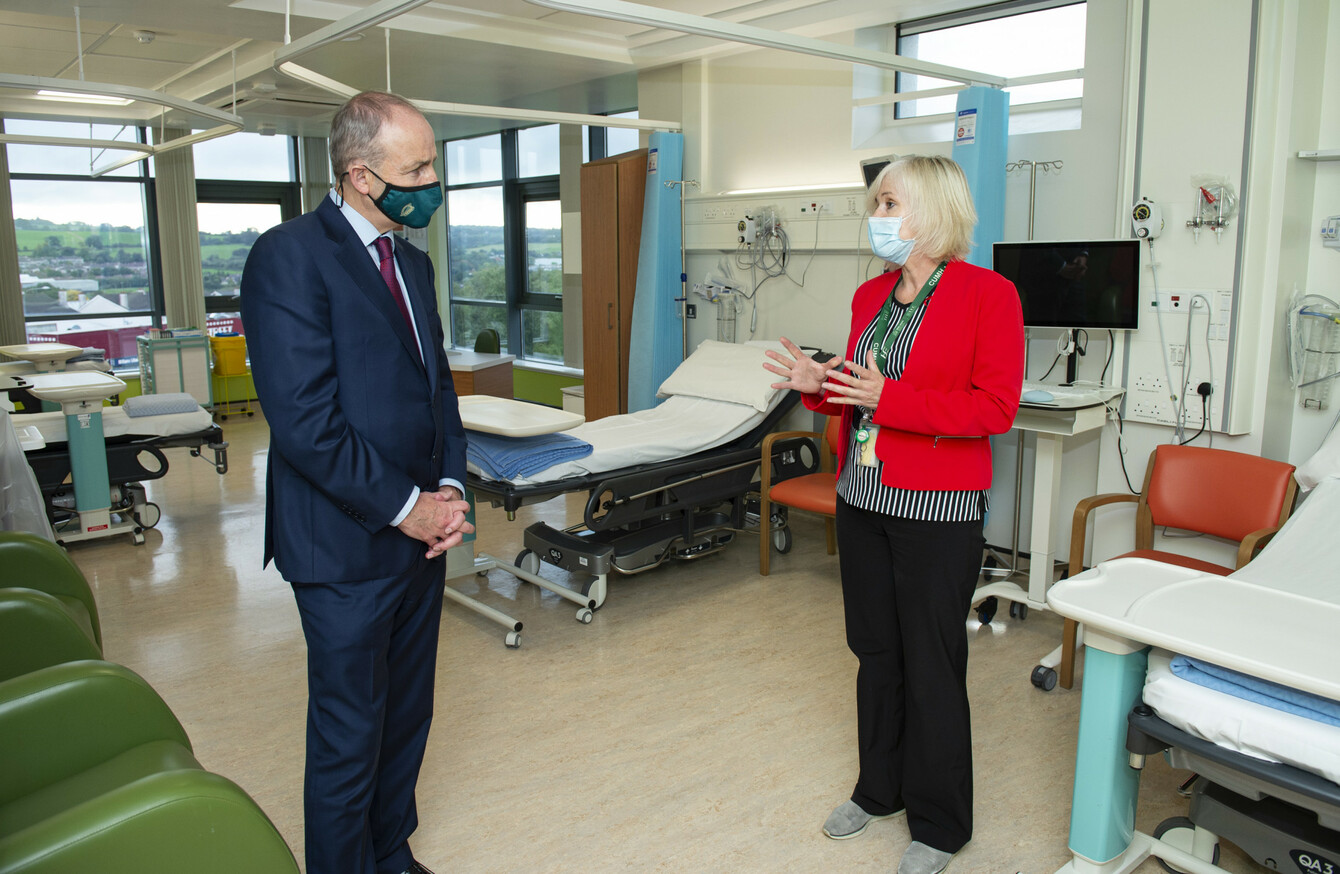 Martin visiting CUMH today.
Image: Gerard McCarthy 087 8537228
Martin visiting CUMH today.
Image: Gerard McCarthy 087 8537228
Updated Oct 15th 2021, 8:33 PM
TAOISEACH MICHEÁL MARTIN has said the Covid-19 situation "has changed" but that there's "a variety of options" to look at ahead of a decision on the lifting of remaining restrictions. 
A number of meetings are due to be held over the coming days ahead of a decision on whether to lift all remaining restrictions on 22 October. 
Speaking to reporters in Cork today, the Taoiseach said that he agrees with the assessment of HSE CEO Paul Reid that "it's not a case of pressing the panic button". 
It follows concerns earlier this week among members of the National Public Health Emergency Team (NPHET) about the spread of Covid-19.
There were 1,914 cases of Covid-19 confirmed this evening with the total number of cases in the past seven days up by 33% on the previous week.
"The situation has changed in relation to the disease, of that there is no doubt, and we're going to have to take that on board in terms of decisions we take next week," An Taoiseach said. 
He added that vaccines have "transformed the environment totally" and that the country is "in a much different position now" compared to last year because vaccinations are preventing hospitalisations. 
 Martin said that the Covid-19 vaccine booster programme is "already underway" to over-80s and over-65s in residential homes and that an expansion is to be discussed by the National Immunisation Advisory Committee (NIAC). 
"Then we're going to have to assess the situation then in terms of the number of cases and so on because there's not a whole lot left to reopen," Martin said. 
Minister for Higher Education Simon Harris yesterday suggested that vaccine certs may remain if and when nightclubs reopen and the Taoiseach made reference to certs today. 
I think behaviour is a factor and I think we will be looking at vaccination certs for example, the Covid certs that have been used so far in terms of access to hospitality. There's a variety of options we can look at and that's what we're going to do but I don't want to speculate unduly because I think it's better we make a comprehensive decision on foot of the advice we get next week. 
'Early warning'
Speaking earlier, the HSE's CEO Paul Reid said the resurgence of Covid-19 across the country in recent weeks is a "significant early warning" about the trajectory of the virus, but that there is no need for health officials to panic.
Reid said that although there has been a "huge swing" in Covid-19 rates and testing positivity levels across the country recently, that the vaccine rollout is working. 
He Reid told RTÉ's Today with Claire Byrne programme that it is not the time to "hit the big red panic button".
"We're at a much different place than we would have been if we were looking at 2,000 cases [a day] at a different stage in this year," he said.
"Vaccines are working. They are proving very effective… I would see what's been happening over the past week or so not as a panic button, or a need to hit the big red panic button, but as a significant early warning of a number of interventions that we need to be conscious of.
"We've seen a huge swing, in cases that were declining, to very high positivity levels growing and cases growing every day.
"But… vaccines are working and protecting those who have been vaccinated from hospitalisations, illness and mortality."
Minister for Further and Higher Education Simon Harris said earlier that the Government has three options on lifting restrictions next week: proceed with lifting all remaining restrictions; delay or proceed while keeping some safeguards in place; or the use of vaccine certs and face masks in certain settings.
Speaking to RTÉ's Morning Ireland, he also said the Government will consult with NPHET, which is due to meet on Monday before making a decision on Tuesday.
Harris also said that there is growing evidence for implementing a widespread booster programme in Ireland, citing Israel as an example. 
"They faced similar choices and they went for the extension of the vaccine certs and a widespread booster vaccine programme and they seem to have managed to make great progress with the virus," he said. 
"We're at a different point, this is not 2020. We live in a country now where the overwhelming majority of people are vaccinated…
"But we also live in a country where there are still in and around 300,000 people not vaccinated and interestingly around 70,000 people who've had their first dose, but haven't come forward for their second dose."
Harris said he is in favour of seeking "urgent advice" from the National Immunisation Advisory Committee (NIAC) regarding a widespread booster campaign.
Government is currently awaiting advice from NIAC in relation to this and expects a decision next week.
However, NIAC chair Professor Karina Butler said the focus in Ireland should be on people who remain unvaccinated rather than pushing for a widespread booster campaign. 
#Open journalism No news is bad news Support The Journal

Your contributions will help us continue to deliver the stories that are important to you

Support us now
She told RTÉ radio that with so much focus on boosters the number of people in Ireland who remain unvaccinated is "the real elephant in the room".
"We really have to look as to why that is the case and fill the gaps in the knowledge, the gaps in information to give those people the confidence and the trust that getting vaccinated is the way forward," she said.
She also noted that NIAC is considering data on which cohorts should be included next in the booster programme, but that she could not guarantee the advice sought from Government would be ready next week. 
"When the advice is complete, when it is robust, if that is sooner, if that is this evening (it won't be)…I won't give a specific date.
"The advice will be given as soon as we have it ready to go."
Contains reporting by Stephen McDermott and Rónán Duffy