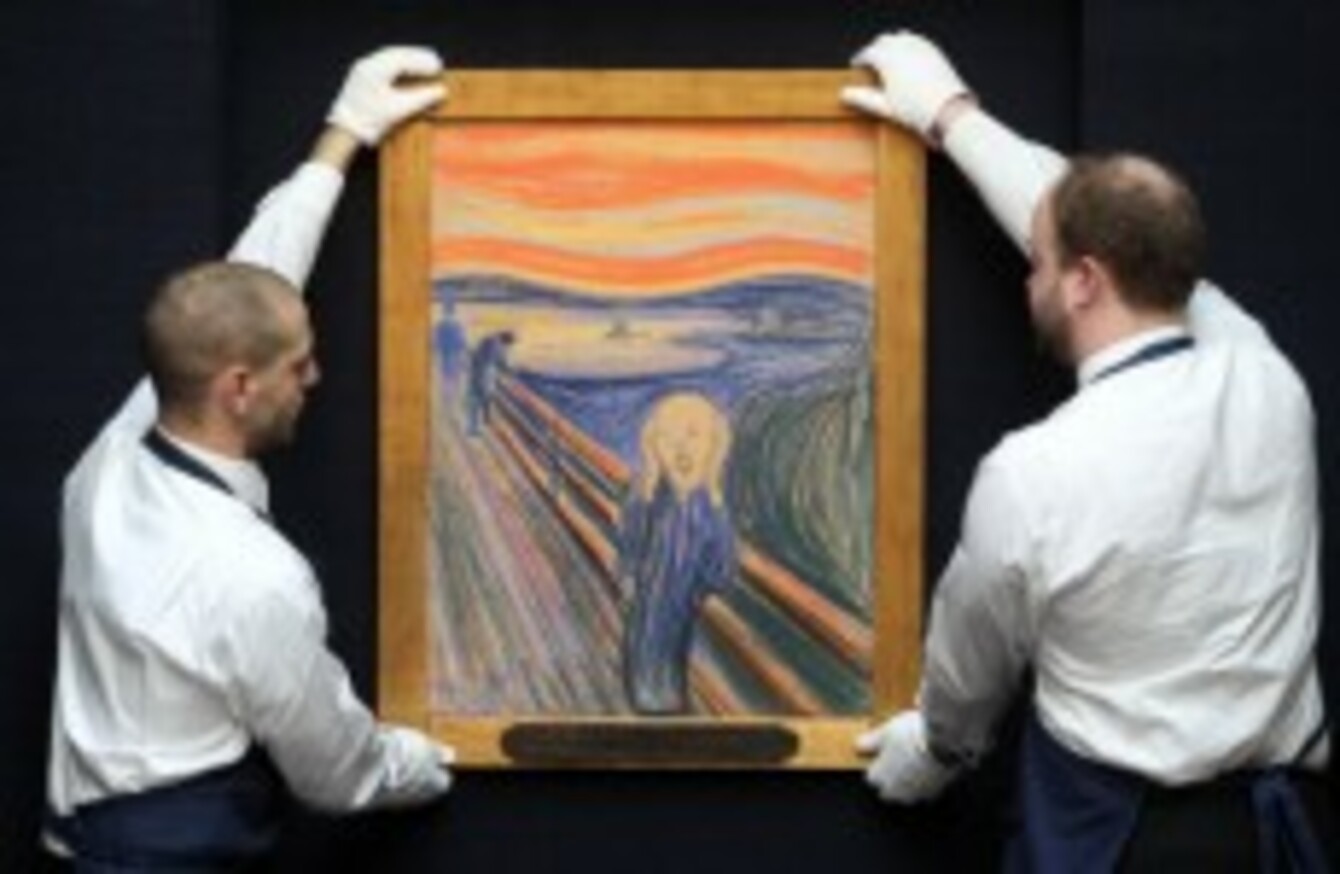 Sotheby's staff hanging The Scream at the auction house.
Image: Lewis Whyld/PA Wire
Sotheby's staff hanging The Scream at the auction house.
Image: Lewis Whyld/PA Wire
EDVARD MUNCH'S The Scream has become the highest-priced piece of art to sell at auction after fetching over $119 million yesterday evening.
The previous record for an artwork sold at auction was held by Picasso's Nude, Green Leaves, and Bust which sold in 2010 for $106.5 million.
The Norwegian artist's famous image of a haunted face before a red-streaked sky was created in 1895 and is one of four versions he made.
It is also the only version to include a copy of the artist's poem describing "the great scream in nature" on its original frame, which was hand-painted by Munch.
The painting was given to Munch's friend and patron, and it was this man's son, Petter Olsen, who decided to sell the artwork at auction. He said "the moment has come to offer the rest of the world the chance to own and appreciate this remarkable work."
The three other version of The Scream are held by Norwegian museums.
According to auction house Sotheby's, the poem's text on the frame painted by Munch reads:
I was walking along the road with two friends. The Sun was setting -

The Sky turned a bloody red

And I felt a whiff of Melancholy – I stood

Still, deathly trired – over the blue-black

Fjord and City hung Blood and Tongues of Fire

My Friends walked on – I remained behind

- shivering with Anxiety – I felt the great Scream in Nature
E.M.
Sotheby's produced this (somewhat intense) video ahead of the sale, featuring a reading of the poem and highlights of the image's impact on pop culture:
(Video uploaded by SothebysTV)
The auction house says that seven bidders competed for the artwork before a sale was agreed about 12 minutes after bidding started.
(Image via @Sothebys)
- Additional reporting by the AP