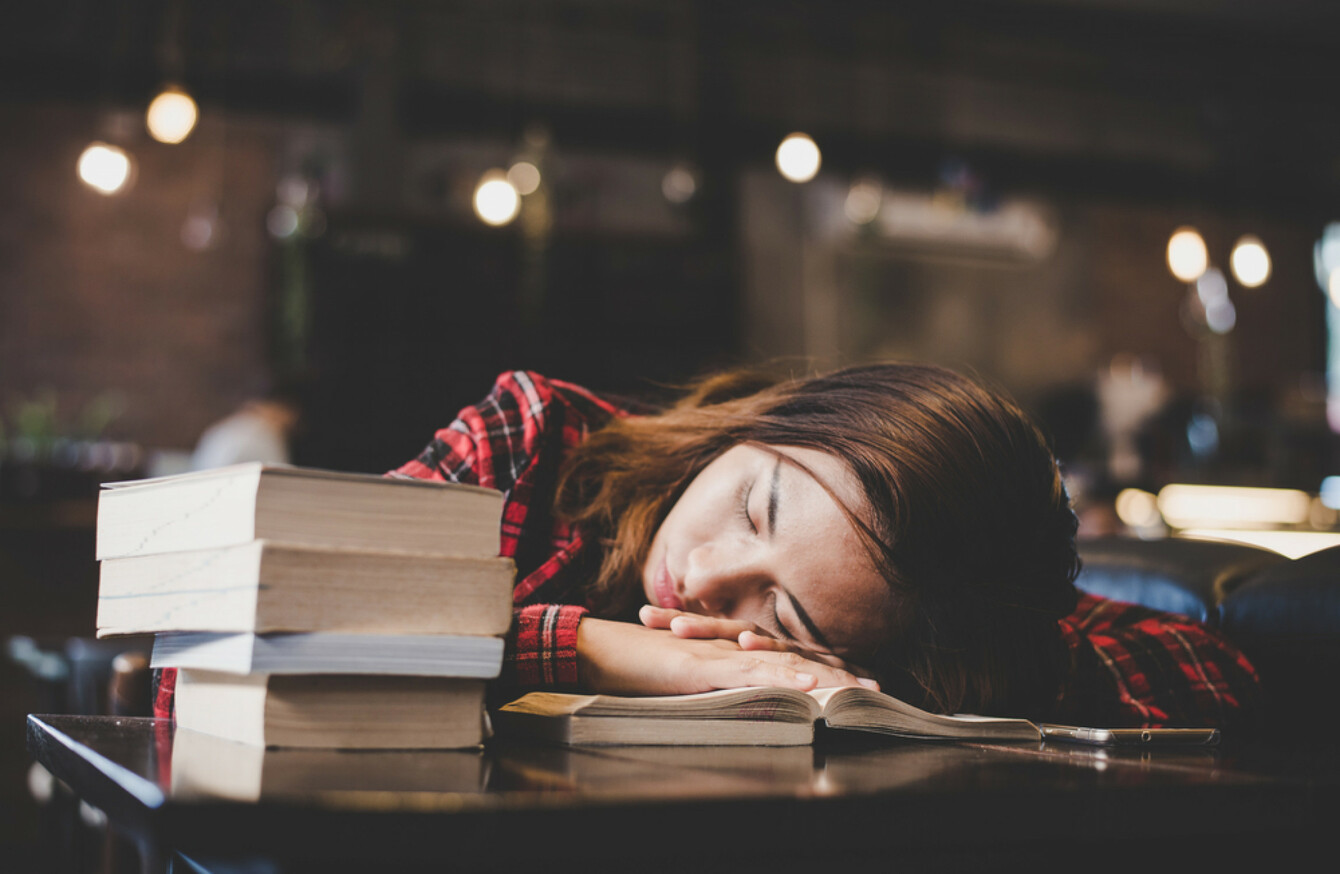 File photo
Image: crazystocker via Shutterstock
File photo
Image: crazystocker via Shutterstock
"THEY'RE COMPLETELY EXHAUSTED and it has huge implications."
A new toolkit has been launched this week aiming to address poor sleep habits among young people.
The Sleep Programme, funded by the National Youth Council of Ireland, provides teachers and youth workers with the tools to support young adults to improve or maintain their sleep routine by addressing stress, diet, physical activity, and drug and alcohol use.
The programme, available to download online here, has five different modules to complete – the introduction, sleep hygiene, stress and sleep, physical activity, and evaluation.
Each module has various different activities that the participant should complete. For example, meditation and group discussion on the participant's sleep habits.
Creation of the programme
Fiona Creedon, a Youth Development Officer with Crosscare told TheJournal.ie that herself and her team have found over the years that many teenagers they work with have serious sleep deprivation issues.
"We found they were presenting exhausted. They are completely exhausted and getting in trouble in school as a result of it. It has huge implications," Creedon said.
Creedon said in a statement that with the rise in popularity of social media and mobile technology, it is now more common for young people to be staying up later.
"We know that poor sleep in young people is linked to difficulties at school and maintaining healthy relationships with their families and peers.
The purpose of The Sleep Programme is to support young people to improve their sleep routine. A healthy sleep routine will help them realise their maximum potential now and in the future.
Participants
The team behind the programme has run about five pilot programmes of the new project.
One participant of the pilot programmes, Shannon Lambert, aged 15, said: "I've learned a lot about things I can do in the evening to make sure I get a better night's sleep, things like not using my phone for at least an hour before I go to bed and ways of managing anxious thoughts that might keep me awake."
Creedon said that there is a "fear of missing out" among today's young people when it comes to social media use.
"There is an addiction there. There's a fear of missing out. Some of the young people we've worked with, their sleeping pattern is affected by anxiety," she said.
The Sleep Programme is going to start a conversation about the importance of sleep because it is as important as food or exercise for our bodies.
"It's a very user-friendly programme. It's not a clinical piece. It's there to educate and to show young people tips and different things they can do to relax."
The Sleep Programme is a joint initiative between the HSE, Tusla's School Completion Programme and Crosscare's East Wicklow Youth Service.