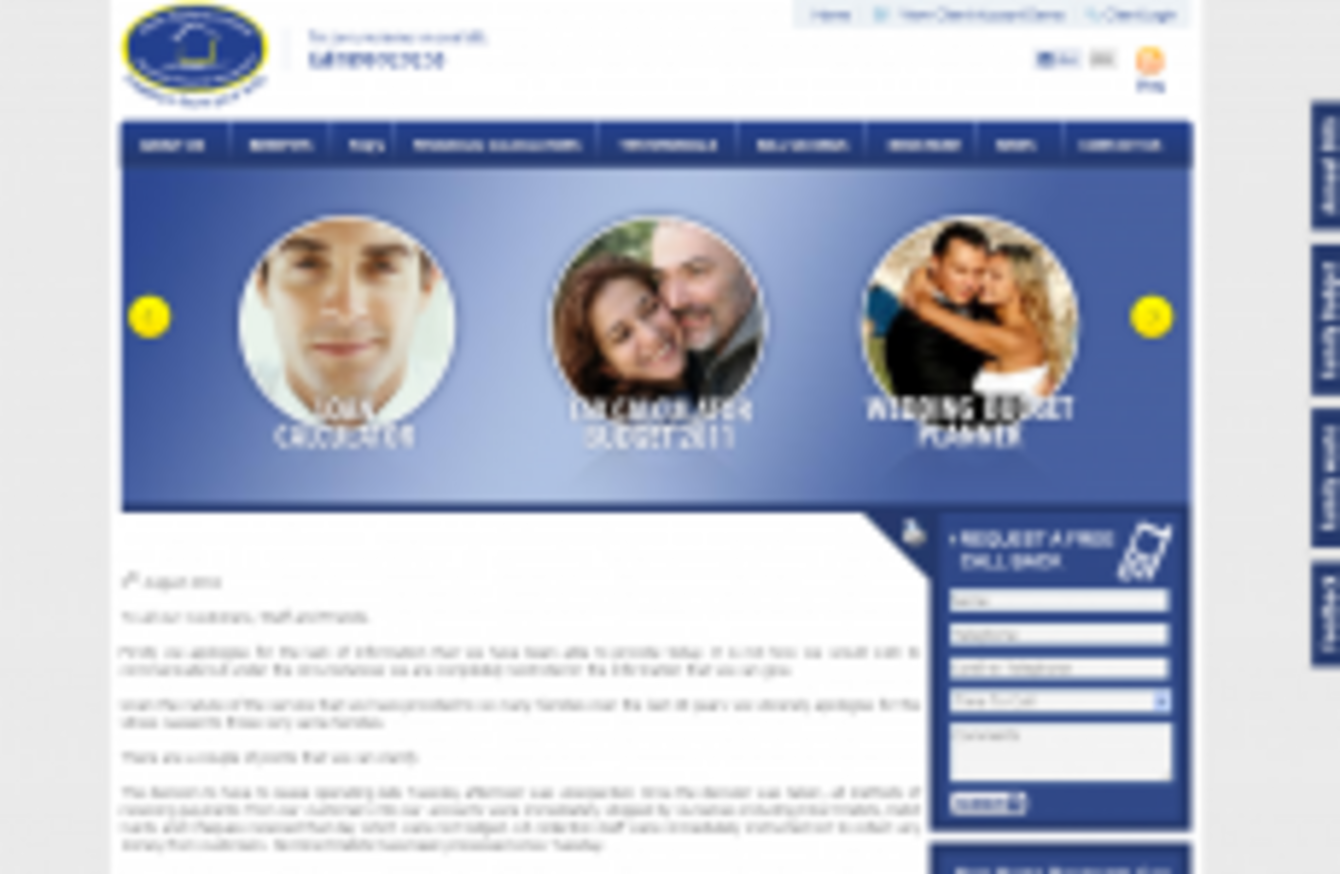 A screen grab from the Home Payments Ltd website, taken this afternoon. The company ceased trading earlier this week.
A screen grab from the Home Payments Ltd website, taken this afternoon. The company ceased trading earlier this week.
THE NATIONAL CONSUMER AGENCY (NCA) fears that "potentially thousands upon thousands" of domestic savers and people under financial duress may have seen their savings totally wiped out by the collapse of one of Ireland's leading domestic budgeting companies.
Home Payments Ltd, based in Rathmines in Dublin, this evening went into liquidation having already ceased trading earlier in the week.
Its liquidators, Eamonn Richardson of KPMG and Eamonn Leahy of Leahy & Co, said they would be individually contacting customers over the coming days in order to "assess and reconcile any funds owed to them".
It is unclear how many customers are affected, but it is thought that the number could be in the high thousands given that the company had been trading for just short of 50 years.
Although the company said its priority was to ensure that consumers' deposits were not lost, National Consumer Agency chief executive Ann Fitzgerald told RTÉ's Morning Ireland that the outlook was bleak.
"In all probability, their savings are probably gone," Fitzgerald said, largely because the domestic budgeting sector – unlike the banking sector – went entirely unregulated.
The State and the European Union guarantee all deposits in banks, but the same protection did not extend to deposits left with private entities.
Fitzgerald said she had heard of some cases where savers had held deposits of up to €12,000 – all of which may now be unrecoverable.
"Because this company is outside of the reulatgory system, the people who used this company are totally vulnerable," she said.
"There are other people out there using private sector debt management programmes where there are no controls over client assets… [and] no protection at all."
The NCA has called on the government to introduce immediate legislation to bring debt and financial management companies under official regulation, saying laws could be in place by the end of the year if the government is keen enough to introduce them.
This afternoon the NCA said it had formed a panel of regulators and industry bodies which would work together to protect credit ratings, avoid mortgage arrears and ensure that insurance cover would not lapse.
The company yesterday said it had immediately cancelled all inbound payments including cheques and direct debits, so that customers who had already sent money to it would not be left out of pocket.
The liquidators have set up a dedicated helpline, at 01 497 5795, to deal with customers who have any queries about their arrangements. It will operate from 8:30am to 6pm Monday to Friday, and will begin operation next Monday morning.
Affected customers can also contact homepayments@leahy.ie.