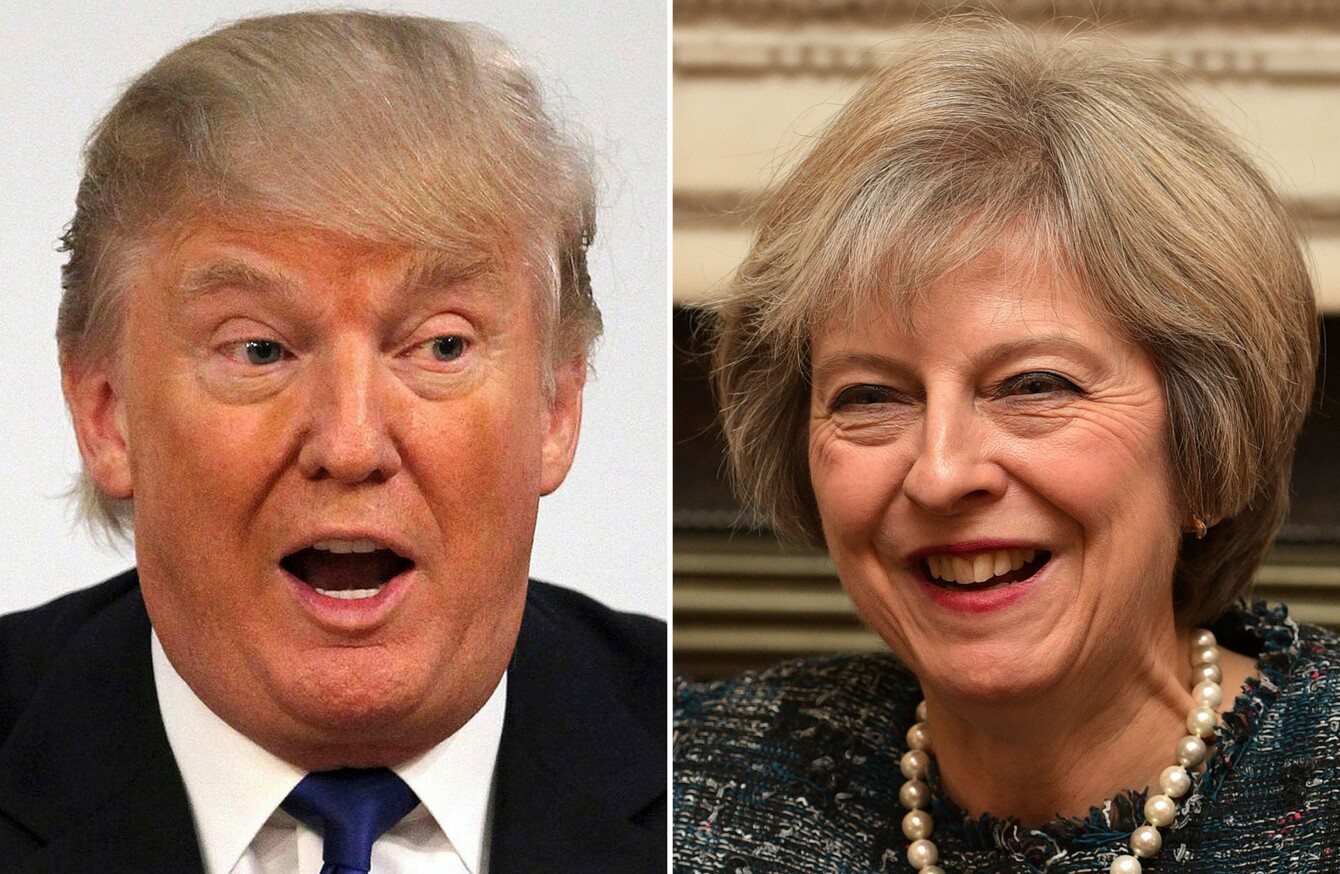 Image: PA Wire/PA Images
Image: PA Wire/PA Images
PRESIDENT DONALD TRUMP will welcome British Prime Minister Theresa May on Friday in his first meeting with a foreign leader.
White House press secretary, Sean Spicer, made the announcement yesterday.
Speaking on BBC's The Andrew Marr Show today, May said that she "won't be afraid" to tell Trump if he says or does anything she feels is "unacceptable".
She said: "I will be talking to Donald Trump about the issues we share and how we can build on the special relationship."
She stressed that she is looking forward to discussing a trade deal with the US that will be essential once Britain leaves the EU.
May said: "He and people around him have also spoken about the importance of a trade agreement with the UK and that is something that are looking to talk to us about an early stage."
It is expected that the importance of the NATO military alliance will also feature in their discussions.
Trump is also set to meet his Mexican counterpart, Enrique Pena Nieto, on 31 January.
The pair spoke on the phone yesterday, and will meet to discuss trade, immigration and security, Spicer said.
The President famously declared that he would "build a wall" to keep Mexicans crossing the border into the US illegally during his election campaign. Furthermore, he said he would get Mexico to pay for it.
Trump has also pledged to renegotiate, or even scrap, the Northern American Free Trade Agreement between the US, Mexico and Canada.
The Mexican president's office said that in yesterday's conversation Pena Nieto congratulated Trump on becoming head of state in a phone call in which both agreed to open "new dialogue."
Mexico sends 85 percent of its exports to the United States under NAFTA and thus been rattled by Trump's repeated vows to review or repeal the trade pact, and to build a wall on the border.
Trump also spoke with Canadian Prime Minister Justin Trudeau on the phone yesterday, with NAFTA the main topic of discussion.
A statement from Trudeau said that the pair "reiterated the importance of the Canada-United States bilateral relationship, and discussed various areas of mutual interest".
Meanwhile, Israeli Prime Minister Benjamin Netanyahu said that he would speak to Trump via telephone later today, for their first talks since the inauguration.
Netanyahu said at the start of a cabinet meeting that he planned to discuss with Trump the conflict with the Palestinians, Syria and "the Iranian threat."
Trump has pledged strong support for Israel and vowed during his campaign to recognise Jerusalem as the country's capital despite the city's contested status.
Plans are also underway for Russian President Vladimir Putin to meet Trump. These preparations may take months, rather than weeks, however, according to Kremlin spokesperson Dmitry Peskov.
With reporting from AFP.