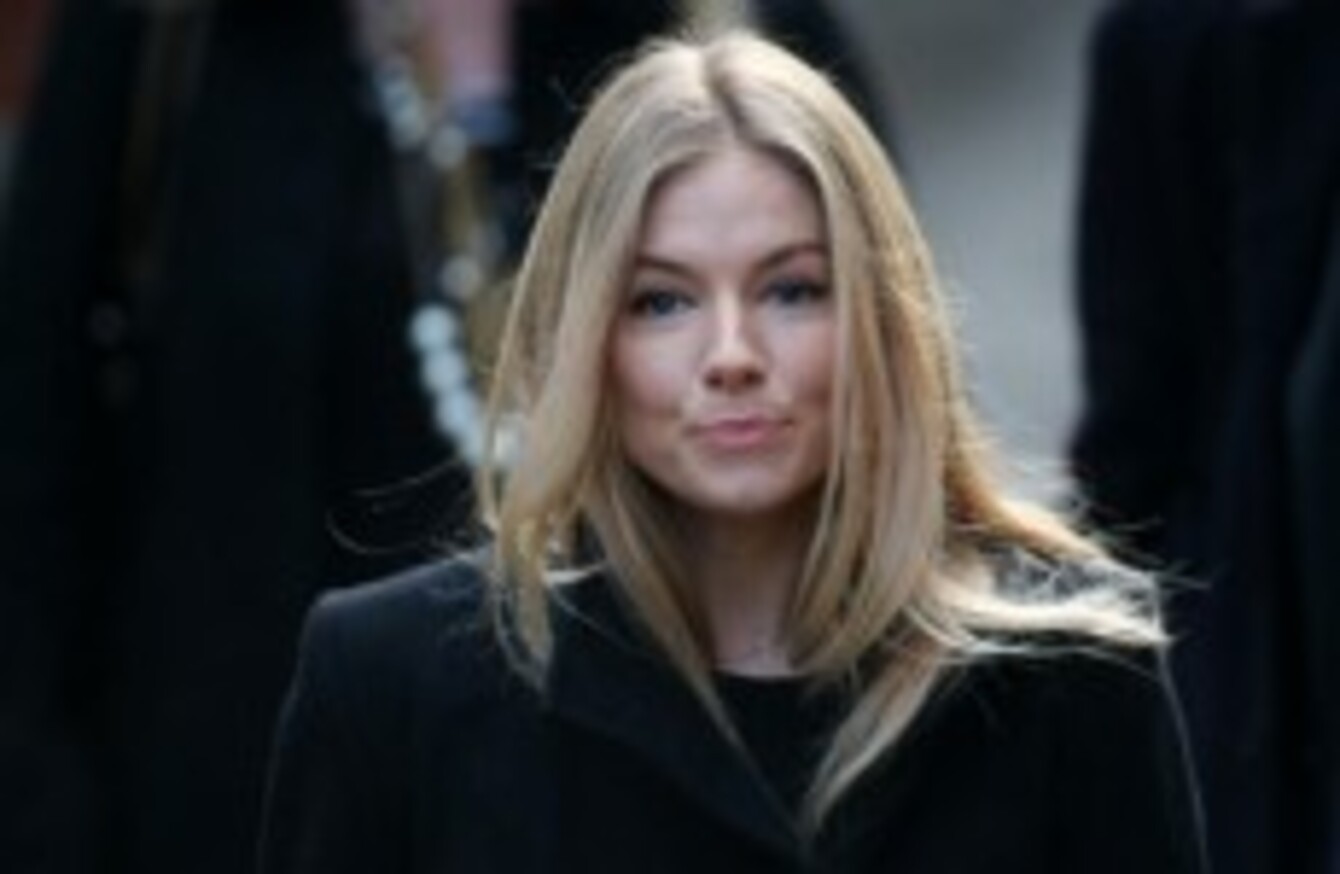 Sienna Miller, one of four people testifying at the Leveson inquiry today.
Image: Gareth Fuller/PA Wire
Sienna Miller, one of four people testifying at the Leveson inquiry today.
Image: Gareth Fuller/PA Wire
FORMER MOTORSPORT chief Max Mosley and actress Sienna Miller are among the witnesses giving evidence at the Leveson inquiry into media ethics at UK newspapers today.
This afternoon, Mosley said that "invasion of privacy is worse than burglary", adding that if someone steals something from your home, it can be replaced but if someone breaches your privacy "you can never repair the damage".
Criticising the use of photographs which invade a person's privacy, he said that "once the information has been made public, it can never ever be private again."
He also spoke of the impact of the News of the World's story about his sexual acts with prostitutes "had the most devastating effect" on his late son. Mosley said it was bad enough seeing that being published about yourself, but for a son to see it about his father was particularly difficult.
He successfully sued the newspaper for the invasion of his privacy in that story, but said today that although he has had the claims removed from 193 websites, he is still taking legal in 22 or 23 countries over it.
"They have no human feeling at all," he said of the press.
The former motorsport chief said that the internet in particular allowed for huge and unregulated dissemination of invasive material.
'Chased down the street'
This morning, actress Sienna Miller recounted incidents of being chased by up to a dozen photographers at a time down dark streets late at night, and that she has been spat at and verbally abused by photographers in an effort to get a reaction from her:
(Video uploaded by telegraphtv)
Miller said that she became increasingly paranoid and concerned when private details about her life began appearing in the press – details which were later discovered to have been sourced by hacking her phones. However, she said that at the time she suspected her friends and family of leaking the information.
In her witness statement, Miller said that intense press coverage of her life began in September 2003 and ended "more or less" recently after she took legal action.
In recent years, Miller agreed settlements with the News of the World, the Sun and the Star over their coverage of her private life.
Protecting children
Speaking after Mosley this afternoon, Harry Potter author JK Rowling described her multiple efforts to protect the privacy of her children from the press.
#Open journalism No news is bad news Support The Journal

Your contributions will help us continue to deliver the stories that are important to you

Support us now
She said that she complained to the Press Complaints Commission after images clearly showing her young son's face, her young daughter in a swimsuit and the family's home address, before turning to the courts in frustration.
"I feel the PCC is toothless," she said, describing its penalties as a "wrist-slapping exercise for journalists".
The writer also described her anger upon discovering that a journalist had written her a letter and placed it in her five-year-old daughter's schoolbag for her to find. She said she was so angry to realise that her daughter's school "was no longer a place of complete security from journalists":
(Video uploaded by NOTWPhoneHacking)
She said that on another occasion, a newspaper had claimed she based an unpleasant character in the Harry Potter series on her ex-husband and her daughter's father, which greatly upset the child.
Rowling said children in particular should be protected from press intrusion: "Children have no choice in who their parents are, they have no choice in how their parents behave."
Rowling opened her evidence today by saying that she does not have a personal vendetta against the press and believes in the freedom of expression, but said she believes there is a huge difference in "truly heroic journalism" and what is being discussed at the inquiry.
Regulation
Earlier today, lawyer Mark Thomson had spoken about the difficulties of regulating internet coverage, but said that more needs to be done to protect a person's privacy online.
Thomson said he felt that it probably wasn't worth a person's while to target every blogger and small website which talked about them until the coverage reached a particular mass. Instead, stronger regulation should be introduced for material on bigger websites with a greater following.
Thomson also said that newspapers are increasingly ignoring the process of prior notification by which they warn an individual that they are about to publish material about them. He said he believes this is especially the case with more sensational or outrageous information or photographs, so that the subject of the material does not have an opportunity to lodge an injunction against its publication.
He said photographs can often be much more invasive than a story and the newspapers don't want to warn people in advance.
The inquiry hearings will recommence on Monday.