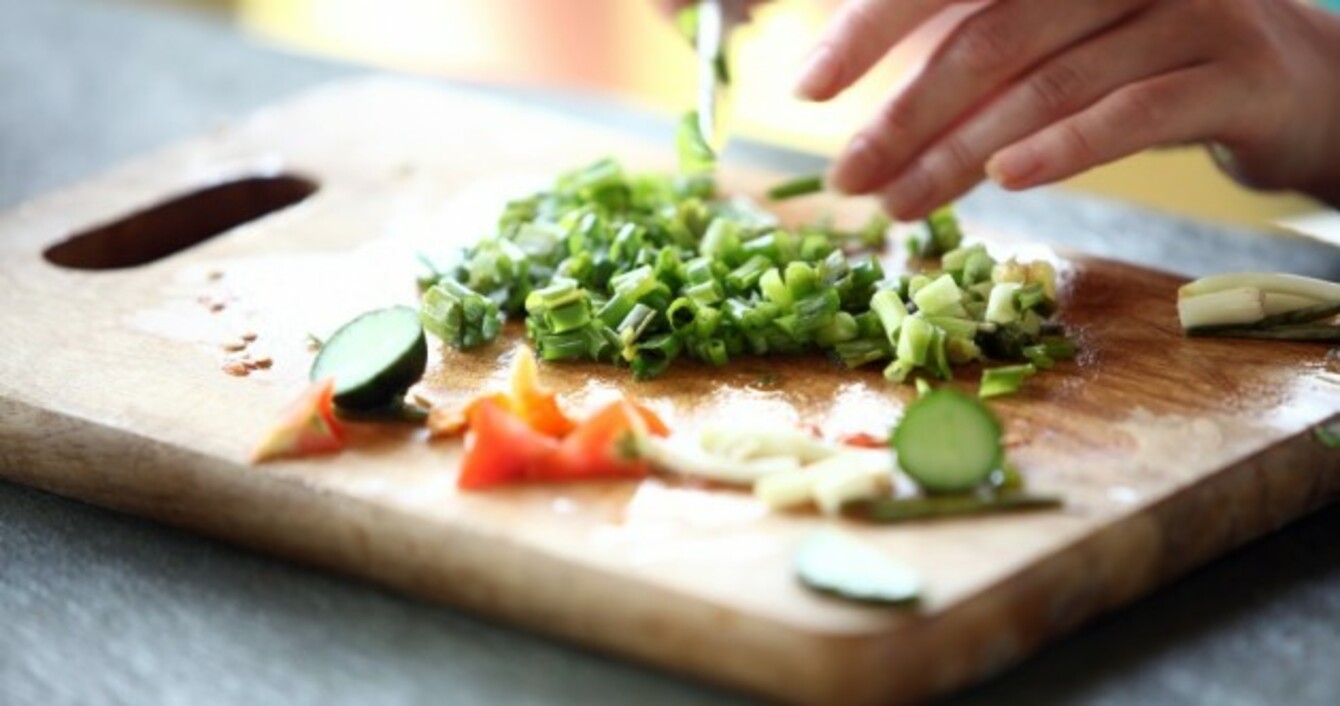 Image: Shutterstock
Image: Shutterstock
ONE THING YOU'LL always notice about a professional chef is that they move quickly, with the minimum of time wastage. Everything is prepared and is sitting to hand exactly where it should be, meaning less time is wasted.
There is constant pressure out there to be "better" at everything, I know. I'm not suggesting you need to start plating up restaurant-style dishes for your dinner every day, but a few simple tips from a friendly chef can save you so much time – whatever it is you're cooking.
Most of us have bad kitchen habits that we have picked up over the years, that we end up repeating daily without noticing. I spend every day in the kitchen working on recipes and I regularly do supper clubs and pop ups too. Once I started to notice those time-wasting patterns that I didn't need and acquiring tricks to make things faster, the process became a whole lot simpler.
Here are the time-savers I've picked up along the way – plus a few from some of Ireland's best chefs…
1. Prep ingredients before you start cooking: The first thing I learned was how much time you will save and how much better the results will be if you plan ahead with ingredients and make sure that you have everything, and then prep in advance. Have everything ready. Be organised in your space. Have seasonings and oil by the cooker and anything else you might need like a wooden spoon or ladle.
2. Invest in a food processor to have an instant commis chef in the kitchen: I would not be without mine to help with chopping and slicing. If a food processor is out of budget, then invest in a mandolin for slicing. Your veggies will look perfectly even (but do use the safety guard to avoid any accidents!).
3. Don't peel everything, honestly: Slice your vegetables whatever way you wish, but you don't need to peel most of them, be it carrots or sweet potatoes. Peeling is often just for aesthetics. Give your vegetables a good wash or scrub and they'll be ready to go. 
4. Make use of your grater for garlic and tomatoes: Grate garlic on the fine side of a box grater – it takes seconds and saves fiddling around with a wobbly clove on a chopping board. Grate tomatoes for sauce on the larger grater for a speedy tomato sauce.
5. Chop herbs and spring onions with scissors: Have a kitchen scissors to hand to cut herbs and spring onions directly into the pan. This tip is especially helpful if you're not 100% confident in your knife skills.
And from the chefs…
6. Finish cooking your pasta in the sauce: Chef Bryan McCarthy of Greene's in Cork par boils his pasta and finishes cooking it in the sauce. That way, the pasta really soaks up the delicious flavours – and you save time.
7. Master the basics of a DIY salad dressing: Do you spend time fiddling around trying to get your dressing just right? Dublin native Robin Gill of The Dairy in London  saves all of the juices from jars of olives, capers and gherkins. Starting with your jar of juice or brine, add a good dollop of Dijon and a swirl of olive oil, close the lid, and shake. Done!
8. Brown your steak perfectly in less time: Holly Dalton of Gertrude leaves her steak to rest uncovered in the fridge before cooking it. "It will brown in the pan much quicker," she explains.
9. And save a bit of time on cleaning too: McCarthy's tip for restaurant level cutlery cleaning will serve you well if you have guests coming (or just want to feel fancy). "Make a baking soda and lemon juice paste, and use it to coat any silver, copper or brass utensils," he suggests. "Leave it for 5 minutes, scrub with a scouring pad and polish to get rid of tarnished spots and make cutlery shine like new."