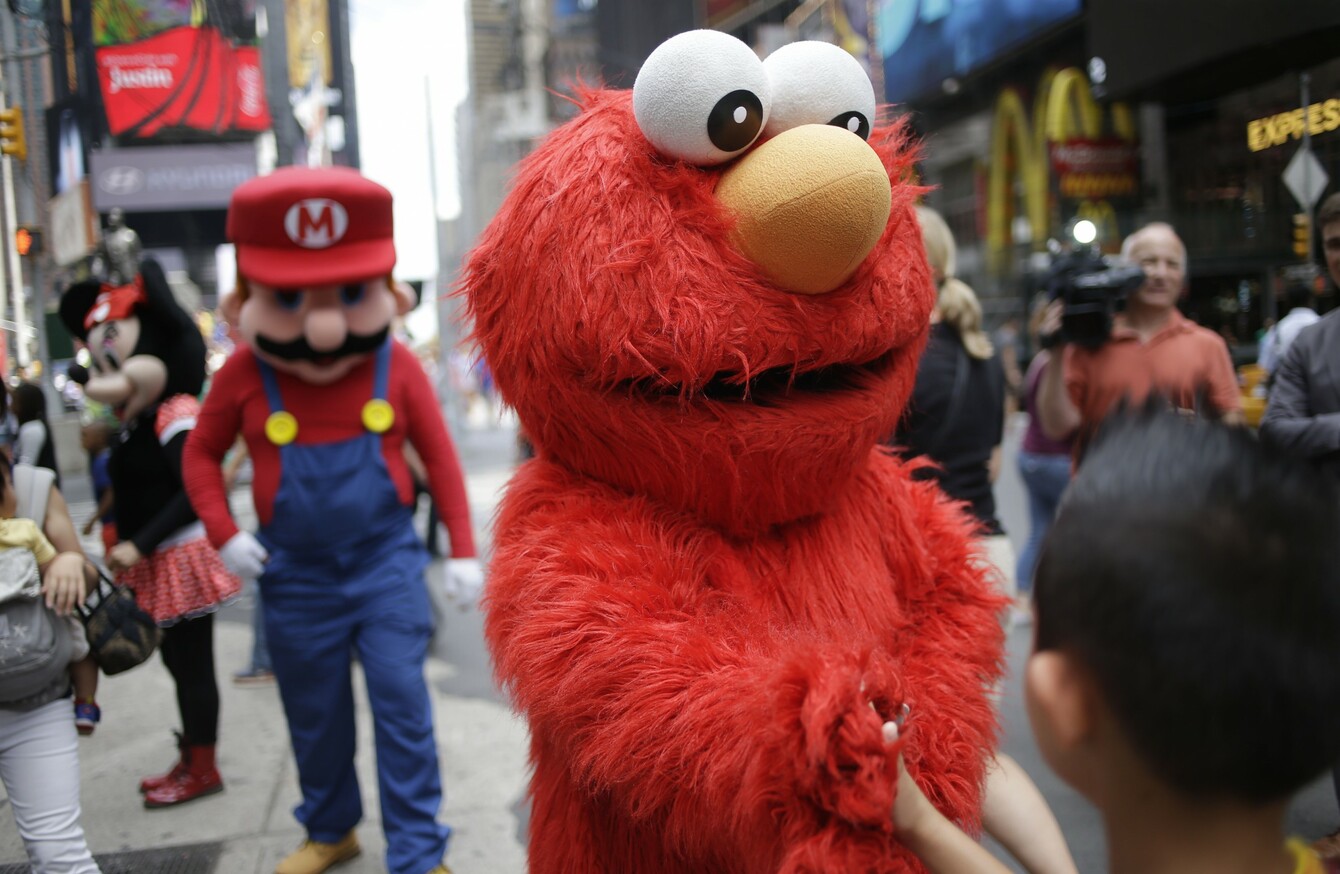 NEW YORK CITY HAS started painting teal rectangles in pedestrian plazas in Times Square to confine the costumed Elmos and Spider-Men who pose for photos and solicit tips from tourists.
The colour-coded Designated Activity Zones are meant to rein in the pushy panhandlers who have flooded the area, in some cases harassing passers-by to pay for photos with them.
Workers started painting the Designated Activity Zones yesterday.
Under a law signed by Democratic mayor Bill de Blasio in April, street performers and costumed characters can be issued summonses or even face arrest if they are caught operating outside the eight designated rectangles. Each area is painted teal and measures 8 feet by 50 feet.
Some lawyers and performers say the new rules infringe on performers' First Amendment rights.
"It's the wrong approach. It invites litigation through a civil case or possibly could be used as a defence in a criminal case," lawyer Norman Siegel said.
The legislation has created a no-free-expression zone in the quintessential public space, the Crossroads of the World.
But attorney Linda Steinman, representing the Times Square Alliance business group, said the new rules are consistent with case law permitting restrictions on the time, place and manner of speech.
"It's not a ban on anything," Steinman said.
Yamil Morales, who dresses as the Mad Hatter from Alice and Wonderland, said the new rules "are against the Constitution and against the understanding we have with this area".
He added:
There could be a lot of arrests, which is bad because these people have families that they are supporting.
Some of the conflict has been over the expectation of tipping after the performers take pictures with tourists.
Times Square Alliance president Tim Tompkins said that in the past a lot of tourists didn't realise a tip was expected and the performers were often "aggressive about insisting on a tip".
The organisation originally handed out fliers to tourists reminding them that tipping is optional.
But as the new zones go into effect starting 21 June, the alliance will be posting signs with the message:
If you take a photo with an entertainer, please note tipping is expected.
A team of 10 Times Square Alliance workers will begin an education blitz next week to inform the performers and the public about the new rules.