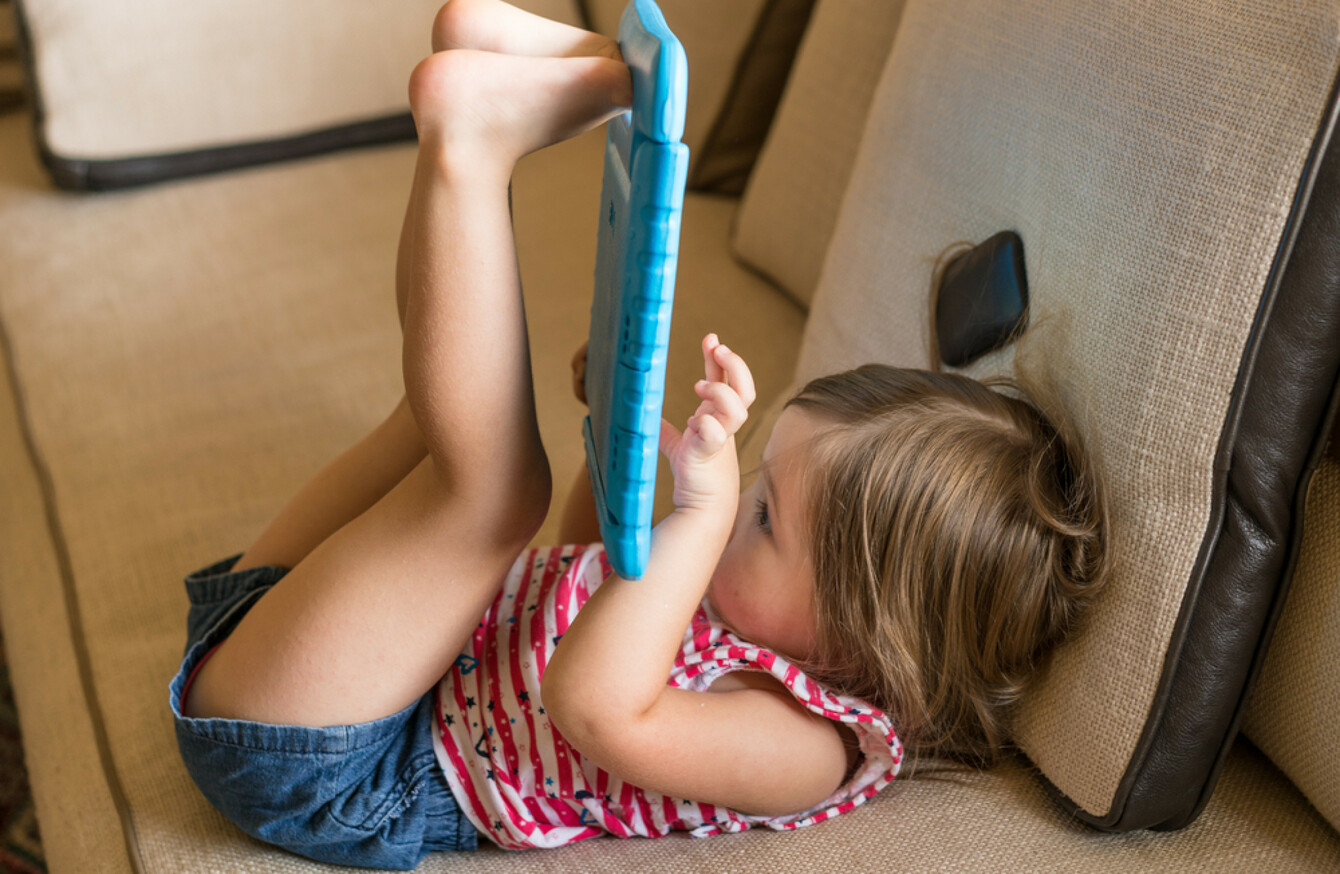 Image: Shutterstock/Steve Heap
Image: Shutterstock/Steve Heap
JUST RECENTLY Mark Zuckerberg wrote an open letter to his newborn daughter telling her to be a kid and "go outside and play" – the subtext presumably being 'don't waste your childhood on computers'.
And he's not alone: any parent of young children will be familiar with dire warnings about the effects of iPads, Netflix and Minecraft. But are we tying ourselves up in knots of guilt unnecessarily? It's time we took a sensible approach to toddlers and tech, writes Chrissie Russell – and here are the reasons.
1. It's not all or nothing
There's something galling about Zuckerberg's 'go outside' note because implies it's one or the other – tech, or wholesome outdoors fun.
My three-year-old can navigate any touchscreen with ease. He's also partial to a bit of Paw Patrol. But equally he loves playing in the park and garden, kicking a ball, building a fort, paddling at the beach, drawing, building, reading… Most parents know it's not a good idea to stick their child in front of a screen for the majority of their waking hours. But it's perfectly possible to have a balanced youth that includes a bit of touchscreen time.
2. You don't want to create a forbidden fruit
OK maybe very young children don't know how to self-moderate but older ones do. My son often puts down his tablet and starts playing with something else if he's had enough. I firmly believe by not denying him access to technology, it's lost that 'forbidden fruit' appeal.
3. No-one can have 'wholesome' stimulation 24/7
Life is not an endless loop of museum visits, trips to national parks, art galleries, food festivals, jaunts through woods and picnics on the beach. Sometimes it's wet, sometimes it costs too much money, sometimes the car won't start and someone else has vomited on their top, sometimes…
4. Sometimes… you just need a break
It's all very well for the likes of Prince William and Kate to declare that iPads are "mummy and daddy's toys, not for children'. They have nannies and staff. Work is hard, parenting is full on, whether you need an hour to make the dinner or simply to relax, I believe I'm be a better parent if I occasionally hand over reins to the iPad, take the time out I need and come back to 'hands on' parenting stronger.
5. Headlines don't tell the whole story
In April the BBC ran a story suggesting that 'touchscreen toddlers sleep less' – a declaration sure to strike fear and guilt into the heart of all parents. But here's the thing – headlines need to be snappy and simple, something scientific studies rarely are. The reality is that the research concerned a one off assessment of a relatively small sample group and doesn't prove one thing directly leads to the other. Which brings me to the fact that…
6. Actually, there's kind of a lack of research
Since the widespread use of touch-screen technology is a relatively new phenomenon, there's actually not a lot of research out there into how it affects us. Some organisations are starting to investigate this topic – such as the TABLET project at Birkbeck Babylab and BabyLab in Australia – but it's a new area and there's a need for a longitudinal study.
7. Some of the findings are actually positive
The Arts and Cultural Participation Report as part of the Growing Up in Ireland research revealed that watching TV in the early years led to improved vocabulary.
Meanwhile, the Department of Paediatrics and Child Health at Cork University found that using interactive technology has a completely different effect on toddler's brains from passively watching TV – and suggested that swiping and using apps is more similar to traditional play.
8. It all depends on WHAT they're doing
The fact that some psychologists have labelled toddler iPad use as tantamount to 'child abuse' is like saying everyone who watches TV is an idiot.
My three-year-old recognised the Leaning Tower of Pisa on holiday this year because he'd seen it on the CBeebies programme Go Jetters. He's learned about forces and freezing temperatures from Blaze and the Monster Machines. He can do numbers, shapes and letters thanks to a plethora of apps. Yes, he sometimes watches a child inanely opening Kinder Eggs (I can't judge, I'm a Keeping Up With the Kardashians fan) but a lot of his screen experiences are educational.
#Open journalism No news is bad news Support The Journal

Your contributions will help us continue to deliver the stories that are important to you

Support us now
9. Surely it makes sense to learn to use tech when young
My son (like 90pc of under-threes) can intuitively find things on a device, download apps, swipe and unlock a screen. By contrast, my 60-something mother is about to hand over a wad of cash to go to a 'learn iPad basics' class that will teach her most of those things.
10. (Apart from anything else, all the jobs are in technology)
The recent research from gradireland shows that the second largest sector for graduate jobs is 'technology, software and online services'. There's a Europe-wide shortfall of technical workers (cybersecurity alone reckons it needs 1.8m recruits). I'm really not convinced that labelling technology 'bad' at an early age is the way to address this, especially when four years later you'll be pushing them to join CoderDojo.
11. It's not always a solo thing
iPad use can be a positive learning experience for toddlers. My tot gets great joy from showing me 'his' games and explaining how they work. We play together, watch YouTube kids together – chatting about it as we go – and take and look at photos together, all of which are shared experiences.
12. Life has changed
There's really no point moaning about a time when kids roamed outdoors all day and nobody knew where they were, because we simply don't live in that world any more. Is it progress? Who knows. Should we let technology take over our kids' lives? Absolutely not. But maybe it's time we stopped treating technology as a hostile intruder because one thing's for certain: it's here to stay.
Join our mailing list to be in with the chance of winning a relaxing break at the Radisson Blu Athlone - and don't forget to like us on Facebook and Twitter too!