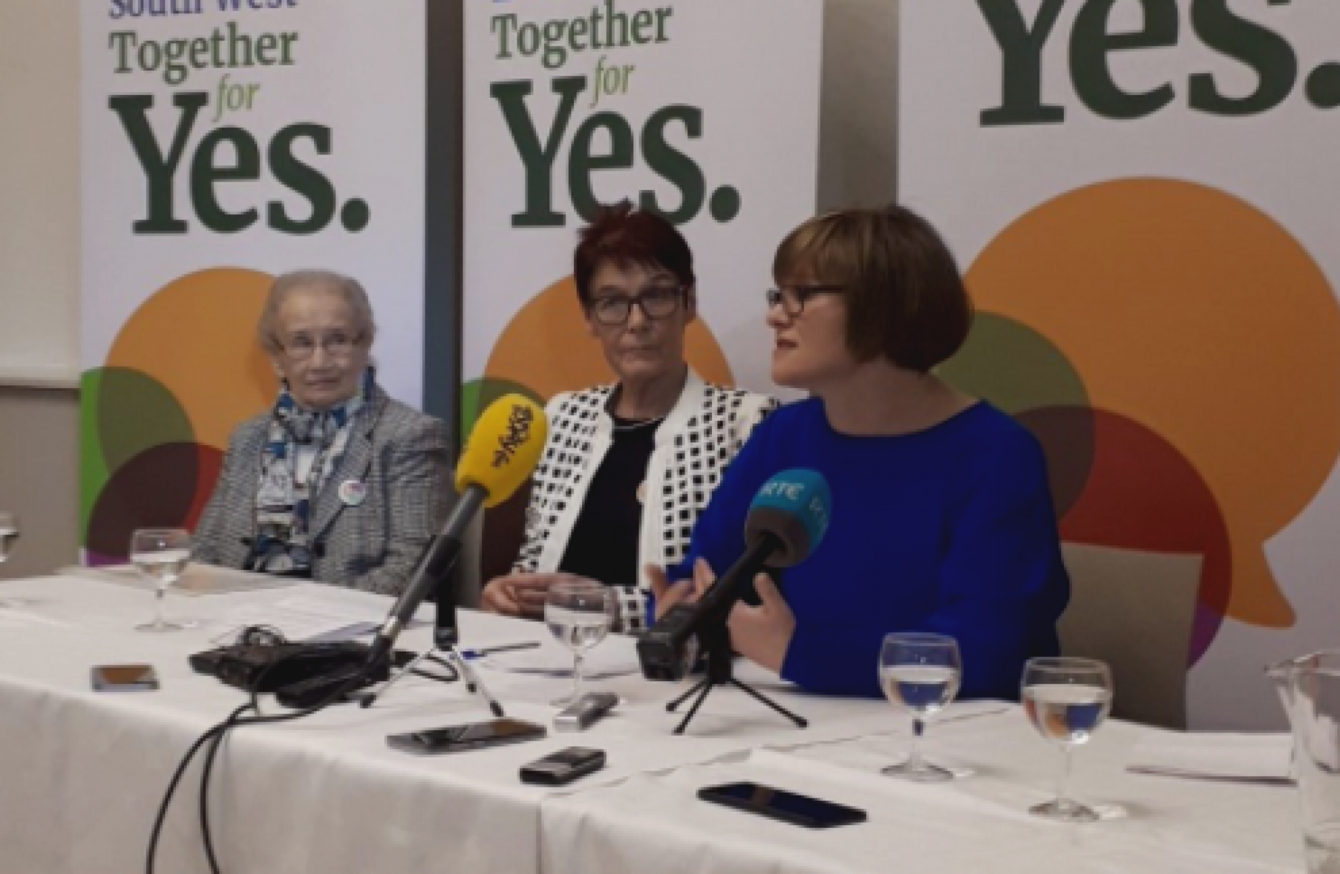 Catherine McGuinness, Ailbhe Smyth and Orla O'Connor at today's launch.
Image: TheJournal.ie
Catherine McGuinness, Ailbhe Smyth and Orla O'Connor at today's launch.
Image: TheJournal.ie
THE PRIMARY CAMPAIGN group advocating a Yes vote in the upcoming Eighth Amendment referendum has said they will "of course" accept the result, after a government minister suggested they would not.
Asked at the launch of the Together For Yes group in Dublin today whether they would accept the result, co-director Orla O'Connor said their focus is currently on the campaign.
"Yes of course, but we're not thinking about that because we believe that people will be voting for change on the 25 May," O'Connor said, adding that there is no truth to the contention that would not accept the result.
"Absolutely not, we are Together for Yes, we are about getting people out there now for the next eight-and-a half weeks, that's out focus."
Today we're launching the campaign and we're going to be doing everything we can over the next eight weeks to ensure that there is a Yes vote in the referendum. That's what our focus is, we're not going to be thinking about voting day just yet.
Speaking to the Irish Times in Paris last weekend, Minister for Social Protection Regina Doherty had said that campaigners were "not going to accept a No".
Taoiseach Leo Varadkar was asked about the minister's comments in the Dáil yesterday and said his government would not be proposing a second referendum.
"The government will respect the result of the referendum, so if the referendum is passed I hope people respect that and, if the referendum is defeated, the government will respect that decision and will not bring forward a proposal for a new referendum during the period of this government," Varadkar said.
The Save the 8th campaign group, which is pushing for a No vote in the upcoming referendum, described Doherty's comments at the time as "repugnant".
"These comments are symptomatic of an arrogant and contemptuous political class that treats voters as an obstacle to be overcome rather than people to be heard," spokesperson  Niamh Ui Bhriain said.
Campaign
In terms of campaign funding, Together For Yes  co-director Ailbhe Smyth said that the group has only started raising money but hopes to raise €500,000 for the campaign.
She described it as 'a classic' referendum fundraising approach.
We are obviously just forming Together for Yes now. So we're starting from scratch effectively, with donations and fundraising going on as we speak. We intend, hope and expect to raise something the region of half a million euro. Obviously at this stage it's very difficult to give a precise figure for that but our working budgets are centred in and around that amount.
"We will be raising money here in Ireland in the usual way. We're expecting that there will be a lot of small donations, we've already had indications that that's going very well. That it"s coming in. And obviously there will also be no doubt corporate donations coming in under the normal Sipo regulations."
The Together for Yes umbrella group is a made up of about 70 civil society groups and does not count political parties among it, but several senior politicians attended today's launch.
Among them were Health Minister Simon Harris, Sinn Féin leader Mary Lou McDonald and Social Democrats co-leader Catherine Murphy.
#Open journalism No news is bad news Support The Journal

Your contributions will help us continue to deliver the stories that are important to you

Support us now
Speaking to reporters ahead of the launch, Harris said that people "can no longer deny the reality that abortion is a reality for Irish women".
"It's about time we put in place structures to help women access terminations in a safe and compassionate manner," he added.
Speakers at the event included Dr. Peter Boylan, former Master of The National Maternity Hospital Holles Street, who said that "the time had come" for Irish people to deal with the issue and legislate for abortion.
"Every other European country has found a solution which works for them. We can no longer rely on others. This is an Irish problem and we need an Irish solution," he said.
Gaye and Gerry Edwards of TFMR Ireland also spoke about their experience of having to travel to Belfast secure a termination when they received a diagnoses of fatal foetal abnormality.
"It is 17 years since we had to travel and our son Joshua passed away in another jurisdiction. We have our own two teenage daughters now, and we don't want them or any Irish women to have to travel to another jurisdiction for the care that they should be receiving in their own country," the said.