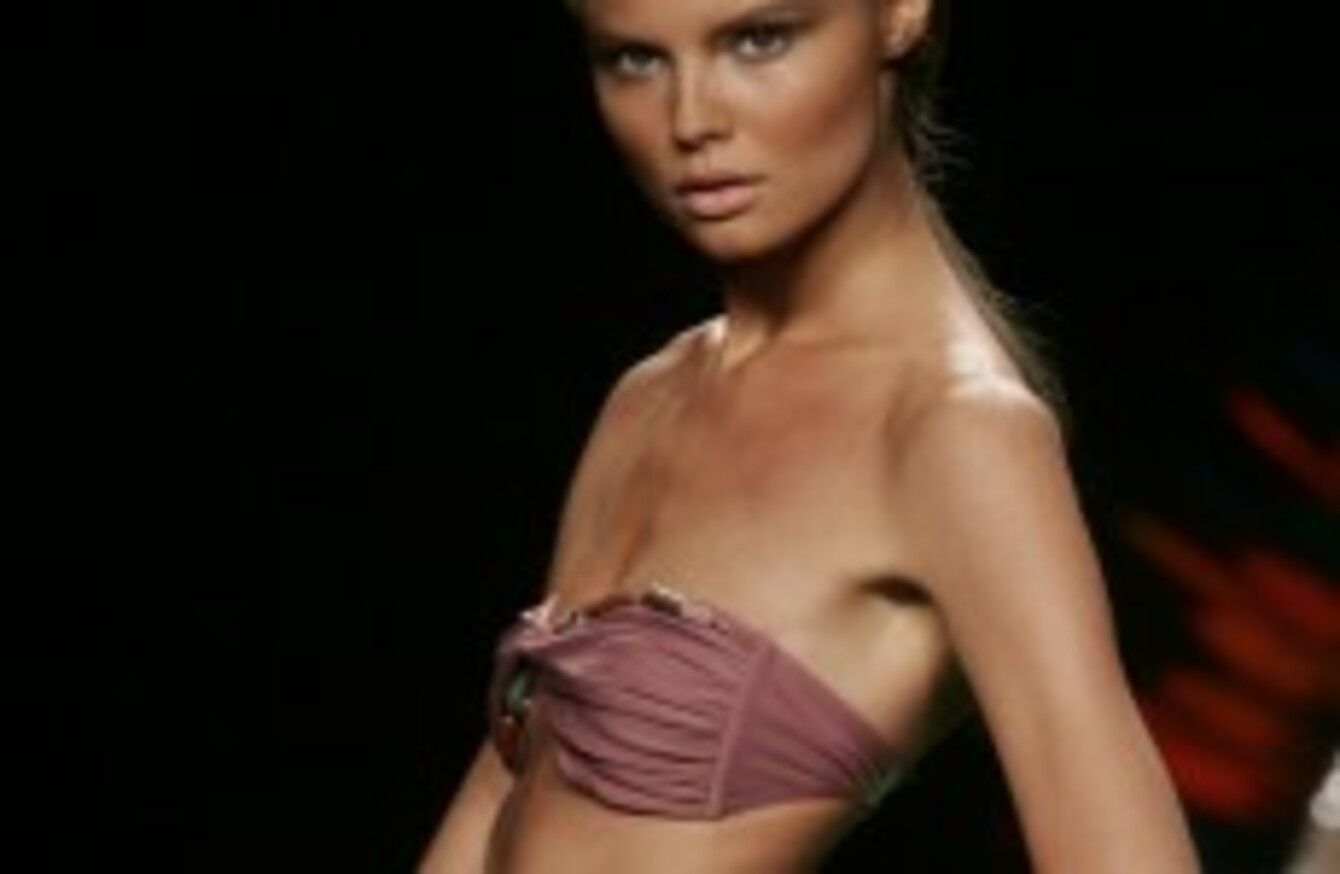 Image: Diane Bondaref/PA
Image: Diane Bondaref/PA
THIS WEEK THERE was a lot of talk about the debate raging in Paris over whether the fashion capital needs a runway ban for models who are deemed 'too thin'.
The country's health system has backed a new law that would stop agencies employing models whose Body Mass Index is below a certain level and the agencies are fighting hard to stop it.
We are all used to seeing photos of emaciated looking young girls draped in designer clothes in Paris, Milan or New York. This is not a new problem but it's also not really an Irish problem.
The fashion industry in Ireland operates in such a way that a model who is smaller than a size 8 can be hard pushed to find any work at all. Irish modelling agencies have explained that the market that exists for these 'too thin' models in other countries never materialised here.
"The majority of clients would prefer to see girls with fuller figures, even if that's a size 10," Mandy Maher who runs Catwalk Models told TheJournal.ie. "I don't know exactly why but they just prefer to see the girls healthy, that's what the focus is on.
We would certainly see girls who would have what it takes to go abroad because they're so tall and they are very slim and they just won't get the work here, the clients won't book them because they're too thin. I deal with the agencies in London and I know they really do only want slim girls. 
According to Maher, "top of the game" names like Brown Thomas and Harvey Nichols shun the notion of size 0 models, opting for women who actually look like they eat three meals a day to show off their brands.
In her own agency, Maher says she personally trains the models and they all are given advice on nutrition and health. She just took on a model who is size 16-18 and said the work is "flying in" for her.
"Honestly, if you ever came in the car with us and saw the rubbish they eat – people think they're living on fresh air but you wouldn't believe how much some of them eat."
If you look at all our top girls, they're all fantastic models and they're not miserable.
Derek Daniels, owner of Assets modelling agencies, mirrored her sentiments, saying all of the women on his books are warned that they have to stay above a certain size if they want to get work.
"If you go down to a size 6, no one is going to use you. Now if they're 13-years-old and they're a size 6, that's a different matter because they're naturally smaller but the smallest size [adult] model we have is a size 8."
He believes the industry in Ireland is "a bit more mature" and that is why there is little or no demand for models who are skin and bone.
Daniels defended agencies in France, however, arguing that "there wouldn't be a supply if there wasn't a demand". He said the clients requesting these super skinny models should be held to account.
As Ireland becomes more fitness obsessed, there is now an increasing market for sports models.
#Open journalism No news is bad news Support The Journal

Your contributions will help us continue to deliver the stories that are important to you

Support us now
Roz Purcell is a big advocate of healthy eating and made 'guilt free' food a focus of her recent appearance on RTÉ's The Restaurant.
Though the market is not demanding extremely thin girls, that is not to say eating disorders are not a problem in the country or that some models do not suffer from them. Both agents said they had come across young women in their line of work who clearly had problems.
"I had one particular person who we did pull aside and we spoke to them and gave them advice," Mandy Maher said. "You have to say: "If this continues, people will stop working with you because you'll be too skinny for the market"".
Daniels said he can "tell as son as they come through the door".
A lot of the problem comes when you have very young girls coming from Eastern Europe and they have hardly enough money to feed themselves.
"Not to be harsh, but they're no use to us. We wouldn't want to be seen taking them that thin".
So, perhaps the French could take a leaf out of our book?