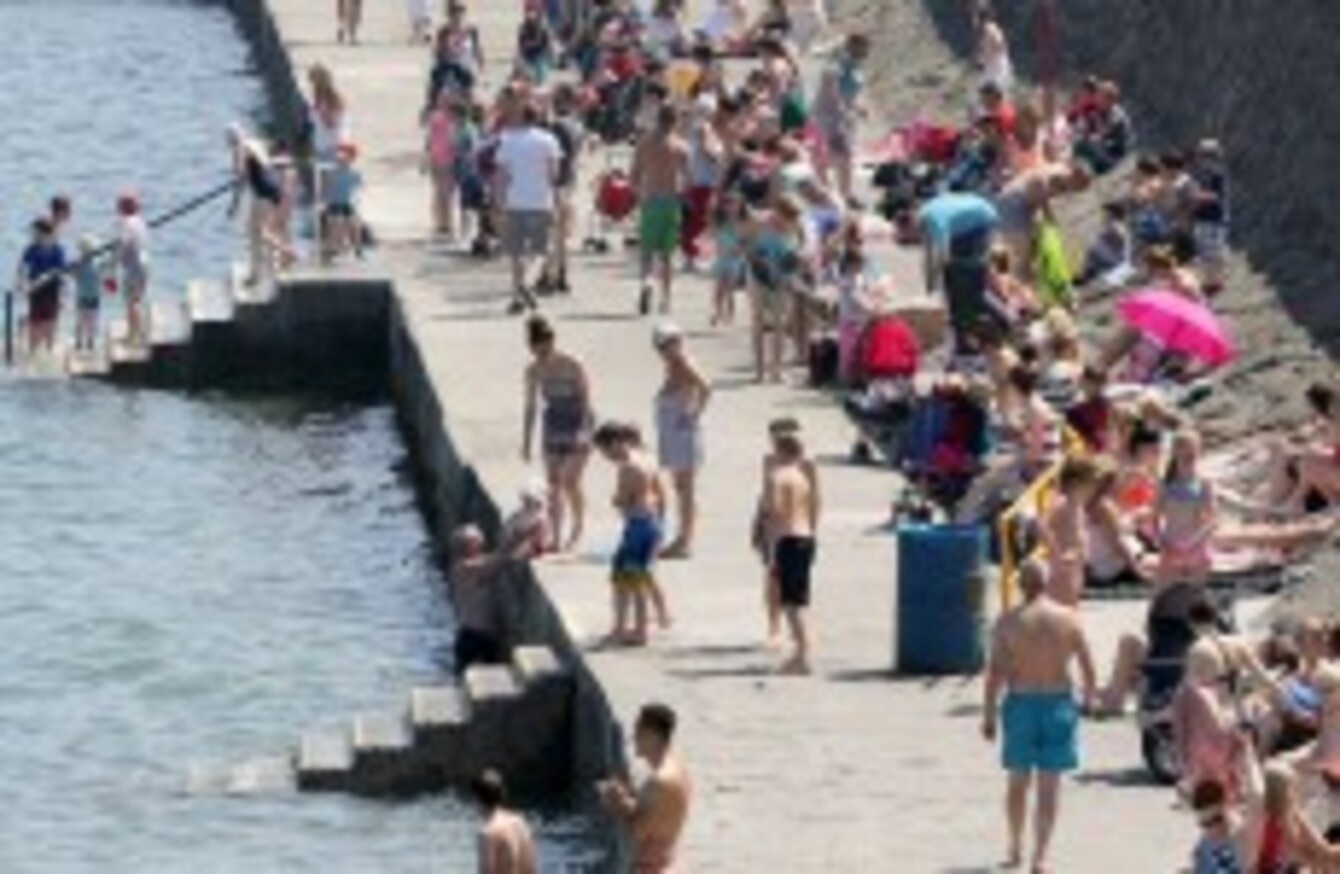 The packed bathing area at Seapoint in Co Dublin earlier this week
Image: Laura Hutton/Photocall Ireland
The packed bathing area at Seapoint in Co Dublin earlier this week
Image: Laura Hutton/Photocall Ireland
EVERY SATURDAY MORNING we take a look at all the best comments left on the site by our readers over the past week.
This week there was a lot of talk about the Protection of Life During Pregnancy Bill, lowering the voting age to 16, the murder of two brothers in Castlebar, abortion figures, and of course, the heatwave.
So here, in no particular order, are the standout comments from the week that was.
The top 5 articles which received the most comments this week
1. Thousands take to Dublin streets over proposed abortion legislation (398 comments)
2. Rosary chants and 'Savita' banners greet TDs ahead of contentious vote (334 comments)
3. At least 21 women from every county in Ireland had an abortion in the UK last year (309 comments)
4. Youth Defence says website hack was "illegal and utterly pointless" (299 comments)
5. Poll: Have abortion protests gone too far? (275 comments)
Some of the best comments left on the site this week
(Image: Oireachtas screengrab)
So first up: the heat. We have to talk about the heat. Commenters did in their droves; for example, there was this useful bit of advice from John Murphy…:
WEATHER WARNING: Due to the heat, Nutella will actually pour, rather than spread. Be ready. Be prepared.
… while Matt Connolly urged people to think about those who are less fortunate during these tough times:
& please spare a thought for any gingers in your family or neighborhood…check in on them from time to time..make sure they are comfortable & have enough factor 50. It's easy to forget about the vulnerable in our society in times of such joy.
A mini-investigation this week found that Ireland has almost – ALMOST – run out of paddling pools. Paula Campbell has seen the lengths that people will go to:
I'm admin on the Enniskerry buy and sell group on FB and the amount of posts buying and selling paddling pools is unreal!! mummy's looking like drug dealers meeting in car parks and swapping cash for packages is hilarious, the other people in cars are wondering wtf is going on?!!!
A lot of commenters were sceptical about the Government's plan to give money to small businesses to help get them online – but Andy Murray, who owns his own small business, explained how it could make a difference to people like him:
Joe, I have grown a business from 1 employee to 14 without any financial backing over the last few years, so I feel qualified to comment here. First off, I think this is an excellent idea – for a small business this would be a huge help. Businesses NEED to be on the web these days, but it does cost about 2500 for the most basic decent web presence (unless you are a web designer yourself). Small businesses don't have that kind of money. It's a vicious circle. You know you could increase sales (way more than 2500 per year) with a good web presence, but you don't have the spare money to get one and the banks won't lend it to you unless you are buying something tangible that they could repossess if they had to. Websites do not fall into this category.
Second, there's nothing wrong in Fas trained people. Whenever I hear people talking down FAS training, I know they have never employed anyone who has completed a fas course. It's an unfounded prejudice with no basis in fact, you are merely quoting "bloke down the pub says…" and it doesn't reflect well on you. I've employed 4 fas trained people and they are excellent.
Zoe Georgina had a practical alcohol-related suggestion in the wake of Fine Gael TD Tom Barry grabbing party colleague Áine Collins onto his lap during a break in the late-night abortion debate during the week :
Would any other workplace allow drinking on the job? Seriously. It just doesn't happen. I don't know many regular workplaces that has a discounted pub in the building. And anyway that's not even the real issue. Appropriate workplace behaviour and respect for ones colleagues is. Ridiculous altogether.
Yvonne Smyth had this surfire way to tell when you're getting old (which a lot of people empathised with, judging by the number of thumbs up):
When people get over minor surgery quicker than you get over a hangover!
#Open journalism No news is bad news Support The Journal

Your contributions will help us continue to deliver the stories that are important to you

Support us now
The 5 most popular comments on the site this week
(Laura Hutton/Photocall Ireland)
1. The most popular comment on the site this week came from Richard Fennelly with 1,565 thumbs up for this post about Youth Defence.
Hate filled truth distorting really got the description of these horrible people right.even pro lifers should distance themselves from this vile intolerant group.
2. In second place with 1,522 thumbs up was this brief comment from Richie Curry on the article about how three people were arrested after a high speed chase on Dublin's M1 motorway on Wednesday night:
Great to see the Gardai are watching these shits well done Gardai.
3. B Collins had the third most popular comment this week, also on the Youth Defence website article, with 1,182 thumbs up for this:
I'm prepared for the red thumb onslaught and yes I know the hacking is wrong, but basically, I'm thrilled that they got slapped with a bit of cyber Karma.
4. In fourth place was Snug Head – yes, again, on the Youth Defence article, which proved to be very popular with commenters this week. This got 1,160 thumbs up:
I despise YD and everything they stand for. A disgraceful organisation.
5. Last but not least, Albert McEinstein got 1,118 thumbs up for his already-nostalgic take on the heatwave:
We will speak fondly of this week for years to come.

Toothless and grey we will hold centre stage as out great grandchildren beseech "tell us again grandad, tell us of the great heatwave of 2013″
Let us know if you spot any good comments that should be highlighted here – mail christine@thejournal.ie with any suggestions.