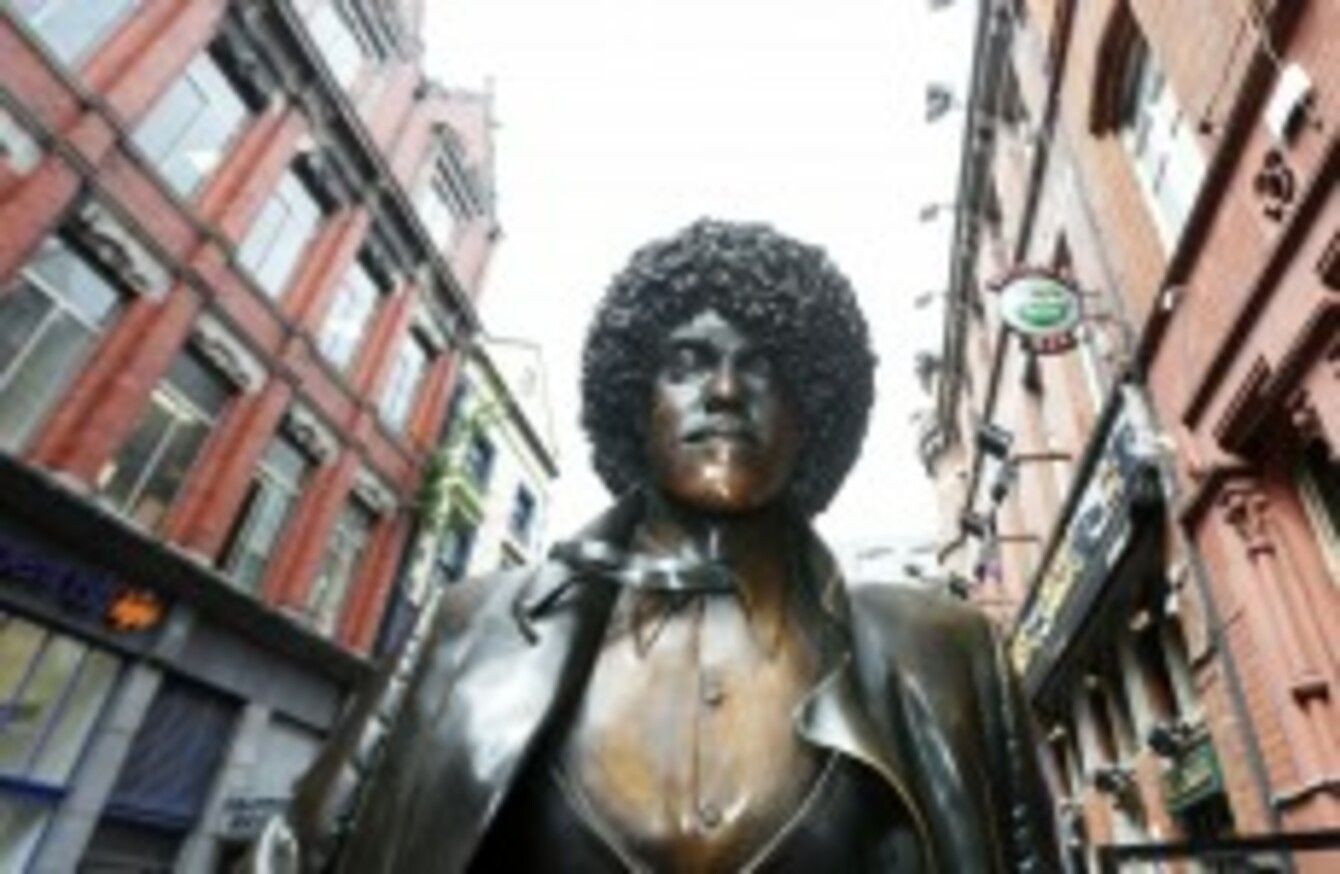 The statue of Phil Lynott which was returned to Dublin's Harry Street this week
Image: Sam Boal/Photocall Ireland
The statue of Phil Lynott which was returned to Dublin's Harry Street this week
Image: Sam Boal/Photocall Ireland
EVERY SATURDAY MORNING we take a look at all the best comments left on the site by our readers over the past seven days.
This week there was a lot of talk about eulogies at funeral masses, John Dundon, home births, TV3 and RTE, Julian Assange, water flouridation, Michaella McCollum Connolly, and Leaving Certificate results.
So here, in no particular order, are the standout comments from the week that was.
The top 5 articles which received the most comments this week
1. Column: I believe water flouridation is harmful to my health, so why should I pay for it? (345 comments)
2. Poll: Should families be banned from giving eulogies at funeral masses? (330 comments)
3. Column: The HSE has launched an assault on our birthing rights (300 comments)
4. Poll: Should the old age pension be cut to help reduce the Budget deficit? (291 comments)
5. In pics: Controversial Republican parade passes peacefully in Tyrone (282 comments)
Some of the best comments left on the site this week
The more you use Facebook, the more miserable you become –  at least, according to researchers in the US. Sounds about right. Sarah Sue explained why she had gotten so annoyed with Facebook:
Ben you see that in every club & pub it drives me crazy!! Im like a phone nazi on nights out coz its just ridiculous if u look around the club tables (of girls mostly!) glued to their phones!! It got to the point where its was like 'oh you cant wear that out youve a photo on facebook wearing it' or every little thing we did had someone screaming 'oh wait picture!!' then 10 mins glued to phone uploading & checking comments! Drove me nuts!! I'm a recovering fb addict (deleted the app off my phone, two days of withdrawls but Im progressing well, just check it on laptop in evenings rather than every 5 mins!) but I could never understand going out to spend the night on fb, enjoy your night, do the photos/updates in the morning!
Ann Mahon got a lot of support from other readers for her comment on whether families should be stopped from giving eulogies at funeral masses for their loved ones:
At my sons funeral I had to speak . He was an inspiration to anybody that knew him . No Priest would have stopped me talking about his brave battle .
There was a lot of debate about home births this week and Ireland's attitudes towards them. Here's two perspectives. Karen McNamara is an obstetrician who says there can be some risks with home births…:
Hi sinead. I'm 1 of the afore mentioned obstetricians in Ireland and I love my job.. I'm all for normal deliveries ( as actually are most obstetricians i know) and would love to see our cs rates reduced – the majority of us think its too high and recognise the serious consequences that can happen in future pregnancies. However given the fact that I see what goes wrong with labour on a regular basis home birth is definitely not for me- this is based on 6 years of undergraduate medical training and 7years of postgraduate obstetric training- losing one baby during labour is all it takes to remind you of the dangers of it. Yes the majority of women if left alone will be absolutely fine but alas that's not the case for all. Saying that I do think mothers and fathers are entitled to make up their own minds about what is right for them.. And if that lady in Kilkenny wants to go ahead and try for a home birth then that's what she should do. But dont expect the HSE/hospitals to shoulder the blame if something goes wrong. Personally even if there was a less than 0.1% chance of her uterus rupturing(and I'm not saying that wouldn't happen in hospital- it's just it would be recognised and managed quicker in hospital) I wouldn't take that chance- statistics are all well an good until you are the 0.1% and then it becomes 100% to you. And no matter what ppls views are on obstetricians – if we didn't come to work in the morning the perinatal and maternal mortality rates would soar!
… while Rebecca Murphy says she believes women should be trusted to make the right choices:
Couldn't agree with this article more, first birth in Holles Street, if it wasn't for being extremely vocal about what my birth preferences were as a healthy 28 year old with no complications the infliction of an episiotomy would have been bestowed on me. Was in active labour a record 1 hr 27 mins and still they tried to intervene to speed things up. I declined an episiotomy which I was told was a necessity and happily delivered my baby with no pain relief or interventions 8 mins later. Thank god for being knowledgeable and informed as otherwise god knows what would have been inflicted on me. Have many friends who's labours were 'rushed' via unnecessary intervention.
There's a lot of misunderstood left-handed people out there, judging by the comments on this article about things right-handed people will never understood. Dolores Burke explained what she had done to help kids where she could:
My two brothers were left-handed and in school in the 80′s and I know they both really struggled on many levels in practical classes as well as writing (although they were lucky at least to have escape the "beat it out of them mentality"). When I became a teacher I made sure to always have left-handed supplies which often had to be ordered in from the UK, such as calligraphy pens, lino cutting tools etc. and I always tried to make sure I could demonstrate to them the left-handed way of doing things too – which really helped me get an understanding of the difficulties they faced. I'm right handed but use my cutlery like a left-handed person so I have a vague idea of the tip of the iceberg of the challenges myself. My son showed signs of being left-handed at about four months and at age 5 now he clearly is a lefty but luckily he's got a teacher, who in addition to being the "best ever", is also very organised and understanding towards the left-handers. My boyfriend thinks it's the best thing ever because he kicks a football equally well with both feet and I can see him already imagining watching him playing in the english Premiership (no pressure on his part of course…).
Former Tánaiste Michael McDowell made a rare appearance in public life this week when he popped up to defend the Seanad, saying it only cost €1.60 a year for every citizen – less than the price of two litres of milk. Stephen wasn't happy:
I bought 2 litres of milk this morning. Was actually €2.39.
The 5 most popular comments this week
(AP Photo/Richard Drew)
1. The comment with the most green thumbs this week was this offer of help from Seamus Mac Cormac Finishline on the article about the tragic death of an Irish student in New York. It got 2,307 thumbs up:
God bless him and family ,I'm from donegal ,I'm in newyork if there is anything I can do to help ,I'm close to JFK too if any one needs a lift ,sorry to hear stuff like this :(.
2. In second place was wongster with 2,278 thumbs up for this comment on the article about Michaella McCollum Connolly, who was arrested in Peru while trying to board a flight to Madrid:
Holy shit balls… banged up abroad.. not good at all… :-(
3. In third place – and probably one of the best comments on the site this week – was this from Nydon, who got 2,145 thumbs up on the article about how Ryanair is to sue Channel 4 over the Dispatches programme on pilots and safety:
So they're going to take a case against c4?
No more than 55x40x20 10kg I hope.
4. Ben Reilly got 1,936 thumbs up (and fourth place) for this succinct comment about John Dundon on the article about how the convicted murderer wore headphones in court on Tuesday:
A truly dispicable creature.
5. Finally, Al had the fifth most popular comment with 1,724 thumbs up for this comment about a video of Michaella McCollum Connolly:
I don't think they realize how serious it is!