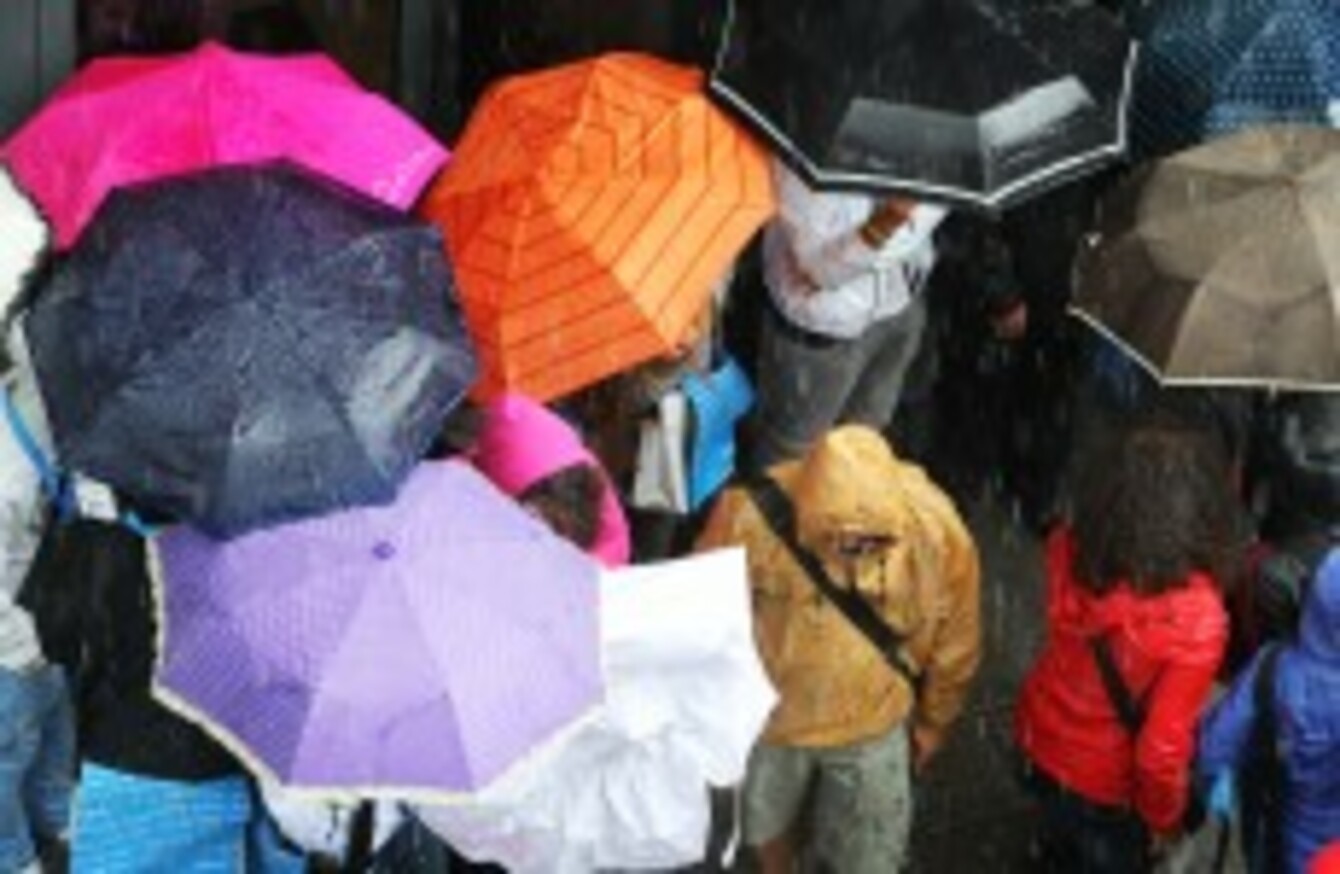 Image: Leon Farrell/Photocall Ireland
Image: Leon Farrell/Photocall Ireland
EVERY SATURDAY MORNING we like to take a look at all the best comments left on the site by you lot over the past week.
There's been a lot of discussion this week about the shooting at the cinema in Colorado and the Michaela McAreavey case; there was also HSE funding Viagra, why you might want to think twice about a burger meal, the rain – and of course how much sex Irish people (say they're) having.
So here, in no particular order, are the standout comments from the week.
Some commenters weren't impressed when another user compared Bruce Springsteen to Nickelback. Paul Bracken was especially unimpressed:
Nickleback walk into a bar. There's no punch line because ruining music isn't funny.
Speaking of The Boss, Taoiseach Enda Kenny was in fine form at the Springsteen gig in Dublin on Wednesday night, judging by this photo. That was nothing, said Ronan.
Should have seen him at the Swedish House Mafia gig .
Ever been told that sitting close to the tv ruins your eyesight? Or that chewing gum stays in your stomach for 7 years? Jim Magnier still remembered being on the receiving end of this particular old wives' tale:
Years ago their was an advert on RTE warning people not to swim after eating and it also said! And remember Bananas take up to 24 hours to digest. I remember going to Tramore back in that 70s with my mother and our neighbours and our neighbour had made banana sandwiches for a picnic which she threw in the rubbish Bin when she realized her deadly mistake.And the funny thing is none of us could swim, we just paddled around never going deeper than our knees but we were still terrified to go in the water till an hour after eating or not at all if we ate a banana.
Can relationships that start online work in real life? Dhakina's Sword had a theory:
I wonder have there been any scientific studies done on the changes that occur, when a 2D relationship changes to a 3D one?. Although, thinking about the speed in advances in robotics, silicon and technology in general, I wouldn't be surprised if my question was made redundant before I finished asking it.
This three-month-old kitten somehow survived a trip as a stowaway on a ship from China to California. Louise Flattery noted:
He got great value out of one of his 9 lives!
The majority of medical students are now choosing to emigrate. Tom Gallagher explained here why he left Ireland once he had qualified:
I worked anything from 40 to 112 hours a week after I qualified in 2002 and often had to fight to get paid for hours worked as salaries often conveniently omitted things here and there. There's nothing more soul destroying than going to work on a Friday morning, only to go home from work on a Monday evening after a continous shift. If you were lucky you got sleep, sometimes you got barely any. I now work in the UK in an EWT compliant roster, having worked in Ireland for 8 years and 'contributing' as @censored above would put it. Why would anyone stay put under current conditions? Most of us who have emigrated would much prefer to be at home but the system stinks. Hours are a bit better now, but there are lots of deficiencies in pay and training.
Mick Kavanagh gave this insight into what it's like to work as a paramedic in response to an article about the death of a 19-year-old after a car crash during a two-hour ambulance journey:
Mary, I'm a Paramedic with the Ambulance Service. We most certainly do NOT play God. It's an unfortunate fact that there are some injuries that if you sustain them, the chances of survival are virtually nil. All those headlines you read about "young male killed in fatal car crash", well every one of those people sustained a cardiac arrest caused by blunt trauma. It's a killer, and you need to be very, very, very lucky to survive.

As regards the transport, we all wish that every county had a Trauma Centre, and every hospital has a huge A&E with all the diagnostic tools to enable us to make the right decision for getting the patient to definitive care. But we don't. What this girl had was a team of 5 diligent Pre-Hospital professionals trying their damn best to save this girls life, but no matter what skills we have, no matter what our proximity to a hospital, no matter how fast we get there, there are some injuries that you have very little chance of surviving.

So no, we don't play God. As a matter of fact we try our best to keep you away from God for another while…..
Louise Allen had this to say about the beauty standards that women are held to:
@John why do women nned to be waxed to within an inch of their lives to be considered attractive?? I've seen men with hair coming out of their nostrils and ears; on their nose with accompanying 'monobrow', hairy backs like wooly jumpers, hairy a**es and sometimes men so hairy you wonder why they bother wearing clothes at all. Women have body hair, the same as men. Why do we have to be subjected to constant scrutiny regarding errant body hair and men can get away without having to so much as tweeze a follicle??
Irish people do less exercise than Americans, according to a new survey. Barry explained how he had got moving two years ago (and how the bad Irish weather was no deterrent):
Been running just over two years now, started off barely being able to do 500metres none stop, Last event I did was a 50km race (31miles in old money) in June.Never been in a gym in my life and as for the rain, its no problem what so ever and I don't even wear a jacket in it because I'm sweating anyway :)

Rain and saying you don't have the money for a gym is no excuse.
Bad pun of the week is an awful yolk (sorry) from John O'Neill, on a comment beneath an article on two men questioned after Kinder eggs were found in their car:
I think these two hatched a plot to profit from the sale of the eggs. I'm glad that this case was cracked by customs and am sure that when the eggs were confiscated this pair were left almost flat broke…
The lost lenore isn't a fan of landlords putting up bad photos of flats to make them look better than they are:
I find it much more entertaining when the landlord posts a picture of a flat taken with a wide angle lens while crouching in a corner. You make an appointment to view what you think is a reasonably sized abode only to realise – whay hey – when you get there that you wouldn't be able to swing a gnat in it and there's about a square foot of floorspace between the couch and fireplace. Marvellous entertainment for the afternoon. Almost as much fun as when they put up pictures taken when the place was done up about ten years ago and when you get there the place looks like something out of a Dickens novel High-larious.
Some commenters got into a heated debate about whether the Apple or Android tablet came first. Ray Barnes had the answer:
first time I saw a tablet pc was on Startrek, Captain Picard had one long before Apple.
This sheep was obviously taking seriously this comment by Aine Nibhern from last weekend:
"Better to live one day as a tiger than one hundred years as a sheep" ~Tibetan Proverb
(Photo: Paul Faith/PA Wire)
Spot any good comments? Mail them to christine@thejournal.ie to be included in next week's comments of the week