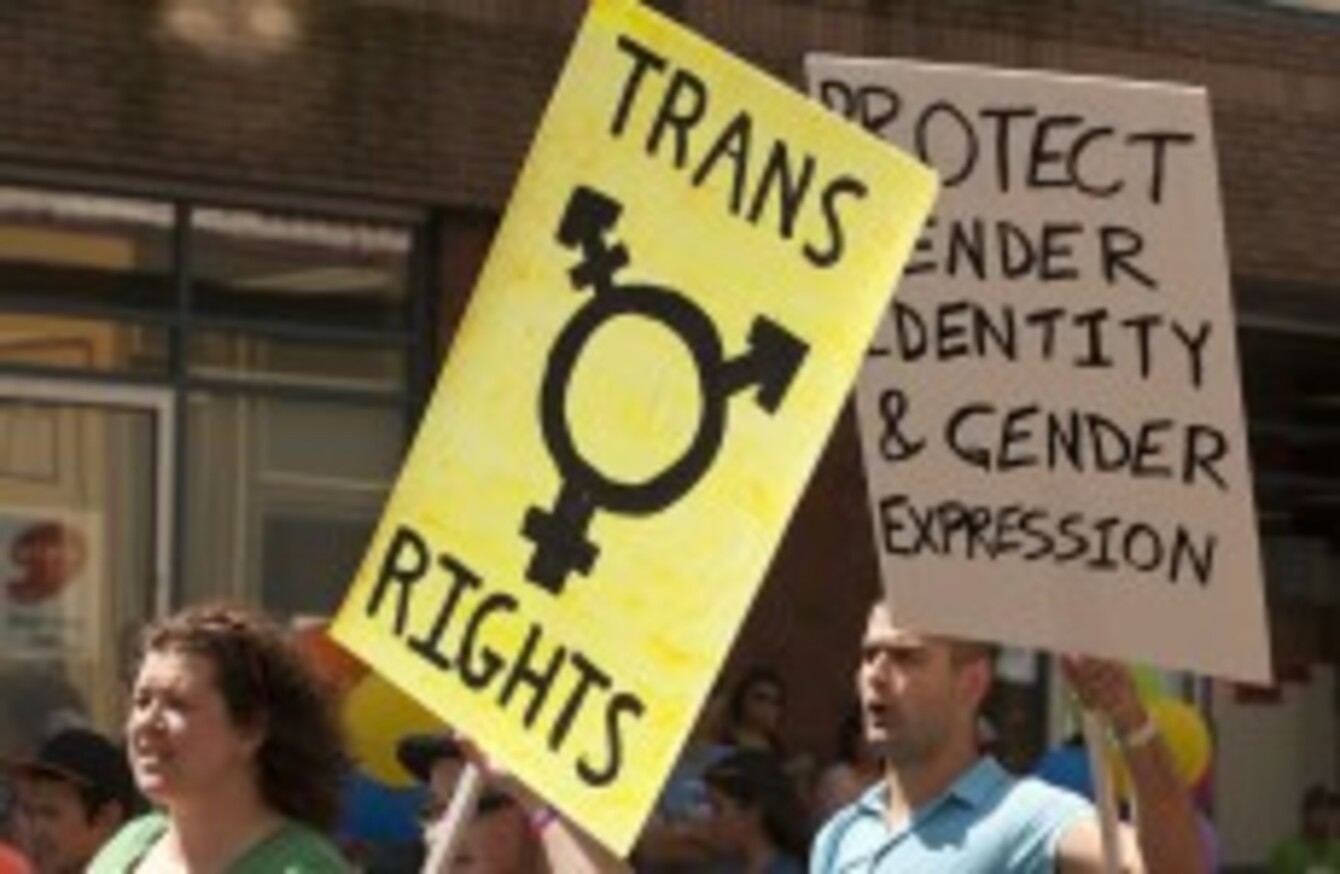 Updated: 12.15
TRANSGENDER PEOPLE WHO were born in Ireland are still not in a position to have birth certificates issued to them to recognise their gender, a statement of policy as issued to the Council of Europe has revealed.
Ireland was one of 47 council member states to return the questionnaire earlier this year.
It is almost a year since the Minister for Social Protection Joan Burton began drafting legislation to address a legal issue whereby transgender people could only enter a civil partnership if their new gender had been recognised abroad.
The responses to the questionnaire indicate that work still needs to be done to make this happen.
On the subject of collecting personal data which relates to a person's sexual orientation or gender identity, the government's response indicated that it was only done for legitimate purposes. Exceptions did exist, however.
One such exception was as follows:
Under proposals for legislation to give legal recognition to the acquired gender of transgender persons, it is intended that the General Register Office in Ireland (GRO) will keep a record of the Gender Recognition Certificate and other relevant administrative forms, while also retaining records of the original birth certificate and any other identification or relevant information furnished.
Of particular relevance was question 22 of the questionnaire, which asked:
Are appropriate measures available to guarantee full legal recognition of a person's gender reassignment in all areas of life in accordance with the provisions of paragraph 21 of the appendix to the Recommendation?
The answer submitted in response to this said: "Yes, work is in progress."
Legislation
Elaborating, the submission said that the Gender Recognition Advisory Group has been looking into legal recognition for transgender people, which included the "right to marry and the right to a new birth certificate in the preferred gender". While the group's findings were given to government in 2011, legislation has yet to be implemented, which it says it intends to do "as quickly as possible".
Gender reassignment
The questionnaire also revealed that "gender reassignment is not yet recognised in Ireland", but birth certificates that had been amended by another state would be accepted.
However, the General Registrar Office in Ireland (GRO) will accept a birth certificate amended by another State where gender reassignment is recognised in support of notification of intention to marry or to enter into a civil partnership, from a person born outside of Ireland.
Lydia Foy, who was born a male, successfully argued in 2007 that Ireland had failed to provide a "meaningful recognition" of her female identity, and had therefore breached a provision of the European Court of Human Rights.
#Open journalism No news is bad news Support The Journal

Your contributions will help us continue to deliver the stories that are important to you

Support us now
Despite that ruling, however, legislation has not yet been brought in to successfully amend Irish law.
Last month Foy issued fresh proceedings in her challenge to the state's failure to provide for the legal recognition of her female gender.
Two-tier system
Senior solicitor with FLAC (Free Legal Advice Centres), Michael Farrell, said that the failure of the Irish government to recognise gender reassignment highlighted Ireland's isolation in the Council of Europe on this issue.
"Transgender people in Ireland have suffered from prejudice, ignorance and discrimination for far too long", said Farrell.
Almost every state in Europe now recognises transgender persons' right to respect for their dignity and identity. Must we always be the last to catch up?