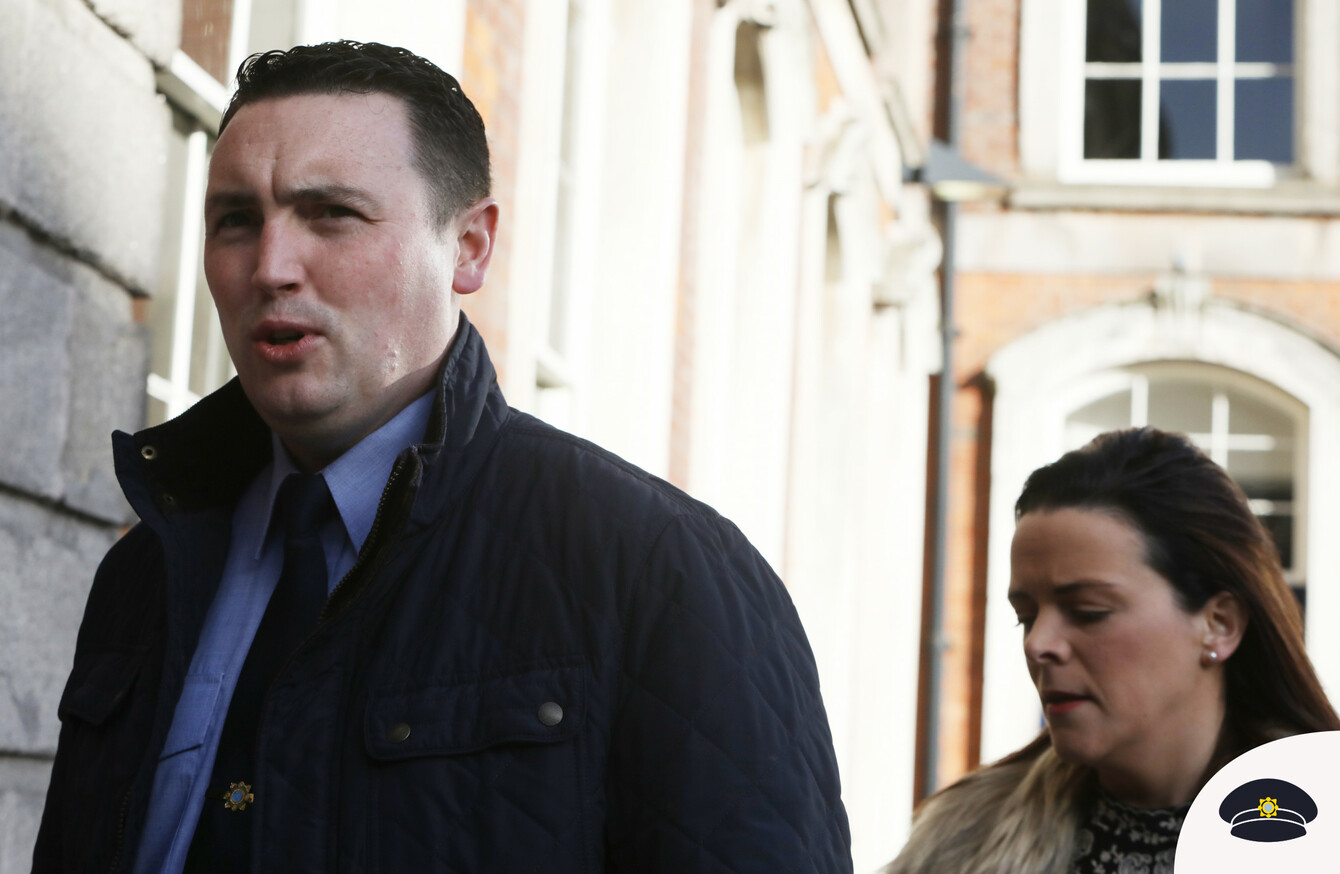 Image: Leah Farrell/Rollingnews.ie
Image: Leah Farrell/Rollingnews.ie
THIS WEEK, THE Disclosures Tribunal has delved deep into the personal lives of Garda Keith Harrison and his partner Marisa Simms.
Harrison alleged that senior gardaí directed interventions into his family life. He told the Tribunal yesterday gardaí directed Tusla to become involved with his family for "malicious" reasons.
The case, from Harrison's perspective, hinges on two things – the statement given by Marisa Simms to gardaí in October 2013 and the home visit from a Tusla social worker in February 2014.
Here, there were differences in the account given by Simms and Harrison to the Tribunal in March and what they told the Tribunal this week.
'Bombarded with calls'
In his original statement to the Tribunal in March, Harrison had this to say on the topic of Simms being called to attend Letterkenny Garda Station.
"As a result of Marisa going to her sisters, a complete fabrication of events was transmitted to Sergeant David Durkin, that I had been violent to Marisa and threw her and the children out. This false version of events was forwarded to Inspector Goretti Sheridan of Letterkenny.
Inspector Sheridan then bombarded Marisa with phone calls to meet though Marisa didn't want to. She even offered to sen[d] a patrol car out to her sister's house the night before the wedding at which point Marisa agreed to meet with Inspector Sheridan the day after the wedding to get her to stop calling.
"Marisa attended Letterkenny Garda Station as requested, she was taken to the Superintendent's office which is quite unusual, and over the course of the next eight and a half hours she was pressurised and coerced into making a statement without any breaks and was told that this statement was for the Chief Superintendent only.
We both have since read this statement and Marisa is shocked by it as she states that there are parts of it which she never said and other parts of it where what she said was manipulated to portray me in a bad way.
At the Tribunal this week, Simms' said,"By the time I returned the call to Inspector Sheridan I had three missed calls, a voicemail, a text message and she had passed her number on to my mother, and that is why I returned her call."
Simms told the Tribunal that Sheridan had said to her that she would get officers from Gweedore to attend the family home if she didn't come in to make a statement, which tallies with Harrison's account.
On the issue of the "eight and a half hours without any breaks", Simms somewhat contradicted this in her testimony.
She said: "We had I think, from what I remember, two tea breaks and Sergeant McGowan brought up something from the vending machine. But to be honest, I just felt sick and I wanted out of there."
On the issue of Simms' being "shocked" by the contents of the statement, that was borne out to a degree by her evidence to the Tribunal.
In a number of her quotes that appear in the statement, such as "after him threatening to burn me", Simms said "I never said that".
She did, however, acknowledge that a great deal of what's in the statement is true, regarding Harrison's infidelities, the tension in their relationship and issues related to his drinking.
The following exchange took place between Simms and Tribunal counsel Kathleen Leader:
Are you saying, in relation to things in the statement not being your words, are you saying you would have expressed what is in the statement in a different way but what is there is true?
I suppose what I am saying is, small things were taken and magnified into something that it never was. Like, a non-incident was made into an incident, something small was made into something big.
On the meeting itself, she said that she "suppose[d] [she] did feel pressure" to give the statement.
However, she did attend the station of her own accord and texted Sheridan an hour after leaving the station to say "thanks for everything".
She also handed over her phone to An Garda Síochána a couple of days later.
It was put to her that the texts she sent to Harrison expressing anger for certain threats he allegedly made, her attending the station for the statement and handing her phone over to gardaí weren't the actions of someone who'd been "coerced" and "duped".
Simms denied this, and said she did feel like she'd been duped by gardaí and was under the impression she had come in for a chat.
She retracted the statement in January 2014, but said she felt pressured to sign the retraction drafted by Sheridan.  Simms claimed that Sheridan mentioned a similar case where social workers subsequently got involved in that couple's lives, and this startled her.
Harrison doubled down on this, and said: "I believe that it is no coincidence after Marisa retracted her statement that there was contact between gardaí and HSE and it was that that triggered the meeting."
Tusla
The Terms of Reference for the Tribunal state its function in this instance is "to investigate contacts between members of An Garda Síochána and Tusla in relation to Garda Keith Harrison".
The entire module hinges on whether the gardaí directed Tusla to conduct a visit to the home of Simms and Harrison because of the child protection concerns flagged in Simms' statement.
It was Harrison's assertion that social worker Donna McTeague had told them that she had to do a house call, as directed by her team leader, at the behest of the gardaí.
It is Simms' too. In her March statement to the Tribunal, she said: "Later that evening I was astounded and upset when I received a call from Donna McTeague. She apologised and stated that her team leader had been contacted by the guards and, as a result, she now had to do a house visit."
Speaking to the Tribunal this week, however, both Harrison and Simms gave different accounts.
Simms was asked: "And are you sure she said she'd been contacted by the guards as a result of which she now had to do the house visit? Because the impression you would get from that is, the whole thing was closed off and she was doing the house visit as a result of a contact from the guards?"
She replied: "No. Well, that wasn't what I meant… She didn't say directly we have been contacted by the guards, no."
Simms went further, and said that she felt Tusla had acted appropriately. "They had a referral and carried it out professionally in my view," she said.
In her initial statement to the Tribunal, she described it as an "ultimate invasion of family life".
However, comments made in Tusla were put to her: "Donna also explained that she may have to visit and speak to the children. Both agreed to this and Marisa said, you're more than welcome to come."
Marisa said that this statement was correct.
Counsel for Tusla put it to Harrison yesterday that this "invasion" occurred under circumstances where the social worker was "more than welcome to come".
On the issue of garda involvement, Harrison, meanwhile, said: "My recollection is that the phone call to Marisa and when Marisa came to me after the phone call, it was that she had to come out and do a house call because her team leader, her team leader directed her, and I do recall some mention of there had been the contact with the guards."
The following exchange then took place between Harrison and Tribunal counsel Patrick Marrinan:
But you're not supported in that regard by Marisa, who says that this didn't happen?
Well, that's my recollection. I might be mistaken.
Sorry?
I might be mistaken.
You might be mistaken?
Yes.
So if Ms McTeague is saying no, this didn't happen, and Bridgeen Smith is saying that this didn't happen and that she had no social contact whatsoever with Garda McGowan, and I will come to that in a minute, but if they are all saying that and Marisa is agreeing that nothing was said to her about contact with the gardaí, you're saying that you could possibly be mistaken?
I do.
Despite this, Harrison still stands over hearing Marisa say that she told him that McTeague had mentioned direction from gardaí.
Charleton put it to him that, in his March statement to the Tribunal, "you'd appreciate on any reading of [his] statement to the Tribunal, it would indicate it was something [he] in fact heard [himself]".
"No, this was told to me by Marisa," he said.
The judge replied: "Nowhere does it appear that this particular information was imparted to you? We hear it the first time you have to come give evidence to the Tribunal, in circumstances where Marisa abandoned it."
Harrison said: "Marisa may not recall it, but I remember she said it."
"How much does a stamp cost?"
Although he faced fierce questioning later, the first question put to Harrison by counsel for Tusla yesterday was a curious one.
"How much does a stamp cost?" he was asked.
Harrison correctly said "a euro" in reply but that was part of a wider point being made by Tusla counsel Paul McDermott.
He was referring to a letter sent by Tusla to Simms after the home visit from the social worker. After the visit from social worker Donna McTeague, she determined that the children were "not at risk of ongoing significant harm", and the case was formally closed.
In that letter, it says that no further action has been recommended but if they have any more queries about the way their case was handled, they could call a certain number or send a letter to a certain address.
McDermott said: "If you put on an economist's hat for the moment? A Tribunal can cost millions versus the cost of a postage stamp.
Which would have been the preferable means to solve an inquiry?
Harrison replied that back in 2014, when they received this letter, he had no idea he'd be sitting in a Tribunal in Dublin Castle over three years later.
He said that sending a letter could "have involved Tusla in our lives again" and that was something he and Simms did not want.
The Tribunal continues on Monday, when social worker Donna McTeague will give evidence.
Comments have been closed for legal reasons.