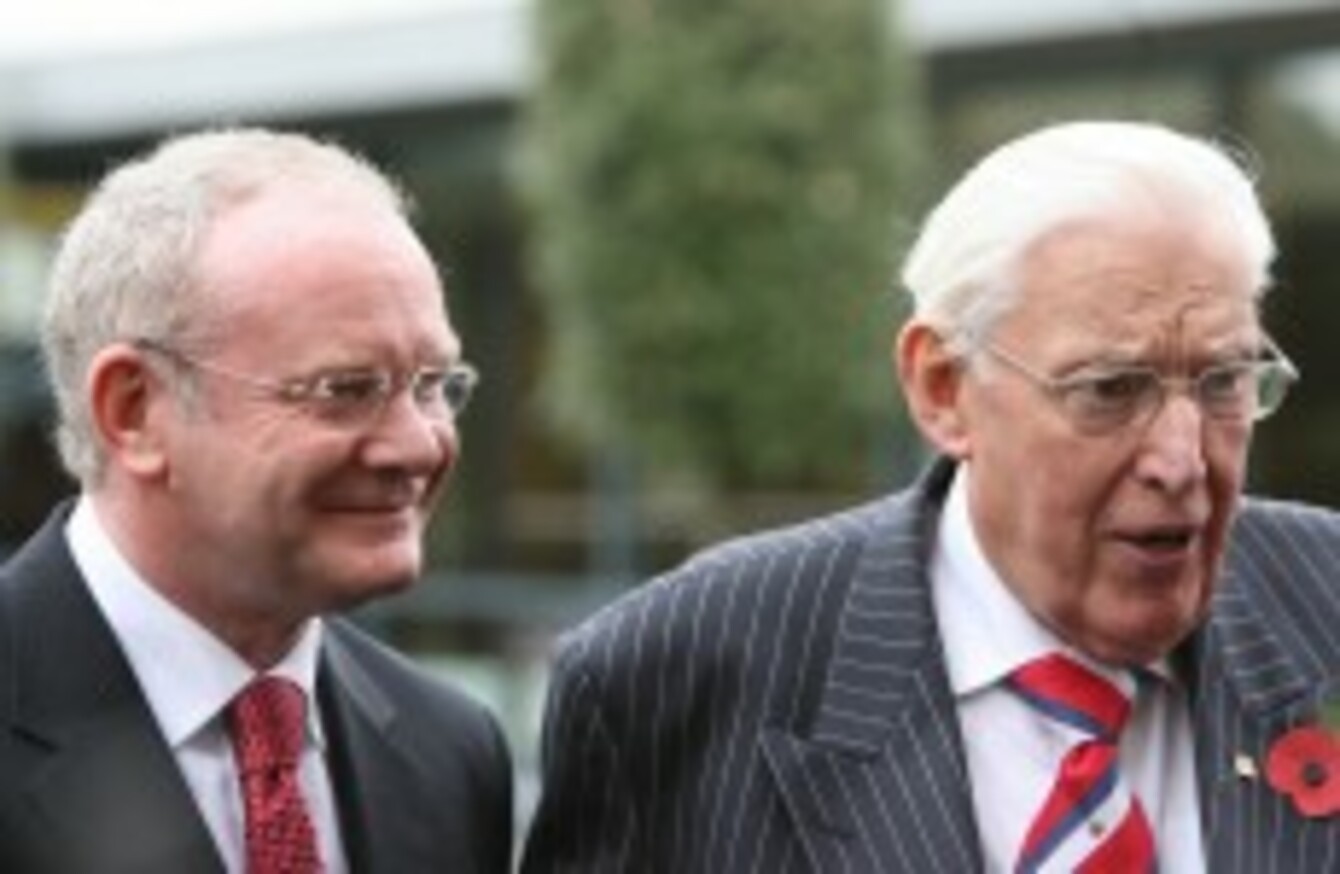 Northern Ireland's Deputy First Minister Martin McGuinness with Ian Paisley.
Image: Niall Carson/PA Wire
Northern Ireland's Deputy First Minister Martin McGuinness with Ian Paisley.
Image: Niall Carson/PA Wire
Updated 3.54pm
TRIBUTES HAVE BEGUN to pour in for Ian Paisley, who died today aged 88.
Northern Ireland's Deputy First Minister Martin McGuinness, who worked with Paisley throughout the peace process said that "today, I have lost a friend".
"I think we confounded the world by him – a pro British, pro unionist politician – being able to work in a positive spirit with myself – an Irish republican – and not alone did we have a good working relationship but a friendship developed and it's a friendship that lasted to this very day," McGuinness said.
The process that we were involved in, the IRA ceasefire in 1994, now 20 years old, was, I think, the rubicon for a lot of people which changed an awful lot of things.
Sinn Féin leader Gerry Adams said that "there will be plenty of time for political analysis", but that he wishes to extend his sympathies to the family.
Speaking to RTÉ News, DUP Leader Peter Robinson said:
"He had a personality which we're hardly likely to ever see again in Northern Irleand."
Even those who thought the least of his politics, thought the most of him as a person.
Former SDLP leader John Hume said that history will remember Paisley as a man who's political legacy is a journey, from the politics of division to respect for diversity.
"While he was not always constructive and often politically challenging he could, on a personal level, be very charming," Hume said.
His overstated outbursts often overshadowed the understated constituency work he carried out for the people of North Antrim – who he represented as an MP and an MLA – and the tireless efforts he made on behalf of Northern Ireland as a member of the European Parliament.
Taoiseach Enda Kenny said that Paisley's greatest legacy will be one of peace.
"I had the pleasure of meeting and talking to him in recent years," Kenny said,"and I know that he treasured the peace and friendship that he had lived to see, and helped to build, between our traditions."
Dr Paisley was by any measure a major figure in the history of these islands.
Meanwhile, President Michael D Higgins said Paisley's career was "characterised by an uncompromising position of a constitutional kind."
However, his embracing of the change necessary to achieve a discourse that might lead to peace was of immense significance, as was his commitment to building relationships in support of that peace.
The President said that irrespective of one's political views, Paisley was a man of "immense influence" on Ireland's history.
Former Taoiseach Bertie Ahern called Paisley "a big man with a big heart and he was a good friend".
"We both came from very different political traditions, but the more I got to know Ian Paisley, the more I respected him and the more I came to like him. In my dealings with him, I found him to be unfailingly polite and a man of his word," the former Fianna Fáil leader said in a statement.
He recalled the moment he, Paisley, and British Prime Minister Tony Blair stood on the steps of Stormonth to "usher in a new era of representative government for the people of Northern Ireland."
He showed bravery, leadership and real political acumen at this critical time for Northern Ireland's future. I saw how sincere he was about building peace, ending conflict and ensuring that the next generation could live in harmony and prosperity.
Democratic Unionist Party MP Jeffrey Donaldson, speaking to RTÉ's News at One, recalled a moment outside 10 Downing Street in London:
He was standing with Tony Blair and said 'I don't want to be remembered as a man of war, I want to be remembered as a man of peace', and despite all the things that have happened in the very trouble years [in Northern Ireland], that will ultimately be his legacy.
Many have touched on the massive impact on history that Paisley had. Fianna Fáil leader Michael Martin noted that for over half a century, Paisley was "central to the politics of Unionism and Northern Ireland". He said it took "immense political skill" to shift ground and bring his supporters with him through the peace process.
Dr. Paisley did important work in laying new foundations for peace, in securing investment for Northern Ireland and in helping build co-operation and respect between both parts of this island.
More as we get it…