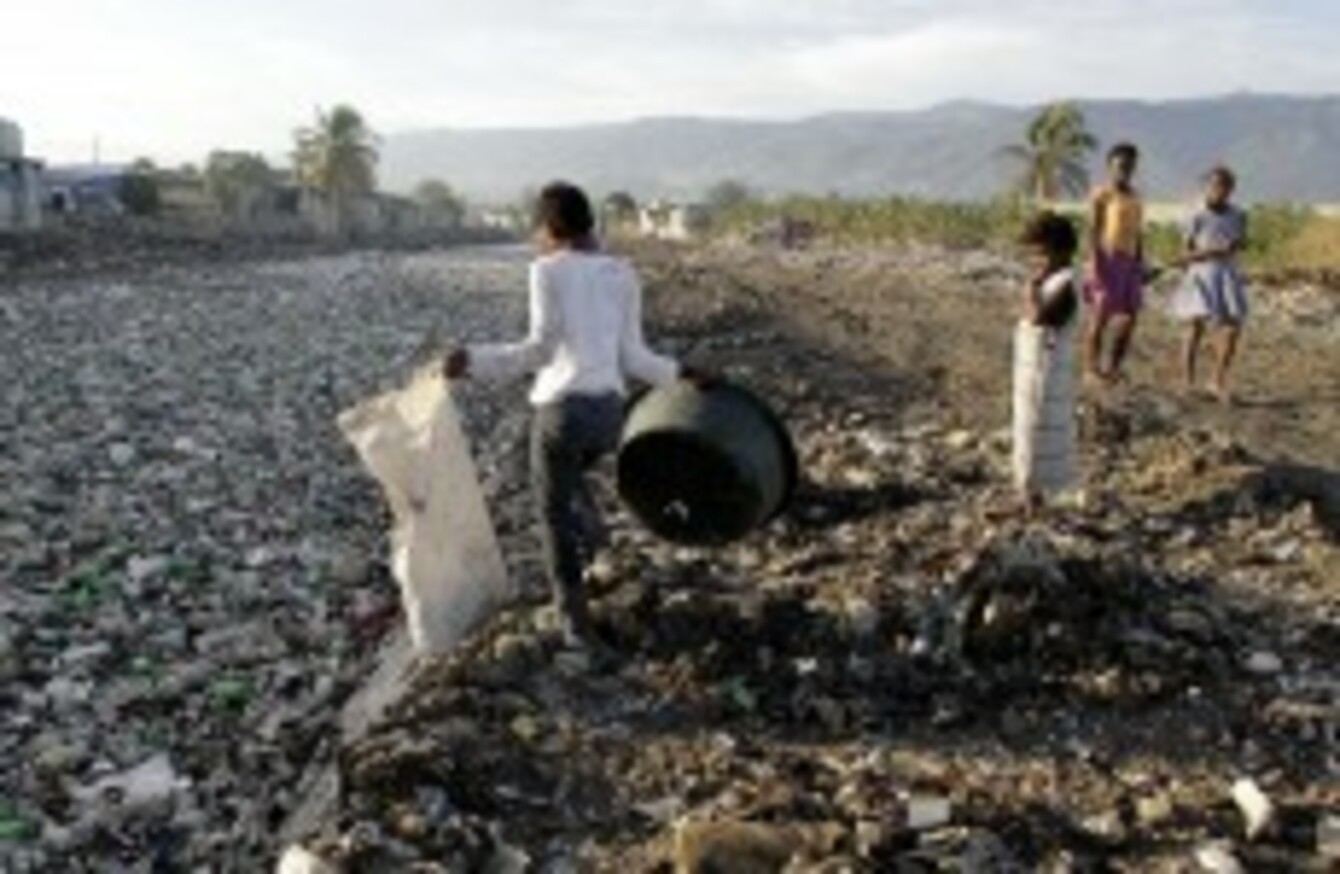 A woman looks for plastic bottles floating in a canal in the Cite Soleil slum of Port-au-Prince on Sunday 31 July 2011
Image: AP Photo/Dieu Nalio Chery
A woman looks for plastic bottles floating in a canal in the Cite Soleil slum of Port-au-Prince on Sunday 31 July 2011
Image: AP Photo/Dieu Nalio Chery
RAIN FROM THE outer bands of Tropical Storm Emily began falling today in Puerto Rico while people in Haiti and the Dominican Republic prepared for a hit from the strengthening system.
Most government offices closed in Puerto Rico's capital and people cleared water and other emergency supplies from store shelves. The showers and wind gusts were sporadic and there were no reports of major flooding or injuries, with the storm's center still 215 miles to the south-southeast by early afternoon.
The U.S. National Hurricane Center said the storm, which had been almost stationary earlier in the day, had resumed its westward track at 12 mph by Tuesday afternoon. That path would bring Emily's center over Hispaniola, the island shared by Haiti and the Dominican Republic, by Wednesday evening or Thursday. Both countries, but especially Haiti, are prone to devastating floods.
Civil defense officials and the military in the Dominican Republic have already begun moving people out of high-risk zones ahead of the storm. Haitian authorities urged people to conserve food and safeguard their belongings.
Port-au-Prince
In Haiti's capital of Port-au-Prince, Jislaine Jean-Julien, a 37-year-old street merchant displaced by last year's punishing earthquake, said she was praying the storm would pass her flimsy tent without knocking it over.
"For now, God is the only savior for me," Jean-Julien said at the edge of a crowded encampment facing the quake-destroyed National Palace. "I would go some place else if I could but I have no place else to go."
Elsewhere in Port-au-Prince, shoppers looked unhurried but lines in the banks began to grow as people tried to get cash.
In the Dominican Republic's southern tourist districts, workers at hotels and restaurants gathered up umbrellas, tables, chairs, and anything else that might be blown away.
Capt. Frank Castillo, dock master of the Marina Casa de Campo in the southeastern tourist city of La Romana, and his crew helped boat owners secure their vessels in slips or pull them ashore.
The storm was expected to bring up to 6 inches of rain in Puerto Rico, Haiti and the Dominican Republic.
In the U.S. Virgin Islands, the government said it would not open emergency shelters on Tuesday afternoon since storm tracking information indicated that the U.S. territory would not get hit by damaging winds or heavy rainfall.
Still, some residents lined up at gas stations and hardware stores just in case.
A tropical storm warning was in effect for Puerto Rico, Vieques, Culebra, the Dominican Republic and Haiti. A tropical storm watch was in effect for the U.S. Virgin Islands.
- AP