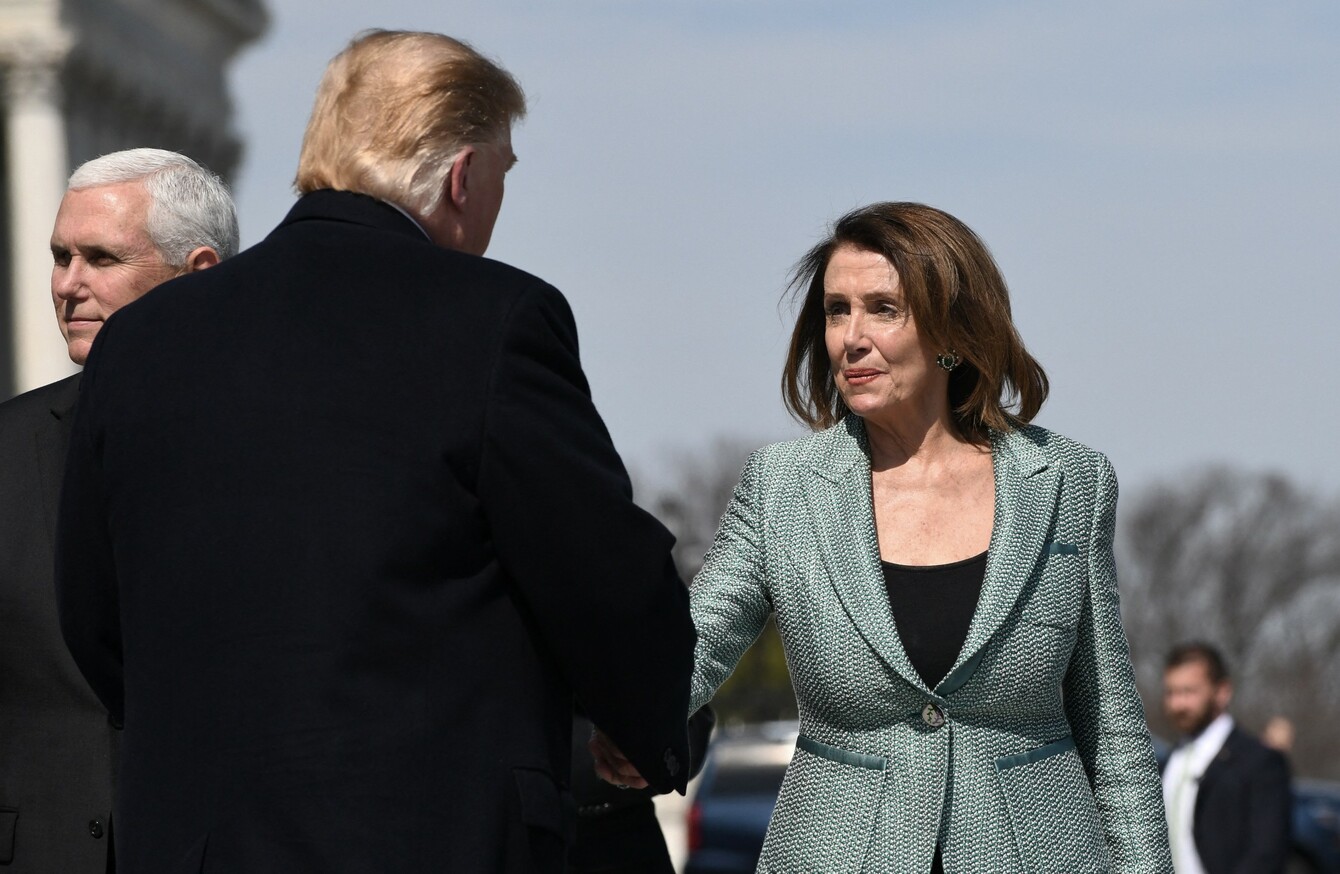 Trump and Pelosi shake hands after a Friends of Ireland luncheon in Washington DC last March.
Image: PA Images
Trump and Pelosi shake hands after a Friends of Ireland luncheon in Washington DC last March.
Image: PA Images
Updated Sep 24th 2019, 10:50 PM
US HOUSE SPEAKER Nancy Pelosi has announced a formal impeachment inquiry of President Donald Trump.
Pelosi announced the inquiry this evening saying that "the President must be held accountable and no one is above the law."
Pelosi made the public announcement at 5 pm local time (10 pm Irish time) following a meeting with her Democrat colleagues.
The significant move comes following revelations about Trump's dealings with Ukrainian President Volodymyr Zelensky and claims that he pressured him into investigating former US vice president Joe Biden's son.  
Biden is running for the Democratic nomination for president in 2020 and Trump has acknowledged that he discussed Biden in a call with Zelensky.
"This week, the president has admitted to asking the President of Ukraine to take actions that would benefit him politically. The actions of the Trump presidency revealed the dishonourable fact of the president's betrayal of his oath of office, betrayal of our national security and betrayal of our elections," Pelosi said in a live address.
Therefore today, I'm announcing that the House of Representatives is moving forward with an official impeachment inquiry. I'm directing our six committees to proceed with their investigations under that umbrella of impeachment inquiry. The president must be held accountable, no one is above the law.
(Click here if video doesn't play)
Democrats have previously mulled impeachment proceedings over Trump's alleged dealings with Russia but Pelosi had stopped short of initiating them. 
For a US president to be successfully impeached and removed from office, the article or articles of impeachment must be passed by a simple majority in the House of Representatives and then a charge must be passed by a two-thirds majority in the Senate.
While Democrats control the House, Republicans have a majority in the Senate and Pelosi has been reluctant to proceed until she was confident there was evidence she felt Republicans could not ignore.
The announcement does not automatically mean that the House will vote to impeach Trump but the inquiry suggests that Pelosi is preparing for such a vote.
Trump allegedly asked Ukraine to look into the business dealings of Biden's son, Hunter, who previously served on the board of a Ukrainian natural gas company.
Trump admitted that he had asked the Ukrainian President to look into corruption in the country. There is no evidence of any wrongdoing on behalf of Hunter Biden.
According to some reports, Trump tried to pressure Zelensky to go after Biden by temporarily withholding US military aid to Ukraine.
In an attempt to quell the growing questions, Trump earlier this evening said he would will release the "fully declassified" transcript of a controversial call with Ukraine's president.
After Pelosi's announcement, Trump sent five quick-fire tweets in which he said Democrats were engaging in "a total Witch Hunt!".
"Such an important day at the United Nations, so much work and so much success, and the Democrats purposely had to ruin and demean it with more breaking news Witch Hunt garbage. So bad for our Country!, " Trump tweeted. 
- With reporting by Associated Press