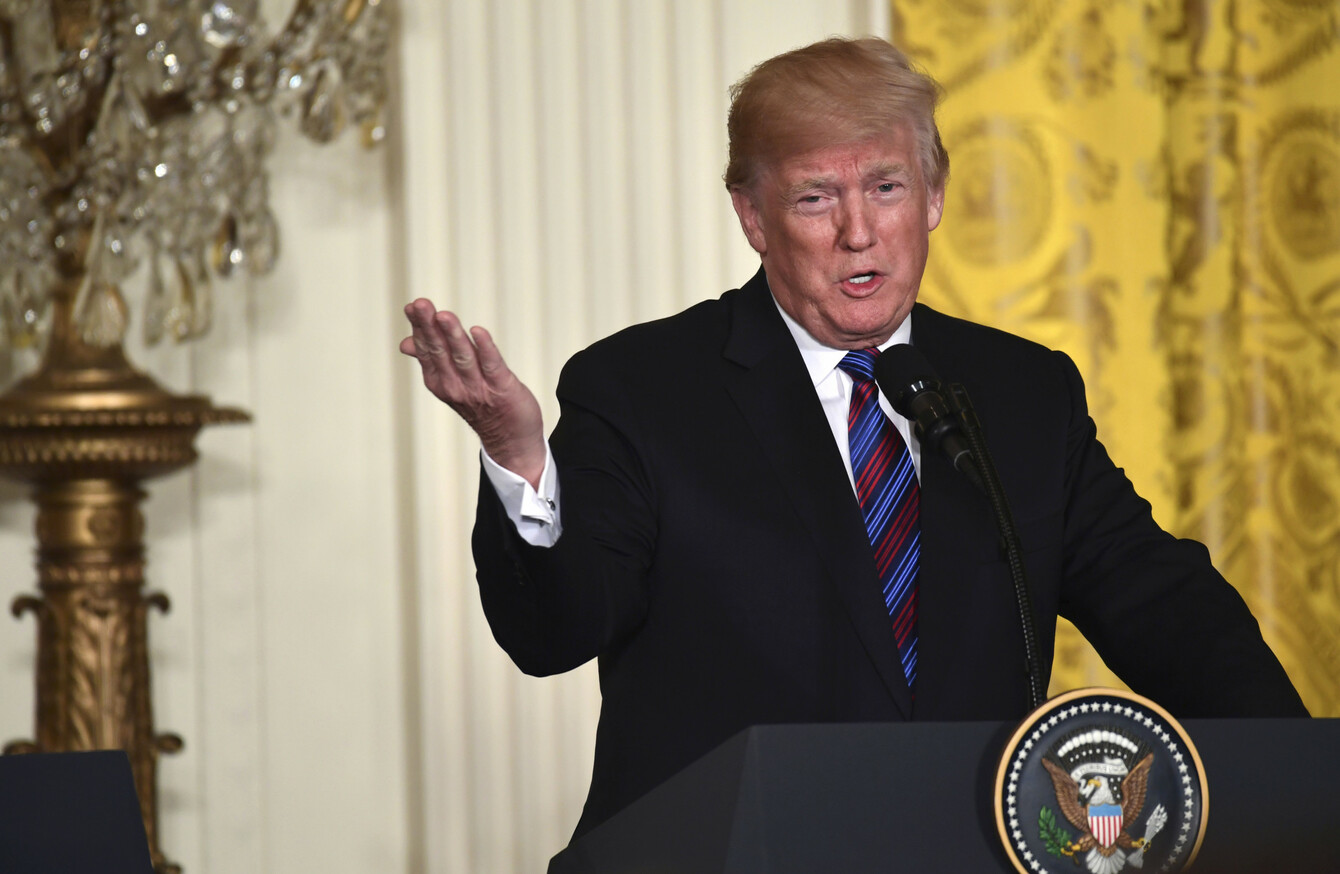 Image: Susan Walsh via AP
Image: Susan Walsh via AP
US PRESIDENT DONALD Trump expects to decide "very quickly" whether to remove US troops from war-torn Syria, saying their primary mission was to defeat the Islamic State group and "we've almost completed that task".
Trump's comments, made to reporters at the White House yesterday, conflict with views of his top military advisors, some of who spoke at a separate event in Washington about the need to stay in Iraq and Syria to finish off the militant group, which once controlled large swaths of territory in both countries.
At a news conference with the presidents of the Baltic nations, Trump was asked whether he still favoured pulling US troops out of Syria.
"As far as Syria is concerned, our primary mission in terms of that was getting rid of ISIS," Trump answered, using an acronym for the Islamic State group.
"We've completed that task and we'll be making a decision very quickly, in coordination with others in the area, as to what we will do."
The mission is "very costly for our country and it helps other countries a hell of lot more than it helps us", Trump said.
"I want to get out. I want to bring our troops back home. I want to start rebuilding our nation," he said during the appearance with his counterparts from Estonia, Latvia and Lithuania.
Trump also noted that the Baltic states are partners with the US in the anti-IS coalition and "we will not rest until ISIS is gone".
Meeting with national security
Later in the day, Trump met with his national security team to discuss Syria.
According to officials familiar with the preparations for the meeting, Trump's entire national security team, including CIA chief Mike Pompeo, who has been nominated to be the next secretary of state, strongly advised against a hasty withdrawal from Syria. The officials spoke on condition of anonymity to discuss internal talks.
Also on the meeting agenda was the fate of some $200 million in US stabilisation assistance for Syria that the White House put on hold after Trump said during a speech in Ohio last week that he wanted to leave Syria "very soon". The State Department was to have spent the money on building up the country's infrastructure, including power, water and roads.
Trump in recent weeks has asked Saudi Arabia to contribute $4 billion for reconstruction in Syria, according to a US official, as part of the president's effort to get other countries to pay for stabilising the country so the US isn't on the hook.
The US is awaiting a response from the Saudis, said the official, who wasn't authorised to discuss the conversations publicly and spoke on condition of anonymity.
A senior Syrian Kurdish official said Trump's comments on wanting to withdraw from Syria came at an "inappropriate time" as Islamic State militants re-emerge in eastern Syria and amid threats from Turkey.
Islamic State in Syria
The main IS holdout in Syria is in the eastern province of Deir el-Zour, where momentum by the US-backed Syrian Democratic Forces has stalled in recent weeks as many Kurdish members of the group have shifted west to the Afrin area to fight Turkish forces. Pentagon officials have publicly raised the prospect of this giving the IS group the breathing room it needs to regroup.
Many have warned that a premature US withdrawal from Syria would cede the country to Iran and Russia, which have supported Syrian President Bashar Assad. Iran's continued presence in Syria is especially troubling to neighbouring Israel, a US ally that regards Iran as an existential threat.