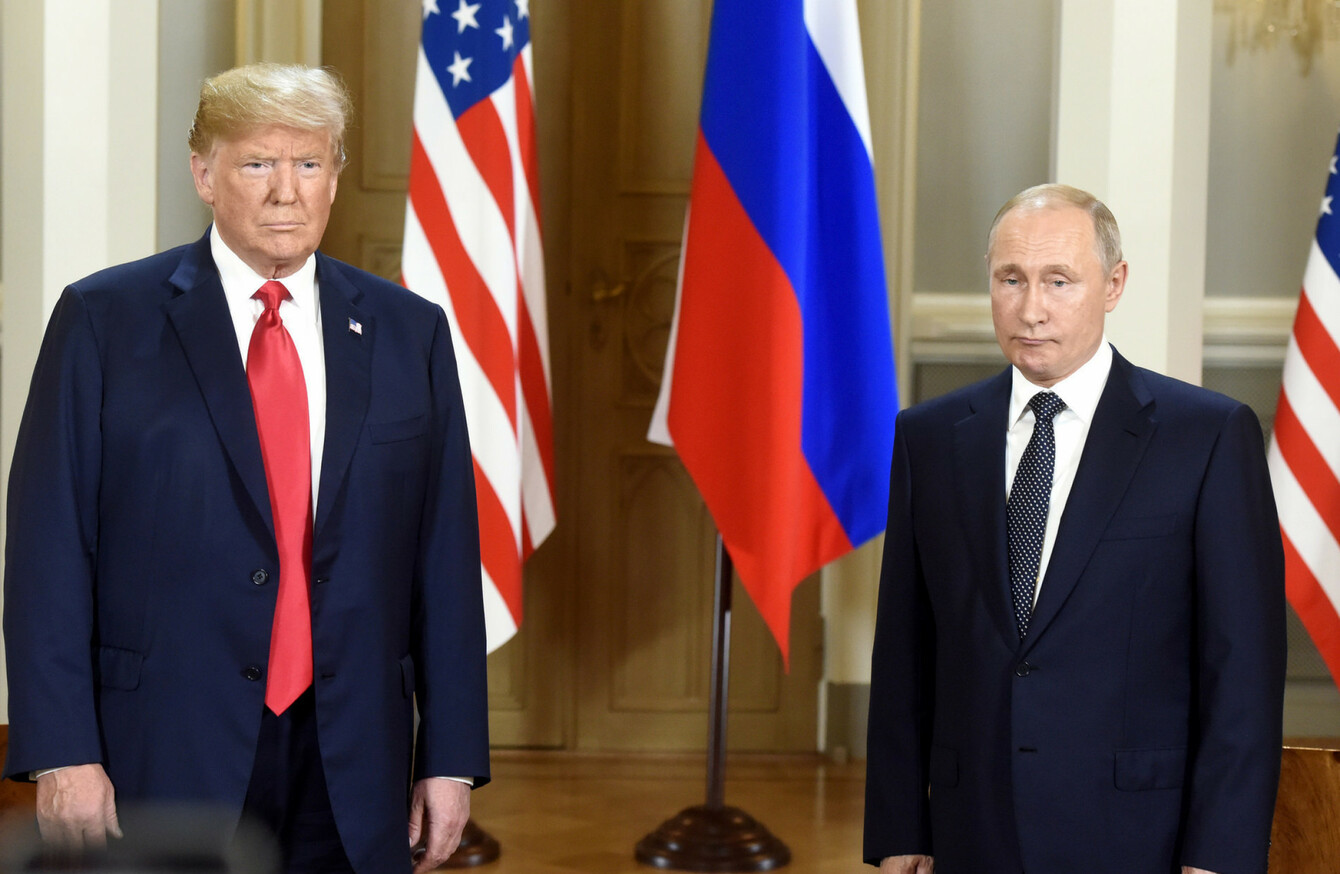 Trump and Putin during a press conference after their meeting in Helsinki.
Image: Xinhua News Agency/PA Images
Trump and Putin during a press conference after their meeting in Helsinki.
Image: Xinhua News Agency/PA Images
DONALD TRUMP RETURNED returned from his European tour to face ire in Washington, where US intelligence officials and senior Republicans were denouncing the president as "shameful" and "disgraceful" after he refused to challenge Russian leader Vladimir Putin over interference in American elections.
Republican Senator John McCain said Trump's seeming acceptance of Putin's denial was a historical "low point" for the US presidency and the Helsinki summit between the two leaders a "tragic mistake."
Taking direct issue with the president who appointed him, Director of National Intelligence Dan Coats said US spy agencies have been "clear" and "fact-based" in their assessment that Moscow interfered in the presidential race two years ago — an assessment that Trump refused to endorse in Helsinki.
Coats added that Russia remains behind "ongoing, pervasive efforts to undermine our democracy."
Denial came after 12 Russians indicted
Trump stunned US political allies and foes alike with his answer to a question about Russian hacking and interference in the 2016 election which saw him defeat Democrat Hillary Clinton.
Putin "just said it is not Russia. I will say this: I don't see any reason why it would be," Trump said.
That came three days after the US Justice Department indicted 12 Russians for hacking Democratic Party computers, the latest in a series of actions taken by the US government since late 2016 in retribution for what intelligence agencies say was a broad plan to support Trump's election campaign directed by Putin himself.
As he flew home to Washington aboard Air Force One, Trump tried to clarify his position via tweet, saying:
As I said today and many times before, 'I have GREAT confidence in MY intelligence people.' However, I also recognise that in order to build a brighter future, we cannot exclusively focus on the past – as the world's two largest nuclear powers, we must get along!
In an interview with Fox News' Sean Hannity, Trump said "it's a shame" that he and Putin were being asked questions about the Russia probe while they were trying to discuss issues like Syria and nuclear proliferation.
"We've had a phony witch hunt deal drive us apart," he said.
Source: Fox News/YouTube
In an interview also with Fox News, Putin accused Britain of making baseless allegations against Russia after a former Soviet spy was among four people found poisoned by a nerve agent in southern England.
Asked about the British government's assertion that Moscow was behind the Novichok attack on the former spy Sergei Skripal, Putin said London had not provided any evidence to back up their claim.
"We would like to get documentary evidence but nobody gives it to us," Putin, speaking through a translator, told the US network after a summit with President Donald Trump in Finland.
"It's the same thing with the accusations of meddling in the election process in America," he added in reference to claims that Russia interfered in the 2016 US presidential election which was won by Trump.
Putin suggested the case could be driven by domestic issues in Britain, saying "Nobody wants to look into these."
We just see the ungrounded accusations — why is it done this way? Why should our relationship be made worse by this?
#Open journalism No news is bad news Support The Journal

Your contributions will help us continue to deliver the stories that are important to you

Support us now
(Click here if video doesn't play)
Former Russian double agent Skripal and his daughter Yulia collapsed in Salisbury on 4 March after being exposed to Novichok. Both have since recovered.
Then on 30 June Charlie Rowley and his partner Dawn Sturgess fell ill not far from the Skripal attack after being exposed to the same nerve agent. Sturgess died on 8 July.
Russia has strongly denied poisoning the Skripals, sparking a diplomatic row that has led to tit-for-tat diplomatic expulsions between Britain and its allies and Russia.
Police have not been able to establish whether the Novichok that Rowley and Sturgess were exposed to was from the same batch used against the Skripals but have said that a possible connection is their main line of inquiry.
Rowley remains seriously ill in hospital but his brother has told the BBC that the 45-year-old fell ill after picking up a discarded perfume bottle.
"What kind of bottle? What is the chemical formula? Who's got it?" Putin said in his interview.